Gifted Memorial Fund for Adult Amateurs Recipient: Sally Miller (Region 4)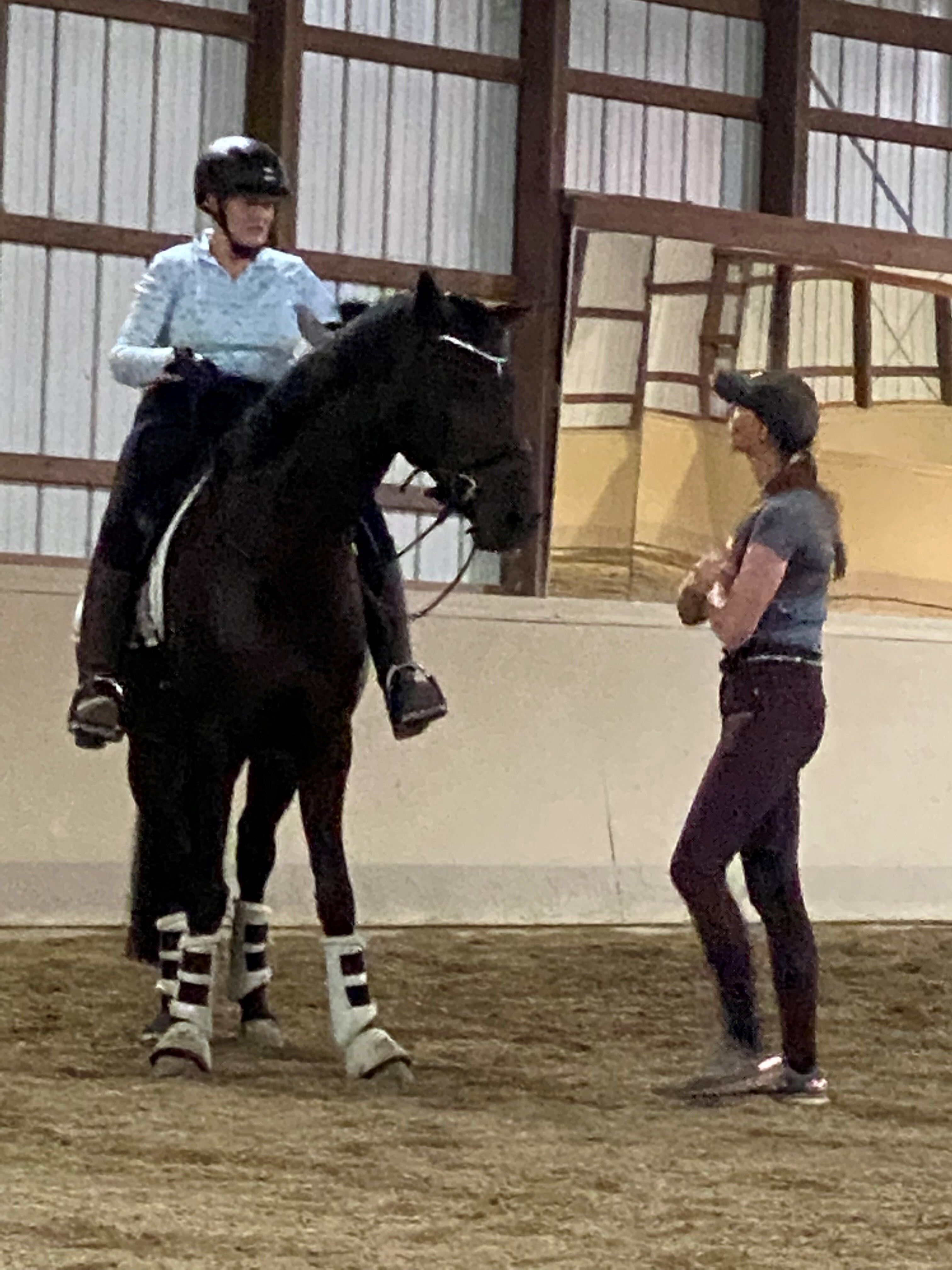 So Many Gifts in the Gifted Grant
To know that people have donated money for me to have this experience has moved me beyond words.  They have given me something I was not able to give to myself.
To convey all the amazing gifts, I unwrapped while using my Gifted Fund grant, I need to tell you a bit of background: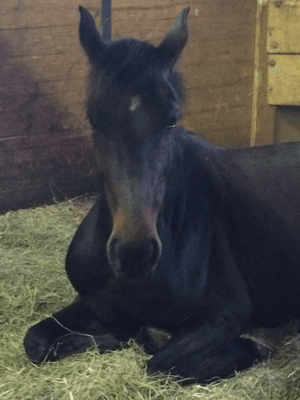 After a 15-year hiatus from horses, I got back to riding as an older adult amateur. I rode a wonderful lesson horse for six months before he ultimately retired which sent me horse shopping. While I aimed for one kind of unicorn (read: schoolmaster), my heart fell in love with another (read: inappropriately young and green). And, well… the heart wants what the heart wants!  Beautiful Dea Bella became mine to be developed under the skillful care of my trainer, Brianna Zwilling.
I knew Dea's education, and my riding development would be on separate roads for some time, and over the next five years I enjoyed being a student from the ground as I watched and groomed for every ride at home, in clinics, and at shows. And you know what? Bri and Dea absolutely SOARED as they danced through shows locally, regionally, and nationally! Wow!!!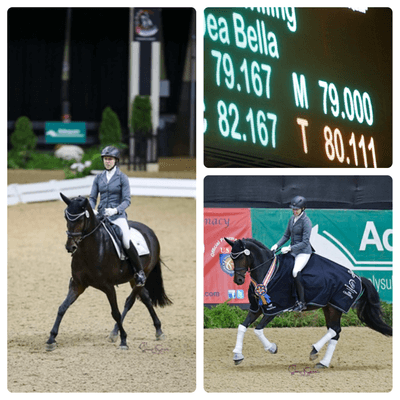 How and when does one get on after all that?! My own development had been quite bumpy. I caught rides occasionally, but there were long gaps in my riding for years at a time. Then, a friend partially leased her horse to me, and I was finally able to ride regularly for a year. With that experience under my belt, I was better prepared to do some riding on Dea who now was older, more balanced, and also better prepared to take care of me. It was time.
With the Gifted Fund grant's goal of carving out time for an adult amateur to spend time with their horse doing things they normally didn't do, I was going to spend a week riding and learning on this beautiful, talented, and lovely horse of mine.
I scheduled time at the beginning of the year, but Dea was going through a "sparky" period while learning the changes - I thought it best not to be involved in all that. I rescheduled for June, but later decided to let her continue training with Bri for the show season. I rescheduled for October, and had it not been for the grant deadline, I likely would have rescheduled yet again to let them prepare for Finals….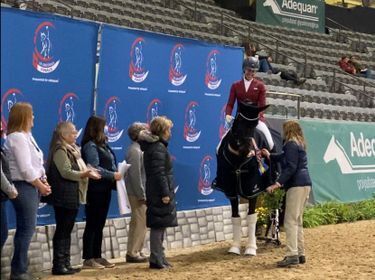 For five years I have chosen Dea's education under Bri over my education on her, and the true gift of the Gifted Fund grant was not only the permission, but the subsequent agreement and commitment that I would prioritize myself. 
To know that people have donated money for me to have this experience has moved me beyond words. They have given me something I was not able to give to myself.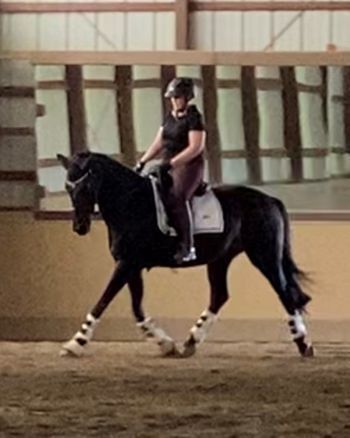 It's no secret that Dea is more horse than I am rider…she's CRAZY elastic and athletic, but she and Bri took such good care of me!
I don't need to catalog all that I learned in those lessons-it's the same thing we all work on how to inspire connection, balance, thoroughness etc., and day after day via live lessons and video review, my awareness and understanding deepened.
I spent day and night at the barn which was heaven. Having adopted a (puppy during the pandemic, my leisure time at the barn had been quite short over the past one and a half years. While my puppy was in doggy daycare, I spent hours and hours watching and taking lessons, reviewing videos from my rides, grazing and hanging out with my girl, practicing braiding and wrapping, and organized my show trunks for storage.
Farm and Trailer Maintenance
I learned more about various parts of farm management, as I hope to have my own place at some point.  I also learned more about hauling and
 trailer maintenance, as I am trying to decide if I want to do my own hauling.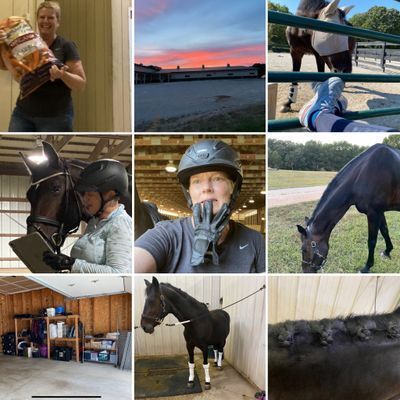 Like anything with horses, the road is rarely straight. I had hoped I was at a point where I might start to ride Dea more often, but it became clear to me that the size of her gaits, her crazy elasticity, and her education were all bigger and more sophisticated than my abilities.  Sure, I can hop on her and have a ride, but much of the time I am simply coping more than actively riding. 
Over the years I've thought about getting a second horse that is more suited for me, and another gift of this grant time was solidifying my decision to do that. Dea will always be mine and one day I hope to be skilled enough to ride her well, but that won't happen if I let another five years go by catching rides.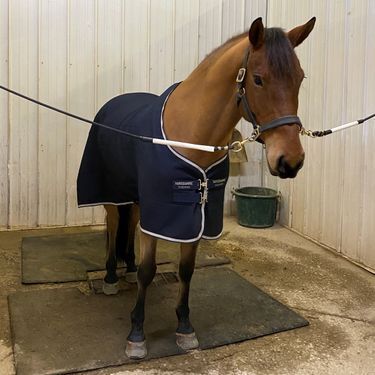 Bri was out horse shopping with another client when she met a horse perfectly suited for me in size, brain, and gaits, and temperament. I went to see him and ultimately brought him home to join my family. I will keep Dea under Bri, and I now will be regularly riding my new guy, Empirio.
I have so much gratitude for this grant time which gave me the space and experiences that I needed to open the door even wider for my future learning. 
Sending a huge, "thank you" to The Dressage Foundation, Dea Bella, and Brianna Zwilling for your investment care in my development!  I'm so excited for new roads to open!!