Carol Lavell Gifted Recipient: Simone Cormier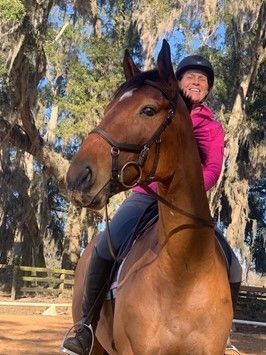 Simone Cormier's two-week training with Megan Fischer Graham at Avalon Stables in Reddick, FL
To be chosen as a recipient of the Gifted Memorial Fund for Adult Amateurs during a year of upheaval and uncertainty felt like finding the golden ticket in a Wonka Bar. I will be forever grateful to Carol Lavell, The Dressage Foundation, and to all those who donated to the fund for this wonderful opportunity.
Let me begin at the planning stage.
We all know how horses and best-laid plans go…
Plan A:
My original plan for the grant training was to work on 2nd level movements with my mare, Lexi (aka Kollektiv NSF), in order to achieve our next qualifying scores towards the Bronze medal.  Unfortunately, a mystery lameness that has now been resolved prevented Lexi from being ready to start training as planned in January.
Plan B:
As luck would have it, I just happened to have Plan B waiting in the wings. My recently restarted OTTB, Lad (Sacred Legacy), was quickly inserted into a new training plan, and once approved we were ready to roll.
Our training program started on January 11th and was held at Avalon Stables in Reddick, Florida with my trainer Megan Fischer Graham.  The plan included two lessons per day over two consecutive weeks with the weekend off in between to give Lad and me a breather.
I also had the opportunity to ride and take lessons on several different horses which helped me to develop the timing of my aids and highlighted where my strengths and weaknesses lay.
Our training goals for Lad were simple and straightforward. He is a lovely type with 3 good gaits, and, like many young horses, he sometimes struggles to keep the rhythm when distracted.  We used slight changes in positioning on a circle, renvers/travers, to create flexibility and shoulder-fore on the long side to develop straightness. Introducing leg yield from the centerline helped him understand how to move laterally and small increments of going forward and coming back improved his connection to the bridle and encouraged him to stretch into the contact.  Practicing going forward and back enabled Lad's topline to become more elastic and served to strengthen all the muscles of his body. Megan reminded me that riding in the same frame for too long invites muscle fatigue and over-develops some muscles while under-developing others.
Training five days in a row is stressful for any horse and sacrificing Lad's mental health during this program was something I wanted to avoid at all costs. Daily doses of Omeprazole protected his gut from the stresses of trailering and training and stabling during the day in Megan's friendly barn with an all-you-can-eat buffet of hay served to keep him happy and content. He spent the entire weekend in between training sessions chilling with his pasture mates and not being touched by me.
Goals for improving my own riding skills were also quite basic. While in my wildest dreams I hoped I would come away from this training program riding just like Charlotte Dujardin, I found myself delighted that Megan helped me understand how small changes can make a big difference. "Turn your shoulders right so I can see your zipper" resulted in a softer connection on the circle.  "Relax your arms and canter with your seat" was repeated many times and is a big challenge for me.
Megan also helped me discover that I tend to ride my horses to the left even when going to the right. Positioning the bend on the circle with the horse's "tummy out" and hitting the rail with the tummy first was an epiphany for me. Turning right became so easy.
Another lightbulb moment was having Megan remind me to "ride like you have 2/3 of the horse in front of you". This imagery helped me ride with my hands and elbows following more forward into the connection and helped me ride off my seat.
While improving the bond and harmony between Lad and myself was a major focus of this program, Megan also helped me understand how to approach the training of every horse I rode.
1.     Think about how my body feels to the horse. Am I soft and supple or stiff and rigid?
2.     Train your horse to his/her limit. Not beyond.
3.     Ride with love in your heart and reward with praise.
4.     Modulate your program with hacking or lighter conditioning in-between days of harder physical/mental training.
5.     Maintain a happy and confident horse by starting and finishing your workout with previously mastered skills before challenging with a new skill.  If frustrated with a new skill go back to a mastered one.
6.     Use shoulder-fore to collect before and after medium work.
7.     Your horse's distractions are none of your business. Just keep swimming.
Not every day is a workday. Megan's horses typically have Mondays off and Tuesdays are perfect for hacking. Hacking is an integral part of any training program.  It gives the horses a mental break from the arena and allows them to relax in a group environment.
There are so many more marvelous moments I could include in this report, but I will leave you with one of my favorites.  Captured below is Megan and her husband, Dean, prepping 2 horses for a dressage show by bringing them along on a cross-country schooling outing.  It just goes to show that sometimes thinking outside the white box yields the greatest reward.
I hope my story reflects the inspiration and gratitude I have received from this grant. I encourage all my fellow Adult Amateurs to apply to the Gifted Memorial Fund and to donate to The Dressage Foundation.
Simone on her Trakehner mare, Kollektiv NSF, with her trainer Megan Fischer Graham

Lad at home with pals on his weekend break at Integrity Equestrian

Lad and I work on positioning on the circle