Gifted Memorial Fund for Adult Amateurs Recipient: Amy Zhan (Region 3)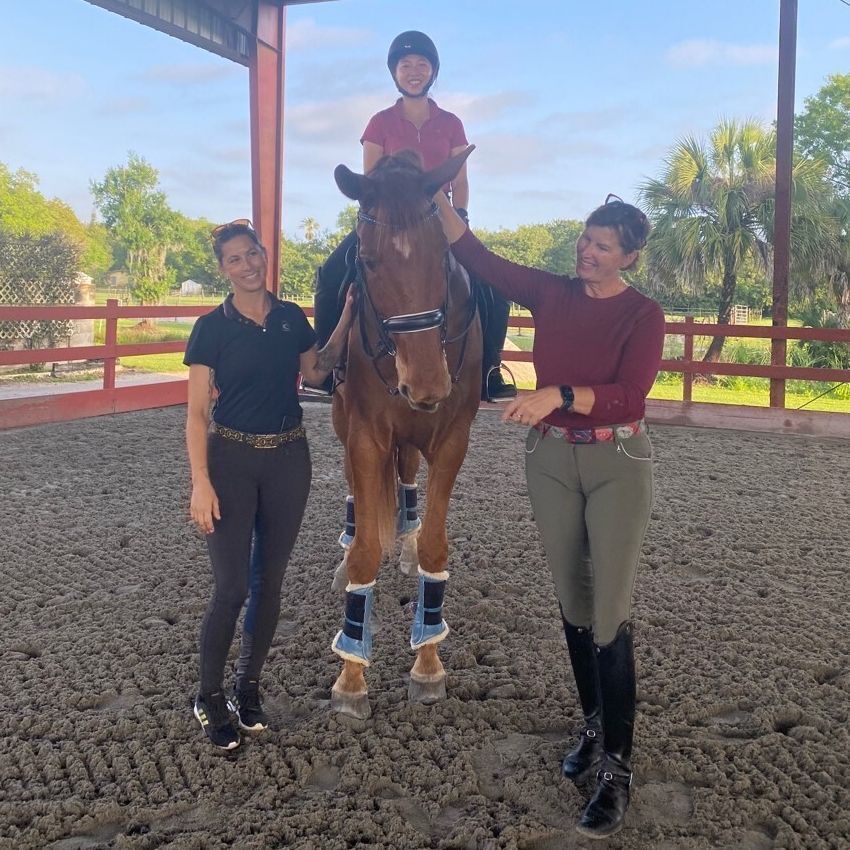 I got bit by the riding bug late. Besides the single childhood friend who took the "mysterious" riding lessons in Jamaica Bay, I did not know a single person who rode horses while growing up in New York City. In fact, I was pretty put off horses when that one friend took us on a trail ride for her birthday and a certain paint pony named Oreo (Yes, I remember exactly who it was!) decided to take a roll in the sands of Jamaica Bay. I swore I would not ride again, but every horseperson knew that would be untrue. I was already hooked, but I knew riding would be financially impossible for my family and put it out of my mind.
It wasn't until years later, that I made a determined decision that I was going to make riding a reality for myself.  
I was beside myself when I received the Gifted Fund grant, but also a little worried about what to expect. Neither my trainer nor I were totally sure if we were going to help me capture the elusive "feel" I've been searching for with my horse. How can you possibly make gains in something that took riders years of daily riding to learn, in a week? The answer? Train with an incredible teacher and follow a thoughtfully put-together program created by my trainer Jana Reich.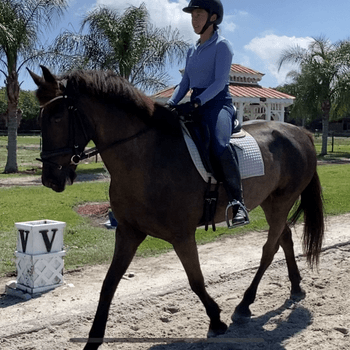 Jana started my dressage journey when I moved down to central Florida two years ago and was the one who found and paired me with my sweet mare Layla. It probably wasn't easy for her to start a new rider and young horse, but Jana's patience and deep understanding of the training scale, along with her ability to translate that into detailed and clear action steps, gave us an incredible boost (Layla is her more talented student but Jana doesn't rub it in too much!).
Our ultimate goal was to broaden my understanding of feeling. Feeling is so important in this world. Starting riding as an adult is amazing because you are mature enough to really comprehend and interact with every lesson and instruction. But with that comes over-analyzation and fixation/micromanagement with progress, a huge issue when you are learning with a living animal partner with their own mind, which was why it's important for me to develop a point of reference for the "feels." To this end, my lovely trainer put together an amazing schedule of different horses to help me experience all the different horses and their needs. I had initially wanted to document each day for the report but decided that readers probably won't want a novel (Reach out if you do! I can talk horse all day! My husband will thank you for the break!).
My trainer developed a daily reference page for my internship. I appreciated the level of attention she took to make sure that this was going to be the experience of a lifetime. Every day was an adventure, from longing young horses to learning how to give shots.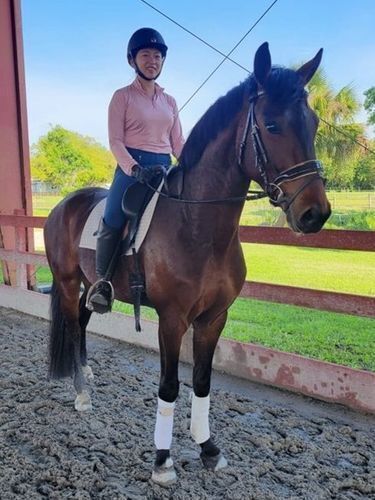 To start, we began with Zach, the youngest horse in her training program. Zach is a four-year-old Oldenburg my trainer just acquired. Despite being just four, Zach is an honest and straightforward horse. As I watched my trainer lunge him, we discussed his particular needs as he warmed up. He holds himself tight and, in the lunge, it was great to watch him relax and see the difference in his gait. My trainer warmed him up and had me get on after. He was a true baby horse, sensitive to every movement my body made, but that made me conscious we should always treat our horses like that! Our horses react to us, and no matter the training, we must be aware of ourselves. Either way, Zach was a sweetheart! Wiggly at first but that meant I had to consciously frame him with my body, the same way I needed to with my horse Layla. So cool! I absolutely enjoyed my ride with him throughout the week and was able to try his amazing canter, which I could actually sit, given his narrower build! 
The second horse of our training was Ira, a stunning grey Dutch warmblood my trainer brought up herself. This small but mighty horse is a true powerhouse, but not without his quirks. He can be tense at times, and it is up to the rider to keep him relaxed but also make sure he focuses that power on the movements asked for. Still, he is a sweetheart, and the first horse I rode at the barn two years ago.  I was pretty clueless about riding at the time. But now, with more knowledge, my trainer decided to really challenge me. Later in the week, Ira taught me the exhilaration of flying changes, and how much you needed to sit and collect that train engine (changes aren't possible if you are flying around the barn, even though it's in the name)!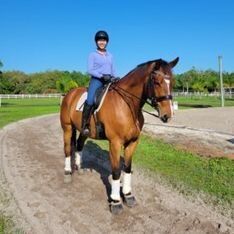 I was also fortunate to ride Ganso, a beautiful Lusitano horse. Ganso was newer to the barn, having been recently purchased by another lovely rider at the barn who also trains with Jana. Ganso's owner was kind enough to support my training week by having me try Ganso and it could not have been cooler! Ganso is a sensitive horse who needs you to let him do his job, without hindering him with excessive body movements and aids. He was by far the trickiest ride for me (speaking volumes for the skill of his owner!). I wasn't 100% focused on controlling my body which resulted in confusing the poor boy. This was a very important lesson. As Jana said, "You are the trainer every moment." For the minute, hour, or whatever length of time, we must tune in and ride that horse to their needs.
Another horse I had the pleasure of mounting was Herbie, a huge and talented Dutch warmblood. Herbie is the true definition of a "gentle giant." I felt very secure walking with him around the barn, something I am still working on with my very alert mare. Now, while the "gentle" part of him is pure pleasure for the rider, the "giant" part can bring on some pain if you are not active in your ride! Herbie has huge movements. Even at a walk, you can feel him in your back moving you along with each step. At the trot, he needs your support to encourage him to go forward, but he also needs your core to be as strong as his stride was big. The most amazing part of riding Herbie was experiencing the piaffe, Herbie's specialty! Of course, I still needed the help of my trainer on the ground to give the correct aid, but it was something I will not forget.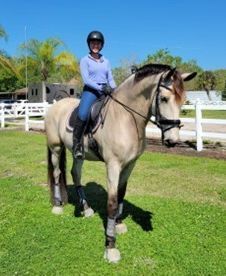 Later in the week, Jana's mother, Susanne Benne, a Grand Prix rider and a "Pferdewirtschaftsmeister," (a certified master dressage trainer), took me under her tutelage for a few lessons. Susanne is a master teacher of horse and human, and it was easy to see how Jana got her riding and teaching chops. Susanne had me on Nico, an Andalusian horse. Nico is what you think of when you think Spanish horse. He is a gorgeous champagne buckskin with golden eyes and long dark hair, with a beautifully muscled neck and backside. Our focus with him is to make sure that he stays supple in his movements and encourage him to continue to use his hind end. I've heard that people get Spanish horses because they are easier to sit or what-not, untrue! It is hard work to get this big boy to work! He is also easily distracted, so again, it is super important to keep that connection with him so he can focus on you. 
For our final day, my trainer's mom Susanne put me on her beautiful and talented mount Liebling. His name is German for Darling, and he is a darling people person. Giant Liebling stands at nearly 18 hands. He is a beautiful mover, very different from any of the other horses I had the privilege to ride thus far. He is light on his feet but also incredibly big in his movements, requiring constant vigilance to keep him focused on you. It's a total misconception that you can simply buy these world-class horses and expect them to do all the work. Surprisingly, though it did not look very pretty, I really enjoyed his canter. His uphill movements made a distinct imprint in my "feeling bank," something I knew I could strive for with Layla.
Although this week was for me to work on myself, little Ms. Layla was also given a treat. My trainer took her on a Masterclass lesson with Susanne, to close out our training, and to give me an opportunity to sharpen my understanding from the ground. My mare is a Kentucky Mountain Horse, crossed with a Friesian. She is long in the back and straight in her hind legs, which makes it hard for her to sit and collect at times. She tends to hollow her back and lift her neck high, so suppleness work is key, especially at the beginning of our warm-ups. Lateral work, bend work, all these exercises encourage her to work through the back. It was so cool to understand why my trainer asks me to do these movements during our lessons (and to see them done correctly!). Susanne took the time to explain every movement and pushed me to think more deeply and intuitively as she coached Jana. I also could not have been prouder of my horse. It was so moving to see her from the green bean she was when we got her two years ago, to watching her school Third Level movements with my trainer. I could not have asked for a kinder and more patient partner of a unicorn.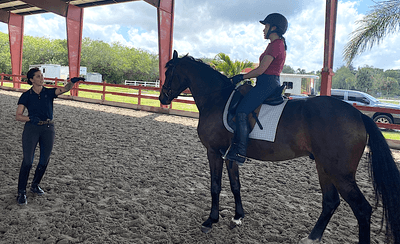 Takeaways:
Dressage is about the harmony of rider and horse, and that takes a LOT of work. I can understand how the intensity of training my trainer and her mother puts into every ride. More impressive, is the complete love and trust these animals have for them, a testament to the caliber of their training. What does that mean for an amateur like me? It means we are all on the same journey. I may never ride in a Grand Prix test, but I get to ride with the same love and pride working on a trot as would a top rider working on the passage. Most importantly, this week taught me that I am never too late to start something. For a long time, I felt like I needed to race to catch up in my riding, to make up for lost time and skills, when in reality I need to appreciate this beautiful sport as a lifelong passion. And while I must return to my life of meetings and adulting, I know now I can make every minute I spend at the barn or with my horse count. Have I captured the elusive "feel" during this incredible training week? Not yet, but I am well on my way and loving every moment of my development with my mare.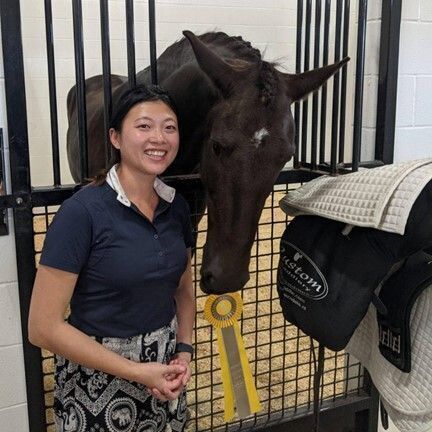 Bonus update:
Life happens at light speed. Before I knew it, it was the summertime, I have a new job on a completely new career path, and it's been three months since my training week!
While life took a while to settle back down, I am happy to report updates on my riding since my training week. I think one of the biggest changes in my riding since the training week was my attitude toward training. I feel so much more confident in my ability to be my horse's guide, whether we are warming up in hand or gearing for a test.
Speaking of tests, I am proud to say we went to our third show ever (and first at the World Equestrian Center in Ocala) and successfully survived the horrifying "spookies" by the show-ring bleachers. I can 100% tell you I would have been a huge wreck had it not for the confidence my trainer and the horses built in me during our training week.