Gifted Memorial Fund for Adult Amateurs Recipient: Cynthia Spear (Region 8)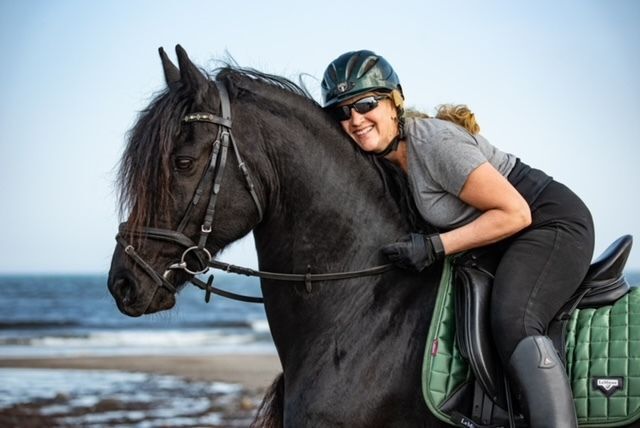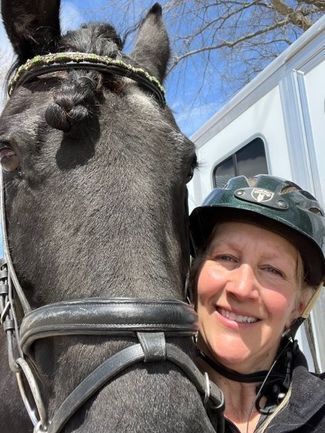 I want to begin by saying how very thankful I am to have received a Gifted Fund grant from TDF.  I would have never been able to do this type of condensed training without the support of TDF! 
After a long winter of trying to just ride at least once a week, my horse Cayden and I were ready to get to work.  We started our week of training on April 29th with a trailer ride to Vienna Farm in Gorham, ME, to work with our trainer, Tanya Rennie. I wanted to focus on our canter and leg yields in order to improve our First Level work but to also add in some Second Level work. I had problems over the winter with Cayden curling under during the trot so I was also looking for some help with that.
Tanya put us right to work!  We worked on moving his haunches off my leg at the walk and the trot.  We also worked on the canter. Specifically, I had a bad habit of pulling back as I asked for the transition, so Tanya had me focus on using a soft aid both with my legs and hands when asking for the transition, and following his head with my hands during the canter. Not only did our transition begin to improve, but amazingly, as I pushed him to move forward at both the canter and the trot, the curling under also went away. I was feeling really good at the end of the day!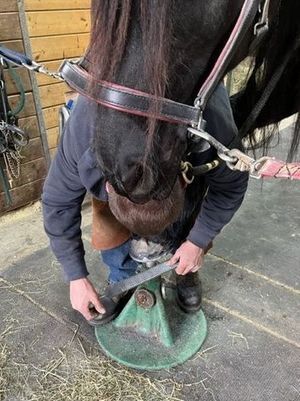 Our next day began with a visit from the farrier to put front shoes on Cayden and then off we went to Vienna for day 2.  During this lesson we focused on moving the haunches in a circle at the halt and the walk, making sure I had the proper bend as well.  We also worked on riding our corners more correctly and preparing for the corners ahead of time. Canter transitions from a halt and walk, and then from the canter to a halt, were a good challenge for us. I needed to focus on giving with my hands into the transition and also making sure I was asking for the halt firmly. Cayden quickly understood what I was asking for and it didn't take long for him to understand and quickly halt when I asked. Two additional things that I needed to focus on were to look up when asking for the canter, versus looking down, to help me sit upright during the transition, and to also sit down in the saddle during the downward transition. This was a tough lesson for both of us but I felt like we had made great progress!
After a day off, we were ready for our next lesson. This was all about leg yields. Adjustments between the driving aid, connecting aid, and lateral aid…Oh my!  Just at a walk was a challenge at first but we made steady progress each time.  Then we moved into the trot and first just had to focus on achieving a nice balanced trot, getting Cayden to move forward off of my leg and into the bit more, watching my line of travel, and being very deliberate and accurate with my circle size and circumference. Making sure Cayden was connected enough on a circle before trying any straight lines or leg yields proved a bit more challenging than I had expected. Then we worked on leg yields at a trot. To the left he was really good, our right leg yield was not so great but with a little more work we had a fairly decent leg yield. Just when I thought a lesson couldn't get any tougher than the day before, it did. But as tough as it was, I felt so accomplished and with much progress.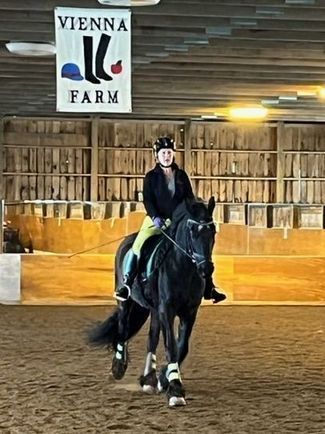 Our next lesson was all about our canter/halt transitions.  But it was really more about me than Cayden. Having me look up so as to not lean forward when asking, asking quietly, sitting when transitioning to the halt. I had developed some bad habits over the years, and I realized it would take time and effort for me to work out of those habits. It was all on me and Cayden was great for the entire lesson, doing what I asked when I asked. I couldn't have asked for a better boy!
The next two days we moved to the indoor with some colder/wet weather and worked on the shoulder in.  This was something that Cayden thought was really easy and took no time for him to grasp and do fairly well. Finally, something that was easier for us!  We did more leg yield work and this time I felt that Cayden was so much better than on our third day…he's remembering! We can do this! Knowing that I want to move to 2nd level and that Cayden has a big trot, Tanya also had me work on sitting the trot, starting with alternating between posting twice and then sitting twice. I thought this was a very good exercise to help me become stronger and better at the sitting trot.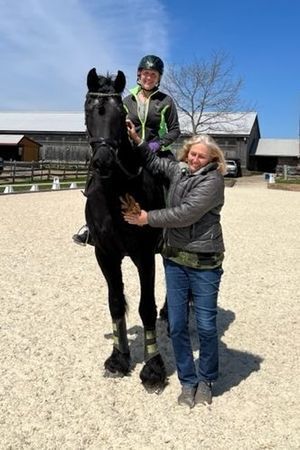 The next two days we worked on putting things all together from our previous lessons. From the accuracy of our circles and being deliberate in where I wanted to go and what I was asking Cayden, to being soft in my aids, working on smooth transitions, and getting those haunches moving so we could successfully leg yield, it was so much fun. I felt that the week of work had really paid off and that we had made so much progress…I was on cloud nine!
A few days after, we had a saddle fitting scheduled, which took place at Vienna. This was much needed as Cayden had lost some weight and was more fit. Surprisingly, the saddle fitter actually widened his saddle a bit more and added more padding in the back. It could tell that it felt much better for Cayden as he immediately moved more freely. My roly-poly guy and I were ready for our next lessons.
Over the course of the next several weeks, we tried to get in at least one lesson a week. I didn't always have anyone there to take pics or videos, so I tried really hard to remember everything we covered in each lesson.  And when we weren't working with Tanya, I made sure to ride at least three times at home to practice, practice, practice. I wanted to be sure we were getting the most out of our training so that we could build upon what we had learned.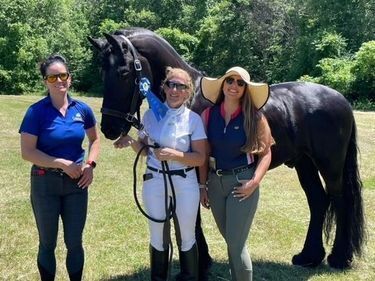 Early in June, we took part in a schooling show at Vienna, to see if our lessons had helped with some of our trouble spots. We had probably the best ride we have had at any of our shows there. I didn't feel as though Cayden had as much energy that day, but all in all, I felt better prepared for our test, tried to ride it as accurately as possible, and had some very good moments.  My biggest disappointment was with our leg yields – they were not quite where I wanted them to be, so I left the ring knowing I needed to focus on that even more.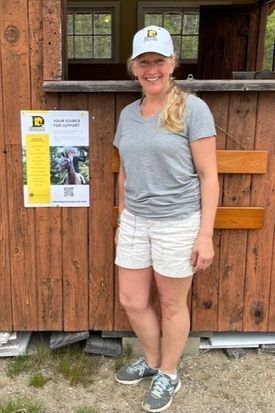 The end of June and early July were a little busy for me with work and being the secretary for our club's recognized show, so I kept riding at home but didn't get over to Vienna for a lesson. Fast forward to July 11th, when I had the wonderful opportunity to ride in a clinic at Vienna with the judge from the recognized show, Bill McMullen. He took our work on the leg yields a step further and gave us a new exercise to try with the same pretense of moving the haunches that Tanya had us doing, but for some reason, it clicked for both of us that day and we had some of the best leg yields we've had all season.  After our last leg yield at the end of the session, Bill commented that he would have given us an 8 if we were at a show and that he hadn't seen any leg yields that good in the recognized show the day before. I was so happy to hear this and took it as a very high compliment coming from Bill. It was a nice way to wrap up our TDF learning!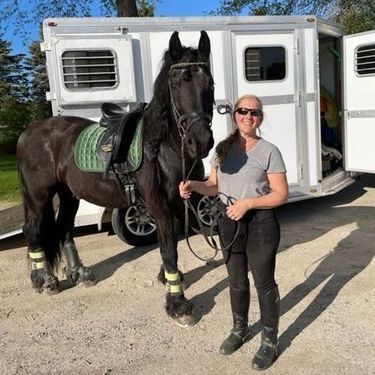 In addition to being thankful for all that we learned during this time due to the generosity of The Dressage Foundation, I'm also very grateful to have had the time to just be with my horse and pamper him more than normal. We don't always get "dressed up" when we ride due to the extra time needed, but I was able to spend quality time grooming and fussing over him, which helped make our bond even stronger.  After seeing how much our lessons helped us improve, we have continued to work with Tanya and at home, expanding upon what we accomplished during our sessions at Vienna, and are now looking forward to possibly showing at Second Level next year. Thank you, TDF!!!