Gifted Memorial Fund for Adult Amateurs Recipient: Debi Stevens (Region 5)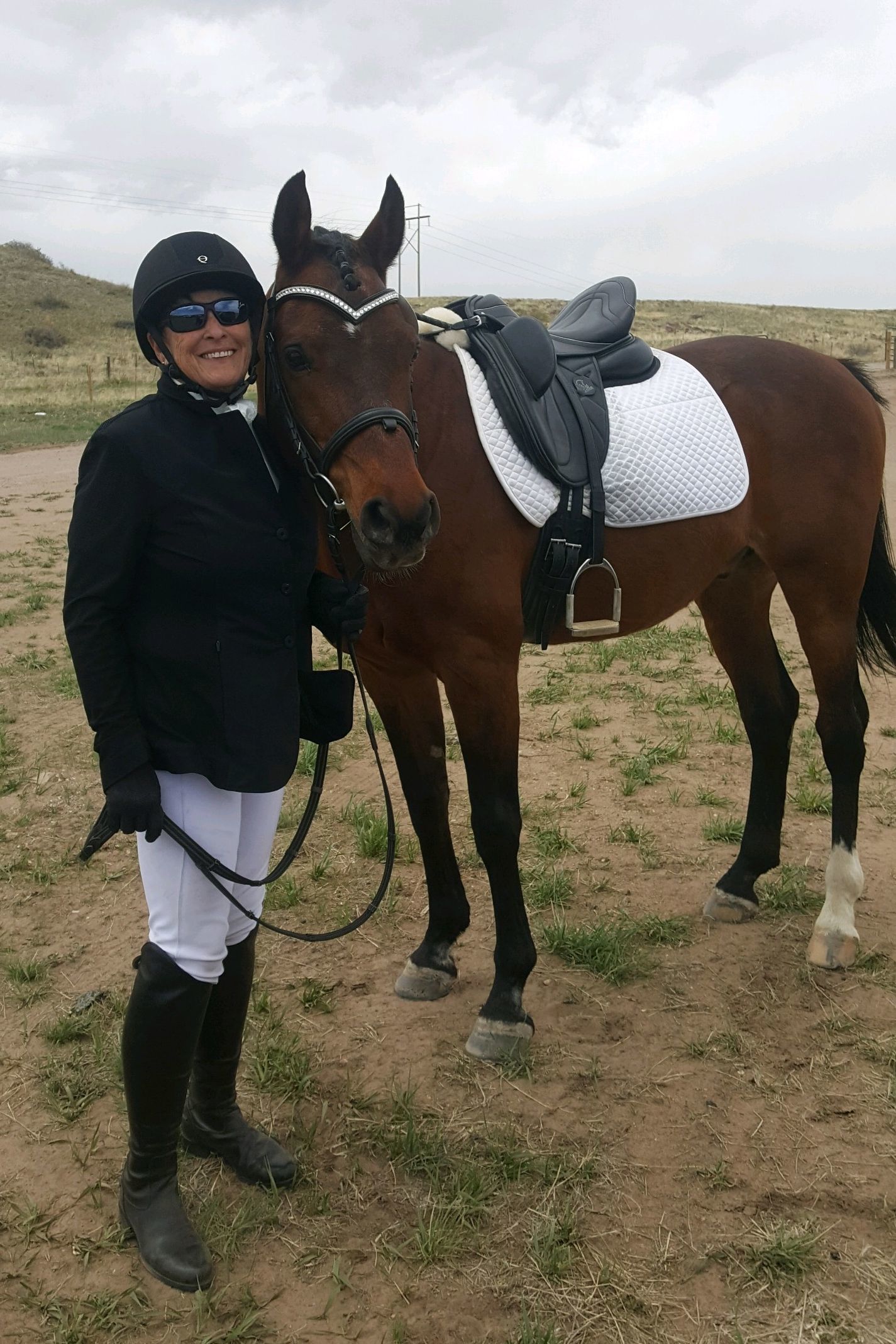 My name is Debi Stevens.  I am an active 69-year young, "old lady athlete" living a lifelong dream of riding and training a horse in a manner that develops obedience, flexibility, balance, and harmony.  In short, following the equine discipline of Dressage.  I ride three to five times per week, spend many hours I am not riding studying online, and volunteer many hours in my local USDF GMO (the Arkansas Valley Dressage Association (AVDA)).  However, I do live in a very small town where dressage instructors are less than plentiful.  I retired from being the founder of the prison dog training program for the entire State of Colorado.  Proudly, I can honestly say during that career, I rescued thousands of dogs and impacted many more human lives.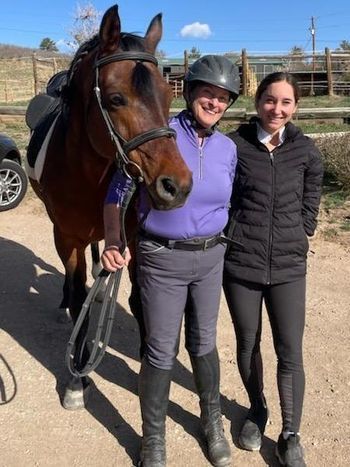 The horse I ride is Asam Al Dakar. Foaled on July 1, 2006, my hands were the first to ever touch Asam. He is the last foal from my very limited, purebred Arabian breeding program. He stands about 15.1 hands. When we ride into the ring, he is usually very different from other breeds that are so popular now. It is not unusual for someone to comment about the way Asam carries his tail straight up in the air at the canter which is correct for his breed. Short coupled, sensitive, and quick to learn (either good or unwanted things), make him "drive" like an exotic sports car and not the easiest horse to ride. People also comment on our extraordinary bond. Loyalty is certainly a trait of the Arabian horse.
September 2021, I received an email advertising The Dressage Foundation grant opportunities. One of my dressage friends pointed it out to me. At first, I really thought I did not have any chance of receiving a grant. After speaking with my local instructor, JoElyn Newcomb, who encouraged me to apply, I put together a plan to spend a week studying with my long-distance instructor, Holly Bergay. As the education coordinator for the AVDA, I coordinate clinics for Holly to come to town about one time per month. These clinics not only allow Asam and I to have a lesson but allow others to have a lesson encouraging them along their dressage journey. This exposure has even resulted in new members in the Rocky Mountain Dressage Society and AVDA.
Holly Bergay is such an extraordinary equestrian and person. Holly Bergay has made waves on the national and international stages as an able-bodied rider and para-equestrian. With impressive placings, she was the first disabled rider to compete in the North American Junior Championships, the North American Young Rider Championships, and the Festival of Champions. As a para-equestrian, she was shortlisted for the 2010 World Equestrian Games U.S. team and longlisted for the 2012 Paralympic Games. Holly competed internationally in the small tour with the renowned Hanoverian stallion, Rubino Bellissimo, and has studied under masters of the sport Debbie McDonald and Sue Blinks. Her skill and experience earned her a position riding for Morten Thomsen in Silkeborg, Denmark, where she furthered her abilities to include training horses for the Grand Prix movements. Holly now has a training and sales business in Sedalia, Colorado, and is accepting horses and riders of all levels and ages.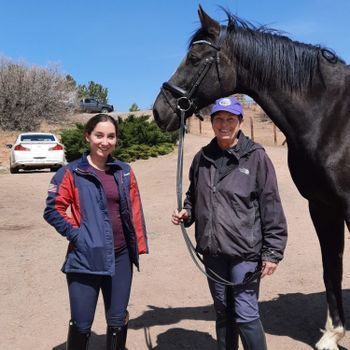 Much to my surprise, I received notification I was receiving the Gifted Fund grant to study with Holly! The Gifted Fund grant was seeded by Olympian Carol Lavell from funds received in remembrance of her horse, Gifted. Not as familiar as I should have been with Gifted and Carol, I went to the internet for research. Astounded by the size and substance of Gifted in pictures, I could not comprehend how he could be such a superstar in the world of dressage. I watched as he and Carol danced across the arena.  It was easy to see why he was a renowned superstar in the world of dressage, an Olympian, and was inducted into the Roemer Foundation/USDF Hall of Fame.
My grant week with Holly was April 25-29, 2022, at Holly's gorgeous facility in Sedalia. Sedalia is two hours north of our place where Asam lives with me 24 hours a day. Asam and I arrived about noon. I got him settled in and set my living quarters up with my first lesson later in the day. A week of lessons every day, observing Holly's lessons with students from five years to 75, and riding other super well-trained horses of types at all ends of the spectrum provided me with insight and knowledge from my childhood dreams.
Currently, Asam and I are showing at First Level. Last year at First Level, Test One. I got some okay scores, and some ribbons so I decided to move on to First Level, Test Three. Things changed; my scores dropped. I got a 60 percent, I am ready to go on to Second Level. Right? Holly enters the scene asking don't you want to improve those scores? As Holly and I have studied together, I now understand the point is not the scores nor the ribbons. The important thing is the skill that each score represents. Has my horse developed physically enough to execute each test component with thrust, balance, thoroughness, and contact to move on to the next Level? 
Last year I rode First Level, Test Three under USDF judge Debbie Riehl-Rodriguez. In her collective marks, Debbie wrote the following: "Wonderful, willing horse—would like to see a more secure rider with clearer aids to help horse maintain balance and suppleness—but on the right track". My goal for my week with Holly would be to become more secure, develop better aids, and be the rider my horse would like me to be to help him instead of being a hindrance.
Here are some of the specific teachings Holly helped me with:
*Balance and body position matter. Riding a sensitive horse means that if you ask for a transition while leaning forward you are slowing him down. Sit with a deep seat, lean back slightly using your core and send him forward.
*Keep shoulders level. One shoulder is high the other low. Look in the mirror to level them out (Holly has wonderful mirrors in her arena). Once they are level it feels different. If it feels odd to you, it is most probably better. 
*Ask him to give. Keep asking until he does give. Know the answer you want.
*Don't allow him to quit in downward transitions. Ask for more forward if he quits. Then ask for downward transition again.
*Half halt rebalances.
*Use every corner to make a bend and rounder. Then send forward. Inside leg bending aid, outside rein holds shoulder.
*Seat needs to be much deeper. Adjust your seat by taking your feet out of stirrups, putting your legs in front of the saddle, scooting your bottom as deep as possible, and putting your feet back in stirrups.
*Keep feet under you, don't sit in a chair seat.
*Sitting deeper is the answer when horse spooks, don't lean forward and ball up.
*Have one goal per ride but be ready to adjust if your horse has another issue that day. Fix the issue and forget the first goal. End ride on a positive note.
*Work on round and forward canter depart. Not getting a round and forward canter depart will make simple change difficult. 
*He can't be through unless he is on the outside rein. The outside rein is the stabilizer for his shoulder. If he is not on the outside rein, he will hollow every time on the canter depart.
*Test to be sure he is off inside leg into the outside rein by giving inside rein.
*Look where you are going before you get to corner. 
*Look where you are going in a circle to help with bending.
*In stretchy chewy circle, slow posting if you need to slow down, keep bending to the inside of the circle, and make sure shoulders are pointing in the direction the horse is going.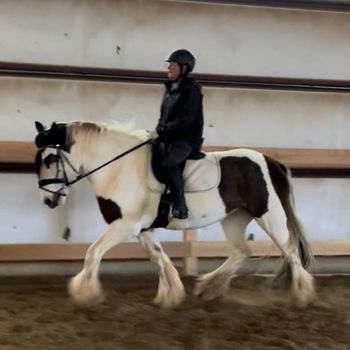 Holly also allowed me to ride some of her school horses that were drastically different from what I am used to riding. Oodles, an 18 hand Dutch Warmblood felt like a "Mack Truck" compared to my horse.  Cover Girl, a Gypsy Vanner, taught me if you don't ask for a downward transition correctly, you will most probably get just exactly the opposite response.  I have to say riding Cover Girl was a humbling experience as I observed her five-year-old owner ride her much better than I! Rides on these other horses were used to help build my security and confidence. Holly was quick to point out to me I had the skills I needed to ride these other horses.
Observing Holly's other students during lessons taught me a variety of different things. She teaches a variety of riders ages five to 75. There are a bunch of us "old lady athletes" around but the future of our sport lies in the hands of the young riders. Holly's positive teaching to everyone, especially the five-year-old, who built an arena with Lego then used her plastic horse to memorize her Intro Level, Test A to ride in an opportunity class at Dressage for the Cure, was amazing. 
One of the most precious times during the week was to be able to watch Holly ride Asam. She rode him twice for me.  She is one of the most gorgeous, intuitive, quiet-legged, deep-seated riders I have ever seen. She just becomes one with the horse when she rides. It was a special gift for me to be able to see what my horse can really do. For those that have never met Holly, she always has a smile on her face, a twinkle in her eye, and she rides with both single and double reins. She takes away every excuse any rider has for not striving to be the best rider we can be. You would never know it to watch her, but Holly was born with only one hand.
I have multiple instructors. JoElyn Newcomb who introduced me to Holly, Amelia Newcomb whose "Dressage for All" attitude and online Dressage Academy (USDF offers credits for these classes) have taught me so much, Juan Gonzales a true horseman, and Holly are the ones I have studied with most in the last three years.  I say a very gracious thank you to all of those and others. I would also like to give the biggest thanks to The Dressage Foundation, its donors, and Gifted who continues even 25 years after his death, to give the gift of immersive study and inspiration to those of us who wish to develop our riding and training in a manner that develops obedience, flexibility, balance, and harmony with our very forgiving, patient horses.