Gifted Memorial Fund for Adult Amateurs Recipient: Jessica Barreto (Region 1)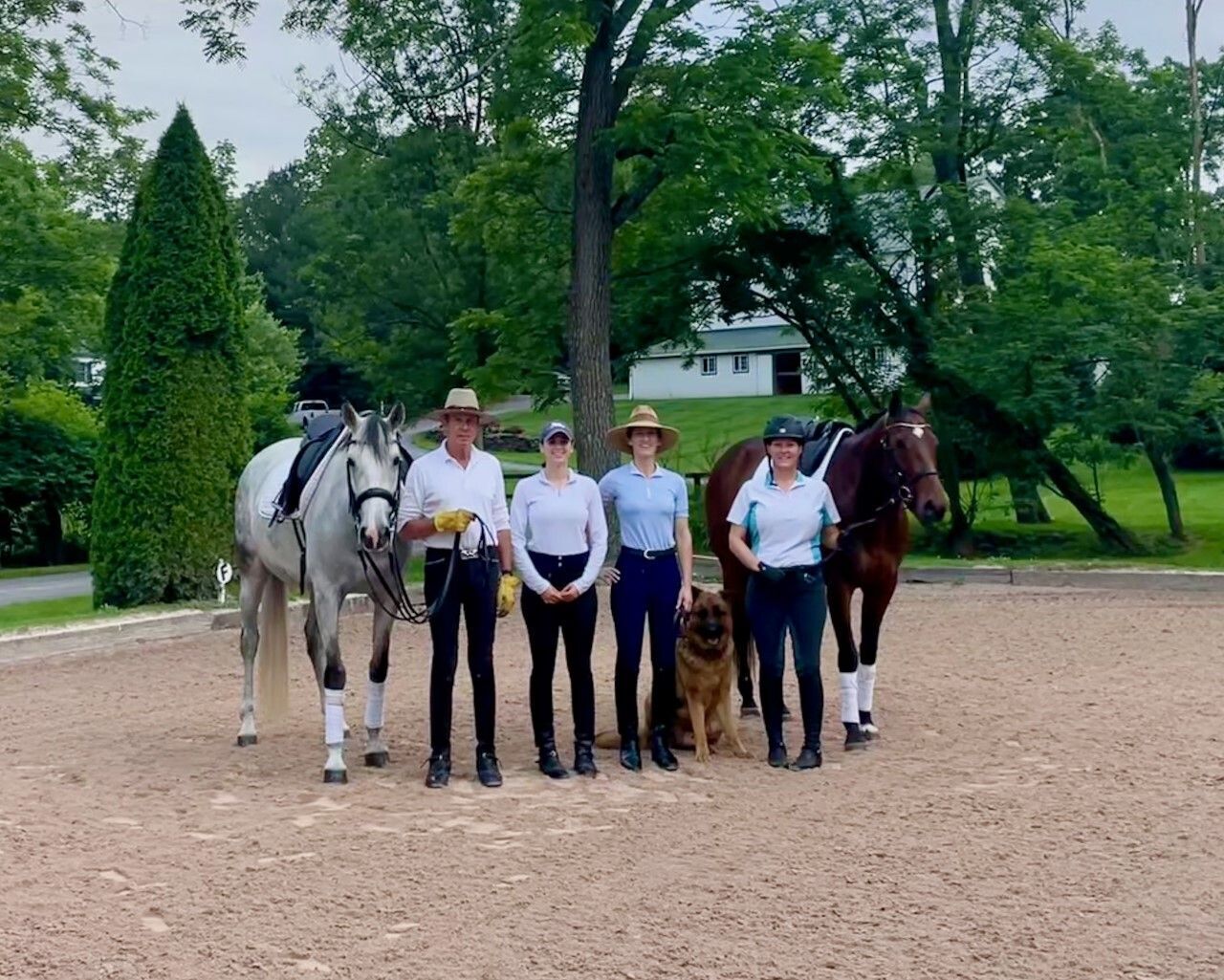 It was an honor and a privilege to be selected as one of the adult amateurs to receive the Carol Lavell Gifted Memorial Fund grant. Our original plan was to spend a week with Rose and Paul Belasik at their Lost Hollow Farm which is home to the Pennsylvania Riding Academy in April, but as we all can relate sometimes our horses have other plans. In this case, my 10-year-old off-the-track Thoroughbred, "My Cousin Vinny" or "Vinny" as we call him, had some foot soreness issues which caused us to postpone until this past week in June.
Postponing actually worked in our favor as April in Pennsylvania was very cold and wet, whereas we had a beautiful week weather-wise during our time. Additionally, it worked out better as I had much to do before my May wedding.
Fast forward to June; I decided it would be best to bring Vinny over the week prior to the farm so he had a chance to settle. I, much like many adult amateurs, do as much as possible myself to keep the costs manageable. I did consider hiring a shipper but after some thought and planning my good friend Ellen agreed to be my company on the two-and-a-half-plus drive to Pennsylvania. One of many benefits of an OTTB is they are quite agreeable to ship. I loaded the truck and trailer and gave Vinny a kiss as we headed to the ramp. In true Vinny style, he had managed to pull half his front left shoe off on the way up the ramp and it was Ellen who managed to get off the shoe completely so it didn't cause any further issues. Another fun fact is that in my aging years I am becoming quite a softy and don't have the heart to pull a mane anymore- queue the awful scissor mane cut. So, I loaded my missing shoe and bowl cut mane boy on the trailer and thought well there's lots of room for improvement thus far!
The ride went really well, and we arrived safely at the Pennsylvania Riding Academy. The farm is absolutely beautiful and well maintained. Lots of green grass with both an indoor and outdoor arena with perfect footing. The barn is a very old bank barn, and the house is quite lovely. Rose was there to greet us, and I apologized as I handed her the shoe. We received a tour and got Vinny settled. After a bit of typical horse talk, it was time to head home. I said bye to my boy and didn't expect it to be so hard to leave him behind. The blacksmith would come the next day to tack on his shoe.
I arrived a week later to start our training week. I was anxious to see my horse and couldn't wait to meet Paul. I have previously participated in monthly clinics with Rose but had never met Paul. I was really impressed with how down-to-earth Paul is despite being so educated and I was made to feel like family when I arrived. Rose and Paul were both so welcoming. We reviewed the next day's schedule, and I did my best to sleep which was hard because I was so excited!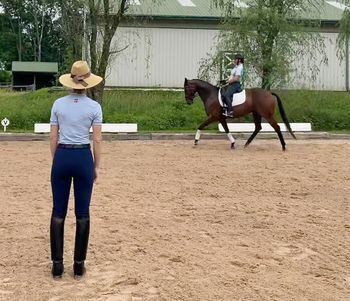 The next morning the barn was busy with the farrier and working student Diana preparing horses for training. Watching Diana, it was immediately clear there was a precise systematic routine. Horses were groomed immaculately and tacked/then wrapped with polos. Both Paul and Rose were preparing for riding. As we walked down to the arena, I was encouraged to take notes and ask questions.
Paul was on a lovely black Trakehner mare and Rose was working a client's horse who was a Belgian/Quarter Horse mare. Both began work with shoulder ins, haunches in and out, and traverse at the walk. After the walk work warm-up, they transitioned into trot work. Lots of changes of direction and lateral work continued with the addition of halts from the trot without any walk steps. Next was canter and here I saw the same lateral work and the addition of half pass by Paul. He really made it look effortless. I asked about long and low. Rose explained that long and low did not contract the muscles to produce a release or "stretch," but in fact taught the horse to travel on the forehand. As for the free walk on the buckle, a similar explanation was provided, and it was explained many riders confuse a correct free walk with a horse stretching down seeking contact versus simply letting go of the reins.
The horses were cooled out by Diana, and I tried to lend a hand where I could. Next was a big treat to see Paul work with his lovely PRE/Andalusian mare Ella who is schooling the Grand Prix movements. Rose brought out another client's horse named Allwyn who is an adorable Quarter Horse/Welsh pony. Paul explained Ella can be quite lazy and he must ride her in front of his leg. Having bred her from his previous stallion Excelsior who was also lazy he said she liked to think she was the queen of the farm. Paul schooled the same as before beginning with lateral warm-up and working his way to piaffe. I had to contain my squeals as I literally saw this mare lower her hind end as she performed piaffe. This was so exciting!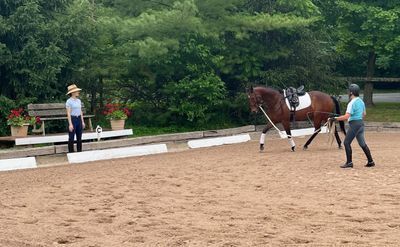 Rose worked the pony on the lunge, and I was intrigued. I have always been taught side reins should be used to properly lunge but I was honestly quite afraid of them. I have heard of many stories with horses flipping over or being cranked in. Rose did not do any either of these. In fact, the side reins did not have elastic, and never once was the pony cranked in. It was just the opposite as Rose adjusted the side reins as she went along. Again, we followed the same routine of walking back up to the barn where I was able to review my notes and ask questions. I did my absolute best to balance not being a pest with asking a ton of questions.
We continued the afternoon which was much of the same whether it was riding or lunge work with all different breeds of horses. Before lunch, I saw Diana bring her own horse out to ride. Ollie is a big draft horse she purchased from the Amish. Again, my preconceived notions set in, and I expected a heavy plodding horse but boy was I wrong! Ollie was so very light on his forehand and moved beautifully! Diana too had a perfect position! After lunch, it was my time to lesson with Vinny. I admit I was a bit nervous- especially after all the great things I saw earlier. Luckily Rose was going to first lunge Vinny and then ride him to show me what they had been working on. I didn't know who this horse was, but it wasn't my typical tense tight OTTB. Vinny was relaxed but more importantly confident. He did everything Rose asked and once I got on it was the same. Even in the barn and turnout, he was well behaved and not a step out of place. First, I learned how to properly lunge with a surcingle and side reins. This was a huge moment for me, and Vinny was such a good boy. During my ride, we worked on having a true connection from tail to the poll being the highest point. I had to be mindful to not fuss with my hands but rather use my seat and body first. Rose also wanted me to strengthen my outside aid as Vinny sometimes tried to avoid the outside rein to the right. I was starting to learn how to feel the connection and identify when he was too tight or needed to be pushed out to the bit. I also had to be careful to first use my core for my half halts and not revert to my bad habit of pulling first. There were a lot of "ah-ha" epiphany moments for me both watching and while riding. At the end of our lesson, I pampered Vinny with a spa bath. He really enjoyed the warm water, and it was so nice not to have to rush. I took a moment to inhale and appreciate all the smells of the shampoo and I really appreciated this time to relax and enjoy my horse.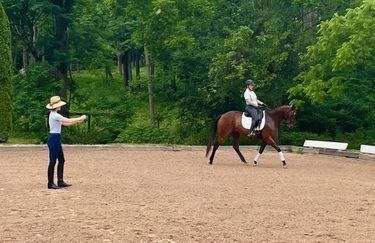 Each day continued with the same schedule. I got to audit rides and training of all breeds and levels. From three-year-olds just learning to accept tack or a rider (Rose is so very brave) to accomplished schoolmaster horses. Then I had a daily lesson on Vinny and time to groom, bathe, or enjoy his company however I wished. At the end of each evening, Rose provided either an article to tie in the day's lesson, a video, or a digital link to review and finish what was taught earlier in the day. One evening Paul made us a feast which we enjoyed poolside. We laughed as we each told stories of our youth consisting of naughty ponies or silly childhood memories.
Overall, it was really a gift to have this time and experience. I feel like I have learned an awful lot in a short amount of time, I learned many new tools to continue with Vinny's training and now feel more confident in my position. It was quality time I spent without having to fulfill a to-do list, rush to a meeting or worry about cooking dinner. I will be eternally grateful to Rose & Paul for their hospitality and all the learning. I will also be equally as grateful if not more to The Dressage Foundation. Without this grant I would not have been able to enjoy this week, nor would I have so many memories to cherish. Vinny and I are truly blessed.