Gifted Memorial Fund for Adult Amateurs Recipient: Katrina Lotti (Region 7)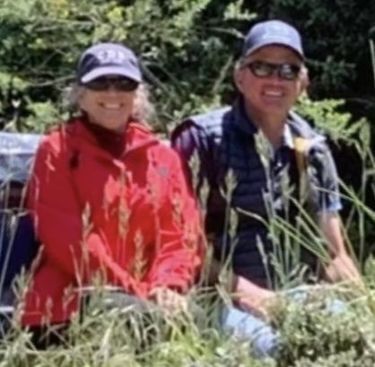 When I found out that I was chosen by The Dressage Foundation to receive a Gifted Fund grant for 2022, I literally did my happy dance. I was so excited for the opportunity to spend a week with my horse Gracia VDC and train with Craig Stanley at his facility. Craig, originally from Australia now resides in Madera, California. He specializes in training Young Horses through the Grand Prix level. Additionally, he was named a USDF Sport Horse Prospect Development Forum Faculty Member. Craig's experience encompasses the entire sport horse development process, from breeding to training through the FEI levels. He has developed his own mare, Caliente DG from the Young Horse Championships to Grand Prix as well as his own homebred gelding, Habanero CWS with whom he won both the USEF Four-Year Old & Six-Year-Old National Championships and is currently showing at FEI levels.
My plan was to spend a week in April to train with Craig and focus on groundwork and improving my horse's suppleness under saddle.  Unfortunately, EHV hit California hard, which caused barns to go into lockdown mode, as a result, I postponed my training to this past November. I trailered my mare, Gracia VFC to Craig's facility in Madera, which is about a 4-hour drive from where I live in the Bay Area. The plan was to have daily lessons on my mare and also shadow Craig during his day training other horses.
We started our week focused on groundwork for the first few days. He stressed how important it was that the horse respects your space. If you ask the horse to move its body over, away from you, it should do it easily. My horse tended to be resistant and wanted to take charge. Craig showed me the proper positioning and stressed that I need to stay consistent with what I was asking her to do. With Craig's assistance and guidance, she eventually got the idea, when I moved toward her haunches, she needed to move them away from me. Even walking her around in hand, I needed to insist that she stay up with me and turn when I wanted her to and respect my space. Once you establish respect on the ground, then when you are in the saddle, it should be easier.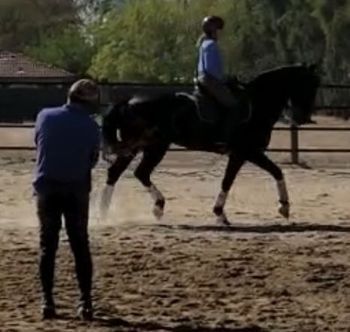 Every day we started our session with suppleness exercises at the walk. Bending of the ribcage, control of the shoulders and hips by moving them independently, moving away from the leg, change of bend to counter bend, turning on the forehand to turn on the haunches, backing up, and changing directions while doing the reinback. You must maintain the march and energy in the walk during all of these exercises. The trot work consisted of making sure my horse was even on both reins. Also, I needed to use my inside leg to ensure she didn't drop her inside shoulder in the corners and turns. When I changed directions, my horse's head tended to rise up a bit. He stressed that I must keep her head at the same level and stay round. She tends not to give in the poll, especially going to the left, so we worked on suppling the poll by changing the bend in the neck, left to right, right to left, not allowing the shoulders to drop. Lots of repetition. As Craig says, you need a good foundation in order to support the house.
During my lessons, Craig encouraged me to keep my horse round to improve her gaits and get more jump. In order for the hind legs to come under, the back has to come up. In order for that to happen, the horse has to be supple. Also, I tend to use too much inside rein. I really had to think of half halting with both reins equally and pulling back my elbows instead of lowering my hands down to my legs. In addition, I had to be sure not to pull my reins into my belly. Craig pointed out that if you can't lower the neck and keep the same trot, then I'm not doing enough with my legs. My horse tends to want to take over. I as a rider must make her wait. If she tries to take control, then I must go to the walk, then back to trot (counter bend her if she's not yielding in the poll). It's all about softening the poll and controlling the shoulders. Slow her down and make her yield. Even within the gait, she must stay round. Be sure she stays soft & seeks contact into the bit. Craig also stressed how important it was to be consistent with your figures. If you are doing a 10m circle, keep it a 10m circle. This should be a goal every time you ride.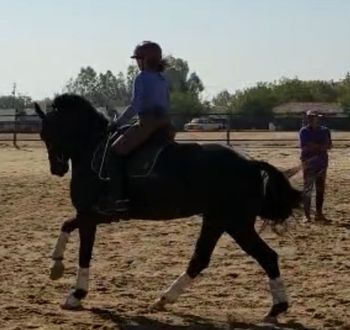 We also worked on controlling the shoulders. I was reminded that the hands control the shoulders and the legs control body. I tended to forget to use my inside leg. As a rider, you must have control of the shoulder, maintaining that you don't overbend the neck and keep that body straight. Always follow your line so that you can tell if your horse is falling in or out. Ensure that your horse stays in the same tempo and rhythm with each change of direction. When asking her to go sideways, she must stay forward. She also must be more responsive in her halts. We found that she also had a difficult time dealing with the contact of the reins when halting because I tend to throw the reins away. When going to the left she tended to bulge her shoulder so I needed to make sure that I'm applying pressure with my calf muscle. It's all about timing.
After our week of training, I went home and took what I learned from Craig and applied it to my daily routine. It is amazing what a difference this has made in our progress. This experience has exceeded my expectations. With the opportunity of daily lessons for an extended period of time and the repetition of the exercises, it helped our development and progress. Also, my partnership with my mare has gotten stronger. I feel she is really trying for me now because I'm more consistent with my riding and keeping her supple.
One of the highlights and successes of my week of training with Craig happened two weeks later. We were at the same show together and he was able to warm me up before my ride. I am happy to report that Gracia and I scored a 66% in our Intermediate I debut. The tools and exercises we worked on during our training week really helped keep my mare focused on her job while maintaining suppleness throughout the test. It was truly an experience that I will never forget.
I want to thank TDF for providing me with this truly amazing opportunity and Craig Stanley for his patience, wisdom, and unsurpassed expertise in the development of a truly supple dressage horse.