Gifted Memorial Fund for Adult Amateurs Recipient: Lynda Palmer (Region 7)
I want to express sincere gratitude to The Dressage Foundation for this generous grant. 
My goal for my training was to show Prix St Georges in 2022 and to become more harmonious with my horse which included being able to maximize her gaits and creating cohesiveness between the two of us in her movements. I was able to get intensive coaching from Sarah Lockman before my first show, before Championships and right after Championships.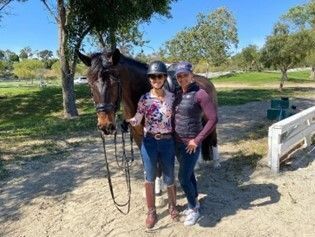 Before my first show at PSG
The first two-day coaching session and follow up session occurred right before my first show at PSG. During these sessions we worked on late flying changes from left to right, pirouettes and having a solid connection.
For the connection issue, Sarah had us work at the trot, working on getting a solid connection first but using a shoulder fore position then pushing Kiki into a more forward trot once she softened in the shoulder fore. We did a couple of exercises with the changes. My favorite one was canter in a straight line, walk, piaffe, canter then change right away. This got Kiki on her hind end really well. Another great exercise for flying changes was a serpentine with a change/halt which kept my horse listening to me and on her hind end.
On the second day of the two-day coaching session, we worked on pirouettes. Sarah put a cone at X and told me to turn around it in 3-4 strides. She also had me lower Kiki's head and neck going around the corner into the pirouettes which kept her round. We ended the session with some trot work where Sarah encouraged me to push forward into the movements resulting in a more fluid movement.
The third coaching session, we did a lot of piaffe-canter transitions to get Kiki on her hind end. We did piaffe, canter, change, change to get her quick to my aids.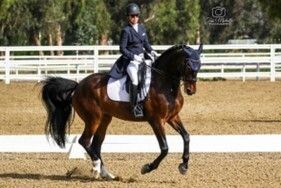 Show Time
I showed at PSG at two shows in May and got two qualifying scores—A 61.9% for my first PSG and a 63.225%. I felt like my horse and I needed more time to solidify our PSG test so I then decided one of the best ways to create harmony with my horse was to do a freestyle. So I put together a 4th level freestyle and earned qualifying scores for USDF and CDS Championships during the month of July— 64.167%, 67.567% and 65.967%. I also realized my position was key to creating harmony with my horse so I went to a show to qualify to compete in Dressage Seat Equitation, earning a qualifying score of 77%.
As I was working with my regular coach, Louise Koch, we were using all the exercises that Sarah had recommended. Some of the highlights were:
I was able to do a pirouette consistently
My half passes got much better
My horse's gaits were more forward and flowing, while still holding collection
My late changes got better (still together behind)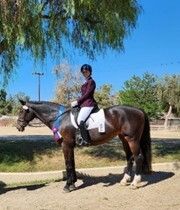 Before Championships
Sarah returned from Europe and was able to come for another two-day intensive session. This time, we had some scores and judge's feedback under our belts and were getting ready for championships. By this time, my biggest issue was a together behind change from left to right. Sarah provided two great exercises. The first one is to go down the diagonal or center line and after the left to right change, circle 10 meters right, right away. This helps Kiki get her right-hind through. We also included some halts after the changes so Kiki would nottake over. Another great exercise was counter canter, put her on the outside rein andchange. I worked on those exercises up to Championships.
Championships
I could not have been more pleased. We competed in the USDF 4th level open freestyle earning a 68.983% and CDS 4th Level open freestyle earning a 65.983%. The icing on the cake was winning both the CDS AA Equitation Championships with an 80% and the USDF AA Equitation Championships with an 85%. And the best part was that I felt that my intensive training sessions with Sarah helped me achieve my overall goal which was to create more harmony with my horse.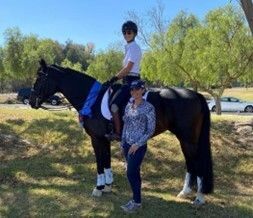 Post Championships
I had my last intensive coaching session right after championships. I wanted to work on changes as well as being more fluid in my trot half-passes. The exercise we used in the trot was leg yield across the diagonal then bending right and left until Kiki was supple. Once she was supple, turning the movement into a 1⁄2 pass, then back to leg yield. We also worked on half pass at the trot, then half steps then half pass again. For the flying changes (still together behind left to right), we worked on changes on a 20 meter circle which surprisingly, Kiki was clean most of the time. Then we went around the ring trying to get both Kiki and myself to do changes without making a big deal out of them. So my homework is to work on both the lateral exercises and the changes to fix the last piece of the PSG puzzle. I will continue to show PSG next year and look forward to showing off our clean changes.
Thank you to The Dressage Foundation and Sarah Lockman!