Gifted Memorial Fund for Adult Amateurs Recipient: Naima Lowe (Region 9)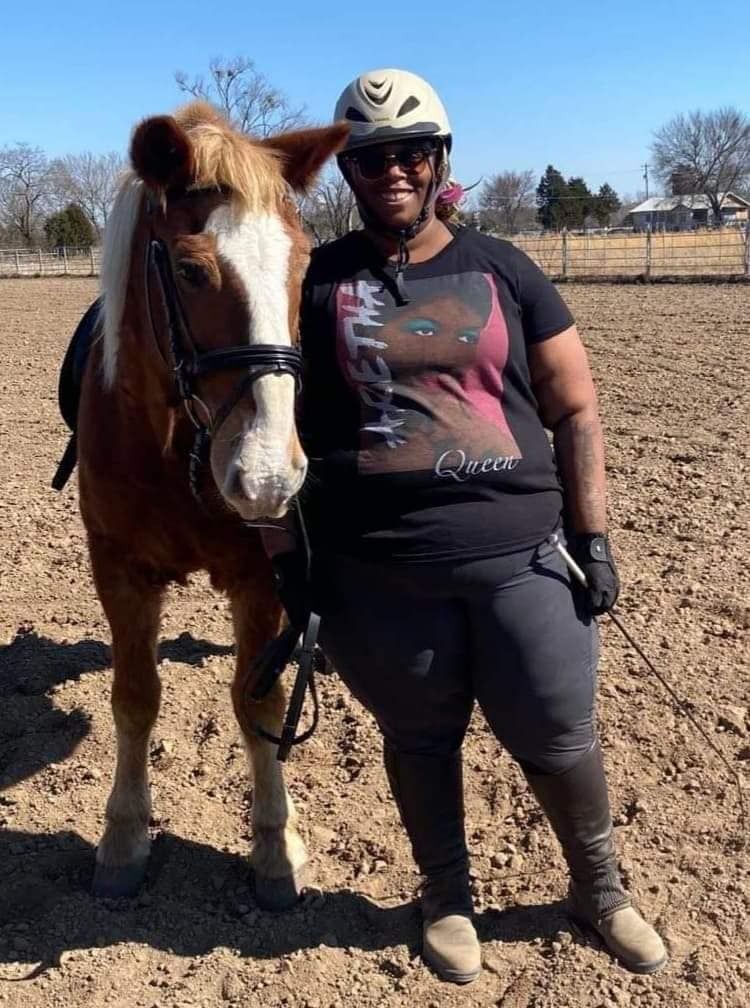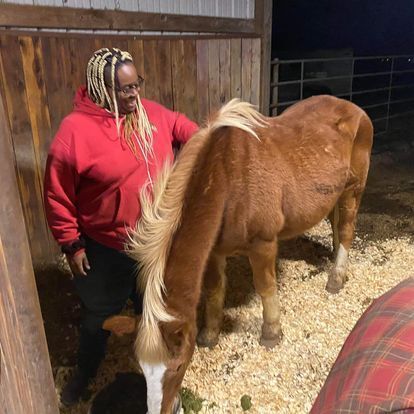 Den Burdette, my trainer, brought Willie home from the Stroud Kill Pen late one night in February. His "bail" was $1150, and while we know this horse trader to be fairly honest in their assessment of the horses (they advertise on Facebook), I was still incredibly nervous. I've never owned a horse, and I'd just bought one sight unseen! Willie was shorter and skinnier than we'd expected. Standing at only 14.2 (advertised as 15 hands), he had pronounced hip bones and visible ribs. I was worried that his height and low weight would mean trouble for me as a bigger rider. But Willie was sweet and happy to have food being shoved in his face. I knew I'd done something right even if he wasn't going to be a good riding partner for me.
Den has a lot of experience with kill pen horses, and with smaller horses. He assured me that this scraggly cute guy with the teddy bear ears would fill out just fine. I knew that Willie would get healthy with our care and love, but I didn't quite trust my own abilities as a rider to know for sure. All of that started to change once I got onto Willie for the first time, just a few days after we'd brought him home. We realized quickly that Willie is a safe, smart, and willing horse. He doesn't know much about arena riding, but he never offers to buck or rear when in the saddle. And most importantly, he is a quick study who seems to genuinely enjoy learning new things. We participated in a clinic with USDF silver medalist L-Judge Bay Greenhill in mid-March during which we worked on basic desensitizing, groundwork and getting him used to working in an arena.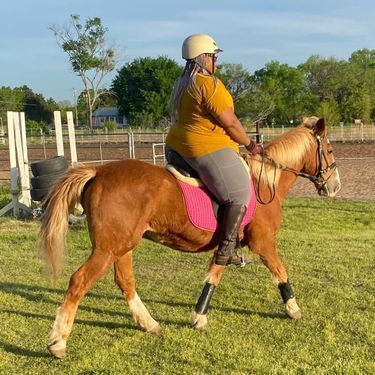 During our training time for the Gifted Fund, I was able to take 15 formal and informal lessons and had countless other small tips and support from Den. We've focused on the fundamentals of Intro Level dressage including bending and flexing, working with contact and stretching, and basic geometry. We've also done some mounted and in-hand obstacles such as bridges, gates and picking up/dropping off items in a mailbox, etc. We even hooked Willie up with some long reins and practiced some ground driving. That was incredibly educational for me!
After my training time with Den, I practiced the Intro Level skills I've learned from Bay and Den in the arena. We've also been spending considerable time on the trail and doing in hand work with bending, flexing, backing up, and being responsive to verbal cues. We ride a maximum of three times per week, weather permitting. Our rides are relatively short and rarely very intensive. My goal has been to build our confidence and his top line and muscle mass. I have also focused on my own rider fitness and balance in the saddle, which has helped us both. Den shared some great Pilates exercises with me, and I've started a weightlifting program. Den rode Willie in a clinic with Aaron Wilson in early July, which gave me a chance to see him really being pushed to his full potential.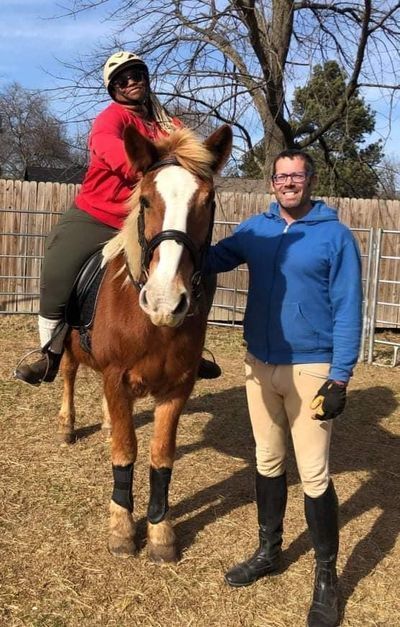 Thanks to the lessons from Bay and Den, I've gained so much confidence in my abilities as a rider. Watching Den ride Willie in the clinic helped me better understand Willie's strengths and challenges under saddle. If this process has taught me anything, it's that owning, and training horses requires flexibility, adaptability and open heartedness. I have come to absolutely adore this horse. Every time I visit, I make sure to just graze him, talk to him and love on him. His body condition is looking better every day, especially now that he's up to date on his dental care, shoes, and worming. Our rides are fun and energetic. Willie is sure footed and strong, especially on the trail. He never takes a bad step, even when I'm asking him to bend around trees, march up and down hills and stop on dime. He's still a bit confused as to why we go in circles in the arena, but he's learning to use his butt and take contact when I ask him to. We are planning to enter a virtual show next month at Intro Level A and B, and I think we'll do a great job. I'm so grateful for this opportunity and for this horse. What a gift for us both.  With funds from the Gifted Fund, we've accomplished so much, and Willie is a perfect fit for me, and we've had a great time together.