Gifted Memorial Fund for Adult Amateurs Recipient: Robin Cummins (Region 6)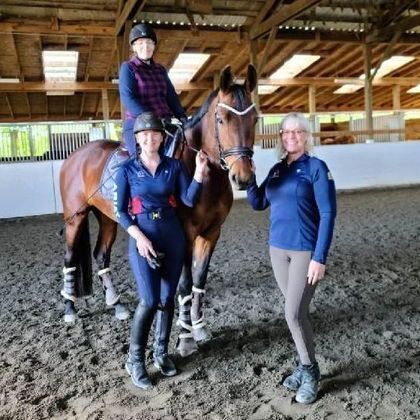 When I found out I was chosen to receive one of TDF's Adult Amateur grants in remembrance of Carol Lavell's great dressage horse, Gifted, I was so excited! I would not have been able to afford this kind of training experience no matter how much I saved up. You see, my husband just retired and I am disabled, which means our funds are limited. Receiving this kind of gift means everything to me. I will be forever grateful to Carol Lavell, TDF, and to all those who donated to the Grant Fund for this once-in-a-lifetime opportunity.
I rode as a young girl competing in California but stopped riding to marry and raise a family. Years later, I was the mom on the ground for my daughter while she rode through her Jr/YR years. I learned so much watching years of lessons and clinics that I fell in love with dressage. In 2018, I had weight loss surgery and lost 127 pounds. Hating the gym, I decided to take dressage lessons, and within three months I purchased my dream horse, Eclipse EE aka "Solo," who was trained up to Second Level. For the next four years, we competed Training Level through Second Level. Now it was time to introduce Third Level movements, which was a new level for the both of us. 
On a weekly basis I ride with my trainer, Jill Seely, at Clover Valley Riding Center and with Kari McClain on a bi-monthly basis. Kari just happens to have been Jill's trainer for over 30 years. I knew I wanted to ask Kari to work with me and Solo for a week. One could only dream to ride with someone with her credentials. She is an FEI 4* Judge, FEI Young Horse Certified, USEF 'S' Judge, with many other certifications. Miari Stables also has a wonderful assistant manager, Rachel Marie, who is a USDF 'L' Judge, instructor, and young horse trainer who I got to watch work closely with Kari.
I was so excited that Kari said yes to working with me for a week! Miari Stables in Olympia, Washington, is a little over an hour away from my home, so I decided to drive back and forth each day so I could use as much of these funds as possible on my training. It is a beautiful facility that not only is a training barn, but also has a great breeding program. One morning when I got to the barn, there was another new baby horse. It was hard to start my lessons because I just wanted to play with this precious little one, but I knew I had to go to work.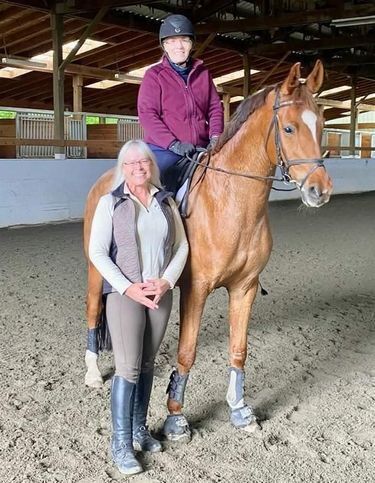 First Day (Two Lessons): My day consisted of observing of how a well-oiled stable works and taking lessons. It was fantastic to watch how they started each day with a meeting to plan the training horse rides and work with the newborn foals together. First, I watched Kari ride horse after horse, and seeing how she corrected even the smallest movement with each horse was eye-opening. Then it was my turn to ride my horse, Solo. Kari worked with me on things I needed to ask myself every stride over and over: 1) Is she stretching, 2) Is she through and stepping under, 3) Can I transition down at any time. I need to ask these questions every minute I ride, and if the answer is 'yes,' then I can move off the 20-meter circle repeating all the above.
Then it was time for a lesson with Rachel on her own personal horse, First Dibs. That lesson was hard because Dibs is completely different from Solo. Her walk, trot, and canter were big, unlike my horse's gaits. I could hardly post her trot. Rachel had patience with me while I tried to move Dibs forward, but by the end of the lesson, I learned that I was blocking the horse's gaits and that I needed to use my seat and legs more.
Second Day (Three Lessons): Kari asked me to warm up her Grand Prix horse, Capri, and I thought, "He is small like my horse, and this will be easier than Dib's big movements." Boy was I wrong! I got on him and he also had a big walk, then I asked for the trot, and he bounced me completely out of the saddle. I tried to sit his trot thinking it would be easier, but nope. Kari stopped riding her training horse to give me a lesson to help me understand how to ride Capri with my seat and legs. First, I was asking him with my leg way too far back. This was an ah-ha moment because I did not realize the difference. I knew I needed to take this information back to my horse's training. While we were cantering, my leg once again went back and my seat shifted, and he started doing tempi changes. When it was over, I thought to myself, "I hope I don't have to ride him again because it was so hard," but Kari had a plan for me. My second and third lessons riding Solo were a couple of hours apart, just as though we were at a show. During my first lesson, Solo was feeling tense while I rode through all the exercises Kari asked of us. It was not until the second ride that Solo and I had light bulb moments. She was stretching, she was through and stepping under, and we could move off the circle holding all of that together. Wow, she had never felt better…I have not felt better. Kari talked to me about setting up for a flying change and exiting the change, saying that setting up is more important than the actual change itself. Without a great setup, you will not have a good change.
Third Day (Two Lessons): Today I got to have two lessons again. One on Solo and one with Kari on Dibs. Solo felt amazing, which was not what I thought would happen. I thought she would be tired and not wanting to work for me. Nope! She was ready to go. She really likes the changes that are happening with me. I am not blocking her as much and I am being consistent with my seat. During this lesson, Kari added more counter-canter withholding the bend left and right. Of course, Solo threw in a clean change, but that was not what was being asked of her. Kari had me ignore it and begin again. I learned that if Solo broke to trot to make it a great trot before I picked up the counter canter again. Never ask for a transition without our checklist being in place. After that, Solo was much happier doing her job. It was time for my second lesson on Dibs, but this time with Kari. I was a little apprehensive to ride Dibs in front of Kari because I knew I could not ride her like I do my own horse. After getting on Dibs, I knew things were different today. My body responded much better to her huge gaits, but still not perfect. I found out that Kari was not asking me for perfection. She told me that it was okay not to ask for a huge trot when I could only manage a smaller one. She told me to work within my abilities on all horses I ride, and as I get more comfortable then I can ask for more forwardness. It does not do any good to be forward and incorrect. I knew that was another huge moment!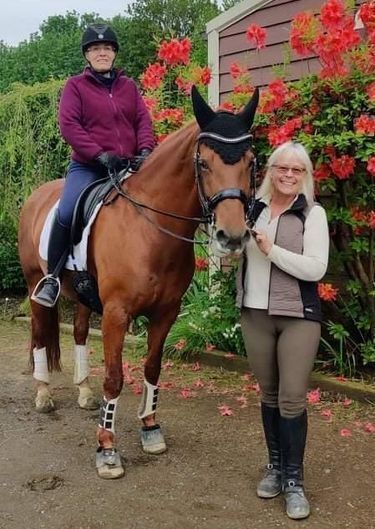 Fourth Day (Two Lessons): Today my soreness started to go away, and my body was getting used to riding multiple times a day. I think the pain in my arms due to my disability just gave in to the fact that I was not going to stop. I had to use ice packs on my arms, which really helped me to keep the swelling down. Also sleeping ten hours every night allowed my body to heal.
My first lesson was on Solo. When we arrived, I was just learning how to use a double bridle with my faulty hands/arms. Solo is not a light horse to ride but today I felt a huge change. She was so much lighter than I could have ever thought she could be. All this work is making a difference in my ability to hold the reins and relax my arms and seat. I was able to center my seat, keeping it from moving in the canter. Solo was "on" today! Kari put us through the paces of everything we learned during the week while being connected and light in the bridle. Then it was time for my second lesson, and Kari told me that she wanted me to ride Capri again. I was surprised that he was a little bit easier that day. I got him to move forward using only my legs and seat at the walk and trot and holding bend while trying to keep my legs close to the girth. Suddenly it all got better.
Fifth Day (Two Lessons): Today we put it all together! Once again Solo felt amazing. Kari has us work on our flying change setups and exits while asking myself, "Can I half pass at any time while holding the bend?"  We worked on areas of the Third Level test such as centerline, extensions, proper setup, and half halts. We showed so much improvement from where we started at the beginning of the week. We are ready to move on to the next step back at home. My second lesson was on Capri and this time I felt more confident. Today we worked on getting Capri forward in the canter since my seat was always asking for collection. I finally figured it out and he would move off my leg when I sat back and sat on my pockets. I was feeling so great. Then at the end of the lesson, Kari did something special. She allowed me to move Capri into a true Grand Prix passage. It felt like you were sitting in a couch that was floating across the arena. I smiled for hours.
What a wonderful experience! I am so thankful to have had the opportunity to devote this kind of time to improving our training. A huge thank you to Kari McClain for devoting so much time to us this week! The education I received was a once-in-a-lifetime experience. Also, without The Dressage Foundation and the Gifted Fund Grant for Adult Amateurs, I would have never had this wonderful experience. I encourage all adult amateurs thinking about applying to just do it. I am forever thankful for the generous support from TDF, the Gifted Fund donors, Rachel Marie, and of course Kari McClain!