Gifted Memorial Fund for Adult Amateurs Recipient: Stacy Adams (Region 5)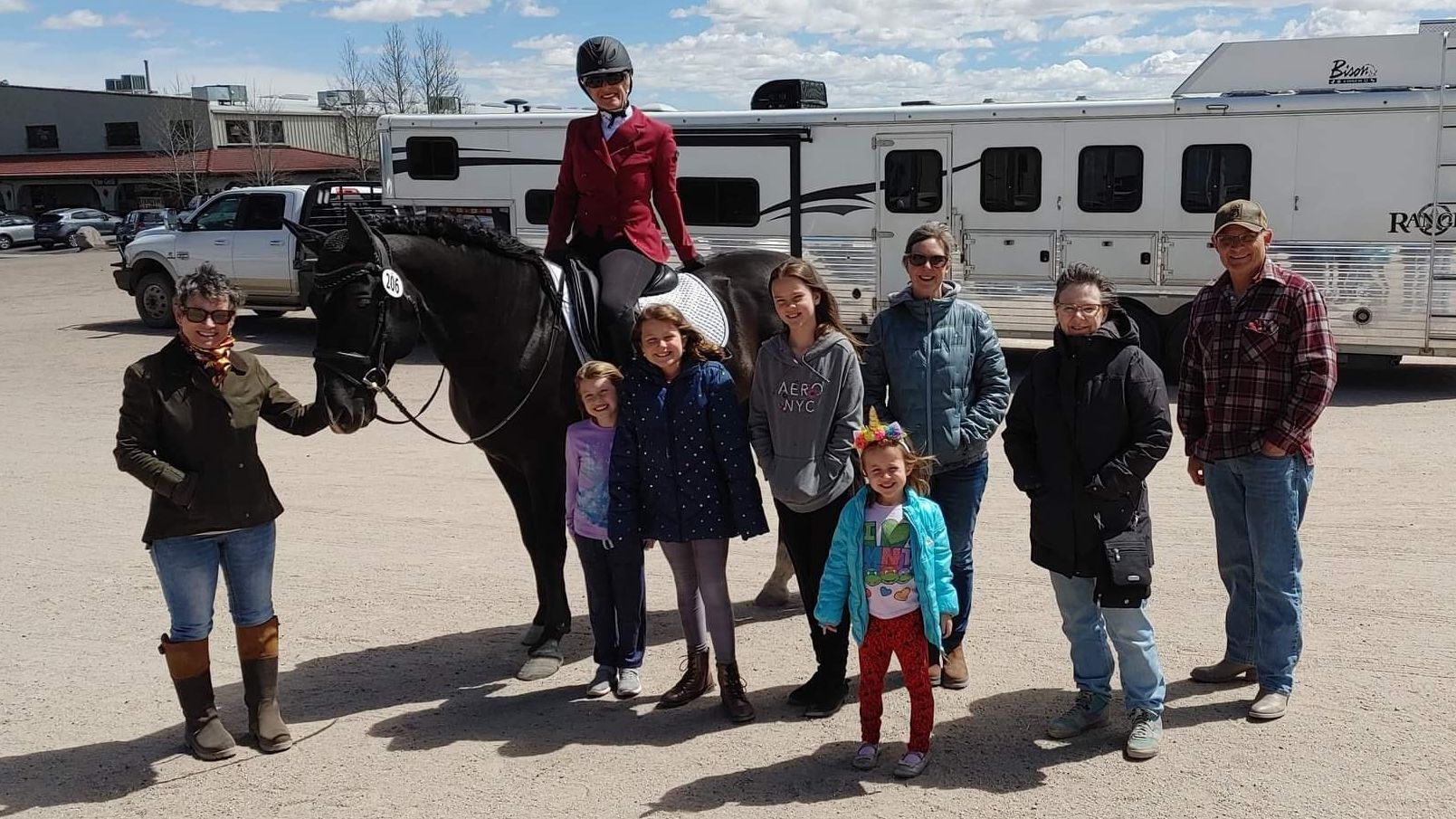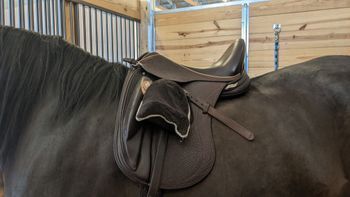 What a fabulous summer this has been, and I have so much to be thankful for being the recipient of this wonderful scholarship!  Being awarded the Gifted Fund for Adult Amateurs grant is quite an honor.
My love for horses began at age four with my little pony, Dusty. It evolved through the years as we grew up with my mom taking all four of us out riding the hundreds of acres of fire trails between Napa and Sonoma, California, bareback, camping in the wilderness for days at a time with only what our mounted steeds could pack along with their rider. We were involved with 4-H, rode western, and loved every minute around our animals. My mom would even ride to our local elementary school ponying a few ponies close to ten miles to pick us up from school on horseback. What a glorious surprise that was each time.
Upon moving to Colorado, I thought it only fair to raise my five children as close to how I was raised. Again, lots of 4-H involvement, rodeos, trail riding adventures, and numerous sled rides from the horses. Sled rides weren't part of my California childhood.  It was during this time that I began dreaming of riding dressage and dancing with my horse.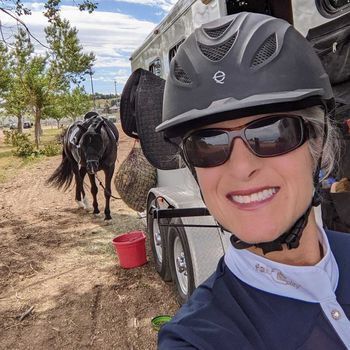 When my beloved Paint Horse died, I was close to the end of homeschooling my last two kiddos. I decided that my next horse would be a breed I had never owned. I decided that I wanted the fairy princess horse, an Andalusian. I wanted a pure black Andalusian because my mom's horse was black and always looked clean. I had had enough high-maintenance white to deal with and I wanted easy. 
A picture of a beautiful black Andalusian went up onto my vision board and I began to save and pray for just the right horse. Within about three years, I was about at the end of homeschooling my last child and working as a teacher and a picture of a horse leaped from my computer screen and I knew this would be my next horse. This beautiful, imported PRE Andalusian stallion was in Chicago and he has now lived in my backyard for the past four and a half years. What a miracle! His name is Camelio ANG II. I'll admit, I traded high-maintenance white for high-maintenance hair…lots of forelock, mane, and tail! I love it!
My dressage journey began. It started a bit slow, but over the past few years, I have learned so much in the way of tack, riding attire, organizations, rules, and the minute details of this discipline. After so many years of trail, western, and hunter under saddle riding, I have had a lot of muscle memory to retrain. Having a lesson here and there wasn't enough to get me over the hurdle of succeeding in this new discipline. As a teacher, this grant has provided me the opportunity to enjoy several concentrated lessons to reach my goal of becoming a more proficient dressage rider.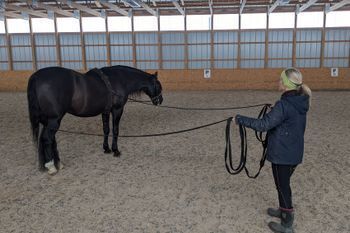 Little did I know when I applied and received the news that I was the recipient that my mother would gain her angel wings and I would be grieving losing her. She was my best friend, my cheerleader, and my inspiration. She is responsible for passing on her love of horses to me. 
Having already set my goals for the spring and summer with my scholarship application has literally been a Godsend and has helped in ways I cannot even begin to put into words. Thank you!
I planned to train with Simone Windeler and to work on the elements of both the First and Second levels. 
We have focused a lot on:
·  Better seat, hands, and connection
·  Double Lunging for better hands
·  Breathing
·  Many various exercises to get my horse on the bit and aids and having roundness and suppleness
·  Many various exercises to get both my horse and me more fit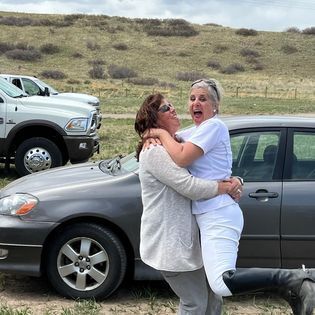 As a result, I now have two scores for my USDF bronze medal at First Level and both qualifying scores for the Rocky Mountain Dressage Society Championships at the end of September. I can see a real improvement in my riding and now as a result, with my horse. I feel more of a connection, more suppleness, and lightness with him. I even wore white gloves at the last show! I've had them sitting in my trailer for two years patiently waiting for a time when I thought my hands were ready and worthy.
I have dreamt for years of riding at Dressage for the Cure and the smile on my face that weekend in May couldn't have been bigger. From warming up on Thursday through my last ride on Sunday, I was so happy!  Sunday, being Mother's Day, was especially heart-warming and needed as it was my first Mother's Day without my mom. I rode for her and got my best score. Cam and I even came away with the IALHA High Score Award too!]
My Second Level scores are definitely improving, and I am getting good scores at the schooling shows, so I am confident that I will get those towards my bronze next summer. If attending another weekend of recognized shows worked in my schedule this summer, I am pretty certain we could achieve those scores, but alas, they will have to wait.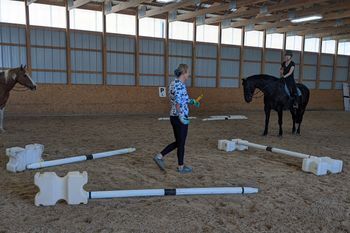 As far as top tips learned, I would have to say that the art of breathing correctly was one of them. My awareness of my breathing has helped my horse focus on me. Being aware of my breathing at the halt, how many breaths on a long side or a circle, and how deep my breath goes have helped tremendously with transitions and how my horse responds to me. All transitions, whether up or down, happen on the exhale. This seems to have helped keep the transitions calm, lighter on the forehand, and with less bracing.
I also have been very aware of keeping the communication more consistent with my fingers on the reins. A little movement and more half halts have resulted in a greater response to suppleness, bend, and lightness.
I will be attending an Iberian show in August and will be competing in a Pas de Deux at Second Level and doing a musical freestyle in another discipline thanks to the improvements that I have made because of this scholarship. I love how taking what I've learned and applying it to all aspects of my riding has opened new doors of opportunity and new experiences that I may not have been able to reach for at this time. The elements of dressage are truly the foundation for all riding.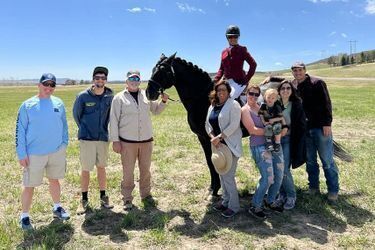 I do need to give credit to my husband for tirelessly helping me in numerous ways and encouraging me to keep going, my family and friends for their support and effort to watch and cheer me on, and my trainer for her wisdom, guidance, and understanding of both my horse and me.
I would like to extend my deepest appreciation for selecting me to be the recipient of this wonderful grant. I want you to know that it has had a profound effect on improving my riding and helping me become a more connected partner with my amazing horse. It has also helped me to continue to move forward during a very difficult time. I don't think I would have been this focused otherwise. I kept thinking of how I was trusted with this grant and how I didn't want to waste a penny of it. I can whole-heartedly say that I did not. I am really proud of the improvement my horse and I have made together. Thank you again!