2020 Para-Dressage Fund Grant Recipient: Alanna Flax-Clark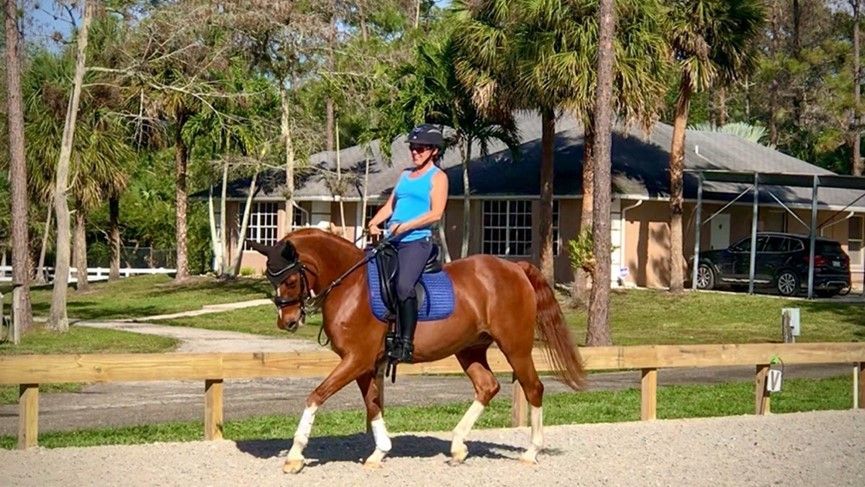 I was honored to receive a grant from The Dressage Foundation to help focus on my training with my horse El Paso (Taco).  We spent February in Wellington training with Sara Schmitt. We competed in a CPEDI3* in January, and to our surprise, a second, unplanned CPEDI3* was scheduled for March. This focused month of training was a great time to prepare for the second show while taking the financial burden off during a time that has been more stressful with the pandemic. 
We used this time to work on several things. Besides the usual focus on test prep, working on the specific gaits for my test, steadiness in the bridle, and time outside of the sandbox to vary things up a bit, we also tried out different bit combinations to see what was best for Taco, and what worked best for me in my hand. The combination of the two is really important. Since I cannot open my hands to grip, I don't hold the reins in the way most do to ride. I use a loop that goes around my wrist and everything else is ridden off rein aids, voice, and my balance. Finding the right combination for the two of us as a team leads to a better connection, collection, and harmony.
As a para rider, I do not have sensation, proprioception, and am not able to use most of my body.   When it comes to riding, this is a challenge when trying to make corrections and learning how to train my own horse. Especially in the warm-up and more so in the show ring, Sara cannot yell to me when to make a correction or how to make that correction. I need to know what to do and how to do it. Working on the skills to be able to ride independently, be more proactive, and train my horse in a positive way are invaluable skills. I need to know it's okay if I make a mistake or what to do if he doesn't react the way I'm expecting. Working on these skills is essential.  
Thanks again to The Dressage Foundation and all its donors for making this grant possible! Taco and I had a wonderful month of training with Sara and I can't wait to see how we progress from here.
The Para-Equestrian Dressage Fund (due November 1) was established to provide financial support for para-dressage riders to attend educational events. The amount of the grants are typically $1,000.