2019 Evie Tumlin Grant Recipient Gail Lewis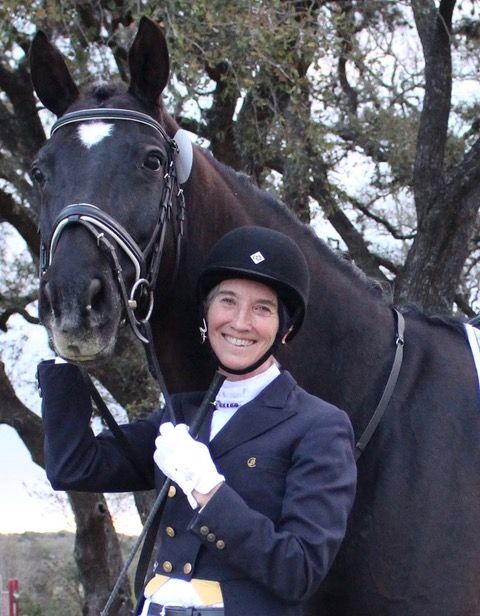 LESSON WITH A SPANISH RIDING SCHOOL MASTER
With the help of The Dressage Foundation's Evie Tumlin Fund, a grant for USDF Region 9 amateurs, I was able to participate in a clinic with a master from the Spanish Riding School. One reason I wanted to study with him is that the knowledge he shared comes from more than his own forty-plus years of education and practice; it is knowledge passed down to him from the masters before him for over four hundred years. His exact words echo his teacher's words and his teachers before him. 
It has been my dream to immerse myself in learning dressage as he did. Though unable to study at the Spanish Riding School, I have been fortunate to study with instructors who also carry on this classical tradition. As their instructors taught them, they taught me correct basics, creating the foundation for FEI.  They helped me refine my aids, improve my focus, develop poise, increase my confidence, all of which I realize now, prepared me well for this clinic.
Meeting the instructor was a bit like meeting a hero but he was gracious and funny and soon put us all at ease. I took away many quotes to guide me as I work toward my goal of earning USDF Silver and Gold Medals, and that I pass on to you.
While I am competent, I have not always been confident in my riding. I had no doubt about my partner – a nineteen-year-old Hanoverian gelding I lease. But, this clinic, in addition to allowing me to gain centuries-old knowledge from a true and admired master, also confirmed that I can do it!
There were many points about how to train a horse, which aids to use, and how to develop the seat, but what made the greatest impression on me was this teacher's emphasis on how to create a good partnership with our horse. His love for the horses was pervasive and foremost. He reminded us that, "The horse does not choose us; we choose him." Simply put, "We must be nice!" Also, we must control our own bodies and our own "temperaments."  A good partnership, he said, requires "love, respect, and trust."  In my experience, this is not always evident between rider and horse. I was grateful to be reminded of the privilege it is to ride.
His instructions were clear and given with care, the exercises simple and repeated on both sides.  He had high expectations of the riders, for the horse's sake as much as for the rider's. This he let us know with a twinkle in his eye.
In addition to the need for us to be fit physically, he encouraged us to use our brains, to problem-solve. "There are so many solutions," he said. If we made a mistake, we heard, "Stop. Stop. Stop." He would patiently explain the mistake to the rider and the auditors and have us try again.
When something was evidently too difficult, he looked for alternative exercises, ways to prepare better for the result. "Know the preparation to get to the result." We were expected to concentrate, not to repeat and repeat.  That was particularly important for my older horse. We should take our time but not waste time.  Sometimes we make excuses for why we cannot do something, or we think we should wait to ask until we get to a higher level. He did not accept that. Instead, he said, "You must teach from the beginning how you want the horse to go." As an example, always ask your horse to halt on the bit.  
Even with the young horse the first goal is to ride forward to the contact. The connection should be like elastic side reins. The horse must accept any length rein. We carry our hands one hand above the wither, and this does not change. You vibrate the rein in that position. The inside leg and rein keep the bend; the outside rein is used to collect.
He said not every day should be the same. If you do the same every day, the horse won't want to do it anymore. For example, if the horse is tired over his back you can ride over poles, or maybe a pole, a cross rail, and then another pole. Sometimes you could jump.
At the end of the ride, he had us release any tension with stretching over the back on a loose rein. We were to control the tempo with our seat, with less driving, but with the horse actively stepping underneath the body. The horse should stretch so far that he can "eat from the sand."  I think this helped prevent soreness in me as well as my horse.
In the end, he said with pride and confidence, "We must 'present' ourselves and our partners when we ride. We should say, 'Here I am. Watch me. This is how it should be done'".  While that seemed beyond me, as I concentrated so seriously, and tried so hard, he reminded me, "Smile. Riding is fun!"