Missy Carlisle - 2017 Evie Tumlin Memorial Fund for Region 9 Adult Amateurs Grant Recipient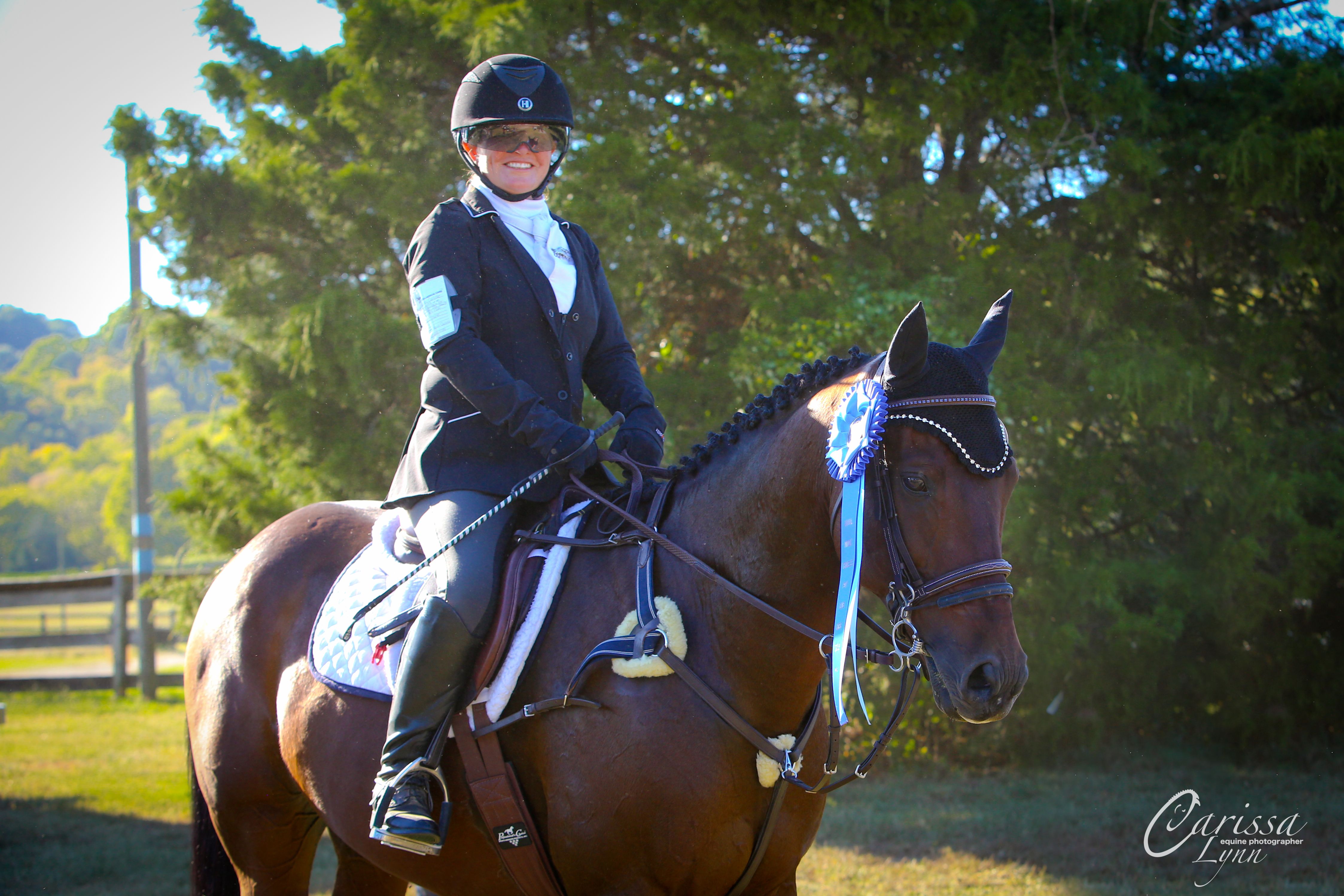 With the Evie Tumlin grant, I was able to take lessons with International Grand Prix dressage rider, Kim Gentry. It was a great opportunity to learn from one of the best in dressage. Our main goals that we worked on were to get Scooter more supple and to work on flexion. I learned that having a more forward motion and allowing him to loosen up helps with making Scooter more supple in the bridle. This helped a lot because Scooter is a horse that can be fussy in the mouth, so with Kim's help I was able to get a better understanding on how to ask Scooter for suppleness and actually achieve it. I also got the opportunity to try different bits to see if that helped some of Scooter's fussiness. We found a bit that Scooter seemed to prefer, it helped a lot, and he was willing to drop his poll and engage himself better. I learned a lot from my lessons with Kim and to have the opportunity to apply what I have learned to my other horses as well as Scooter is terrific.
Some of the exercises that we worked on for flexion included working in a large circle at the walk. This helped to stretch and loosen muscles on the opposite side of bend. After large circles, we then slowly moved to smaller circles by using my weight and leg for Scooter to bend around and stretch. Then we moved into 20-meter circles. We did this is both directions to help loosen him up. As we moved into the trot, we had serpentines to help with flexion, straightness, and re-balancing. This exercise helped me a lot because I felt more focused and I seemed to be thinking ahead as to what and where I should be going. I know now the importance of riding serpentines correctly because it improved my riding and balance.
After my lessons with Kim, I felt more confident as a rider. Scooter felt more balanced and supple, which is what I wanted to achieve. This grant has given me the ability to improve my riding and better myself in the area of dressage. My goal for this grant was to attend AEC's, but as fate would have it, my horse Scooter is not able to jump at this time. So, I have a new goal and that's to improve our dressage training and move up the levels in dressage while our eventing career is put on hold.