Jane Fucinaro, 2017 Continuing Education Recipient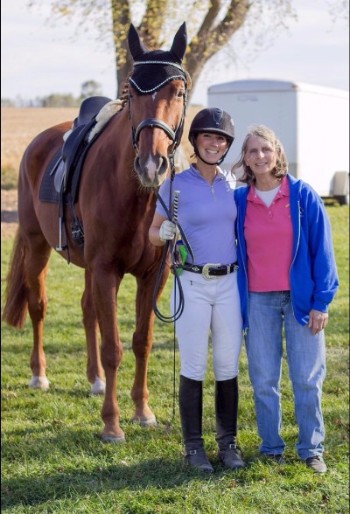 The horse world is a funny place. Anyone can swing a leg over a horse and call themselves a trainer. Anyone can shout out some instructions to a student and call it teaching. Anyone can clip a lunge line on the horse and spin them around in a circle. So in a world where anyone can pick up the reins, what is the difference between a good trainer and the rest?
The USDF Instructor Certification Workshops work to educate not only the Participating Instructors to be thorough horsemen and women, but also teach the auditors and demo riders to recognize the qualities of a educated instructor. As a young professional just starting in the industry, I wanted to seek further education to set myself apart from the rest and ensure that I am instructing and training my students and horses to USDF standards.
Thanks to the Grant from TDF's Continuing Education Fund for Dressage Instructors, made possible through the generosity of Charles and Maryal Barnett, I was able to attend the Workshops without carrying the financial stress. Having this Grant available gave me the extra push to register for the Workshop and take my dressage knowledge to a whole new level. This Grant is the gift that continues to give. It not only helped to develop my own knowledge and skill, but continues to pay it forward to my students and horses.
The Riding Workshop
The Riding and Teaching Workshops were held back to back in April at the lovely Winds Reach Farm belonging to Bill Koesters. Both were taught by Sarah Martin of Blanca, CO. The Riding Workshop started with introductions and lecture. I wrote down, multiple times, WWH. We were encouraged to ask the questions, "What, Why and How?"
What is happening with the horse? What is the major issue?
Why is it happening? Why is it a major issue?
How do I approach it?
We discussed the Training Scale in depth. Instead of thinking of it as the traditional pyramid, we turned it into a pie chart, using it like different ingredients while cooking.
Thank goodness the Riding Workshop preceded the Teaching Workshop. It's unbelieveable how my nerves kicked in the moment we were put on the spot for the simplest information! So to be able to ride my own familiar horse on the first day, was great. We watched each other ride each horse and thought about the following process in each session:
Observe: feel the horse, note the responses and reactions
Analyze: use the Training Scale and think of strengths and weaknesses
Plan: what exercises or changes in riding can address weaknesses and build upon strengths
Implement: do your plan and see if it works! If needed, repeat the process and make adjustments.
Sarah Martin guided us through the process, then eventually it was up to the rest of us to analyze each rider. The next day of the Riding Workshop, we swapped horses as assigned by our Workshop Leader. The emphasis this time was on the aids. How to use them, what they are and then using them in different exercises. We were tasked with teaching an exercise, then developing a plan to implement it during the ride on our new horse. Going through the assessment cycle in my head as I rode challenged me to think on my feet and make a positive influence in an organized way.
The Teaching Workshop
Well, I can't say this part was easy. The phrase, "growing pains," comes to mind when looking back at the Teaching Workshop! Most of us Participating Instructors have never stood in front of a group of professional peers and an audience of auditors and taught a lesson. So when I went up to teach my lesson, I tried to introduce the horse and rider combination, and my voice was just GONE! Thankfully, USDF sets up such a great assessment cycle and questions we need to ask ourselves, and I was able even to bring my mind back to the Training Scale, and eventually start talking.
My big takeaways from the Teaching Workshop are as follows:
Are you seeing positive changes in the lesson?
Create yourself as the teacher you want to be.
Adjust your degree of expectation, don't hold the same standard for all of your students.
Create a self-sufficient rider, a self-carrying horse, create confidence.
Find a clever way to link what the rider wants out of the lesson versus. what the rider needs.
Solicit feedback from students.
The biggest challenge to me, besides getting words out, was clearly relating the lesson back to the Training Scale and in precise, brief terms. It is so important to be able to teach the same exact concept or exercise in at least twenty different ways. The Teaching Workshop was so great in that we were able to learn from each other. Each Participating Instructor had something unique to bring to the table. So thank to each and every one of you who painstakingly put yourselves out there in front of us, and let us learn from you!
The Lunging Workshop
The Lunging Workshop was back at Winds Reach Farm and taught by Sarah Geikie in August. The big emphasis here was on safety. When you lunge correctly, you have A LOT of equipment, and it's of utmost importance to know how to safely handle it. Honestly, I was very excited for this Workshop because Lunging is where I feel the most safe and comfortable. Lunge line lessons are one of my favorite things to teach, and I love watching horses lunge well on the line.
I think everyone has witnessed the following situation: Picture a busy showgrounds. There's a busy trainer that is on the phone watching her horse spin around her quickly with no side reins attached. They'll say the horse needs to burn off energy. Well, it was so nice at the Workshop to relate lunging to the Training Scale and really delve into making it a productive session for the horse.
Truly, when the horse is lunged well, it's a beautiful thing to watch the gaits change and the back start to become supple. As "boring" as some people might think lunging is, I thought it was really fun to watch the transformations in some of the horses.
On the next day of the Lunging Workshop, we had the pleasure to lunge the owner/rider of the horse in a seat and position lesson. We used the same process (observe, analyze, plan and implement), and built upon the Teaching Workshop in a focused manner. I had an extremely capable pair to work with. Using seat exercises, we were able to create a more supple gait in the horse and steady out the trot canter transition- all without stirrups and reins!
I felt going into the Lunging Workshop after the Teaching and Riding Workshops gave me much more confidence and confirmation in my dressage knowledge, and I was easily able to put the Training Scale to motion in my seat lesson.
Ending Remarks
I want to start by saying how courageous each one of these Participating Instructors are for pursuing the Instructor Certification. I didn't know anyone coming into the weekend, and we all walked out with great new connections and support. It's not easy to put yourself "out there" in front of a crowd and peers, but we did it.
Teachers in schools spend months and months putting together processes for learning and teaching topics for their students. We don't see that too often in the horse world, or at least I hadn't! These Workshops helped me to develop a systematic and progressive way of teaching and riding that will organize both my own and my students' rides. I'm committed to finding that positive influence and positive change in each lesson and ride. I've encouraged students (and myself) to keep a notebook and jot down notes after each ride, too. Using the assessment cycle really holds me accountable for each lesson and ride.
I am so impressed with the USDF Instructor Certification Program. I was very intimidated going into the Program, being a professional that hasn't shown the upper levels yet, but I wasn't the only one, and the information applies to all levels. A national dressage curriculum is a powerful thing, and it's evidenced in the USDF Instructor Faculty that led the Workshops. They were confident and in charge of the information, and able to tactfully assist us when we weren't.
The Program is not only useful for us as Instructors, but I recommend youth and adult riders to attend as a demo rider or auditor. I was able to come away with the "know how" to recognize an effective trainer from an ineffective one. This knowledge would empower a whole new level of dressage riders to seek out quality, classical education.
Thank you, TDF, for supporting quality education in the U.S.