2019 Continuing Education for Instructors Fund Grant Recipient: Weronika Ciechowska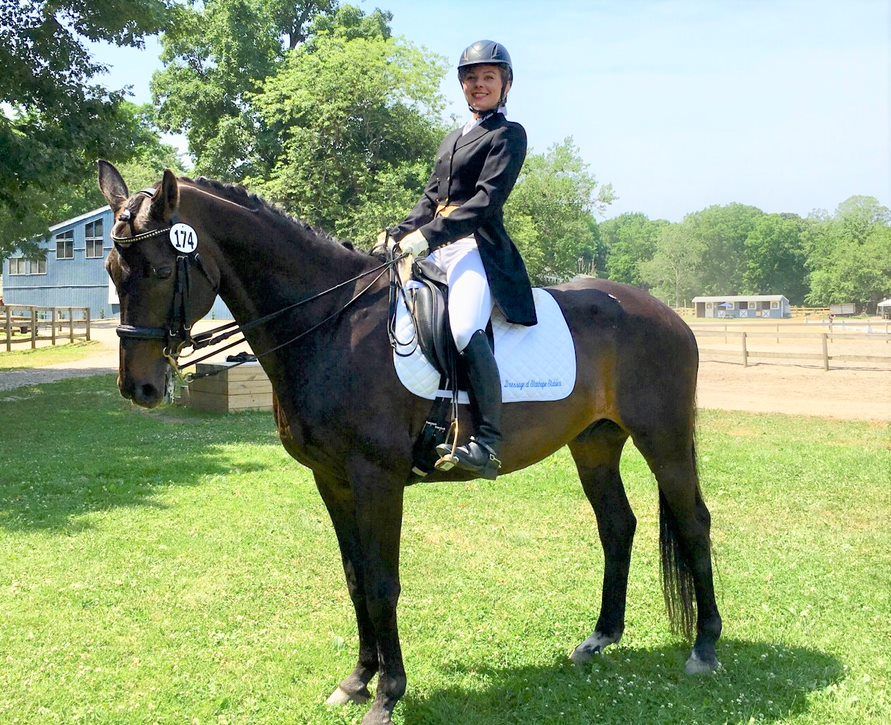 Thanks to The Dressage Foundation's Grant I was able to fulfill my dream and participate in USDF Pre-Certification workshop that was held in Saratoga Springs, NY, on April 27th.
Originally, this workshop was supposed to happen on Saturday and Sunday, but finally it was decided to only hold it on Saturday. Despite terrible weather conditions, Vicki O'Neil and Ann Guptill were able to organize this workshop in such way that everything went smoothly.
Pre-Certification has to mimic the exam and help us prepare and get comfortable with Exam procedures. We were divided into groups and had to present our lunging, teaching and riding skills. 
Even though I participated in USDF Lunging workshop before, the lunging part has been difficult for me. In this particular situation, the horse that I had to present had little lunging experience. It was very challenging to show all three gaits of the horse in a balanced and calm manner. On top of that, the horse was spooking a lot, which didn't help, but I had to remember that this potentially could be the case at the actual exam. After presenting the horse the best that I could, instructor Ann Guptill told me that when a horse is unfocused and spooky, I should just focus on walk/trot transitions and exclude canter work. Therefore I have learned that during the exam, if I get a challenging horse, I have to think out of the box and try a different approach. 
The teaching part was definitely my favorite. The rider that I had lesson with was fairly experienced and had a very challenging horse. Her horse was a Thoroughbred that needed a lot of half halt work because he was rushing in all his gaits. During my lesson we definitely saw an improvement and the horse was much more obedient and relaxed at the end of our lesson. The rider was satisfied with the result. Vicki O'Neil told me that my teaching skills are overall very good, however I need to work on the way I formulate my feedback and I should make sure that my criticism is more constructive. She mentioned that because English is my second language, I sometimes may come off a bit harsh. I will definitely take that under consideration.  The very important thing that I have learned during this session is to always ask for permission when adjusting the rider's position. I have not done that and from now on I always make sure to do that and get consent of the rider.
Due to limited time and horses available to us, we had to limit our teaching on the lunge line to 15 minutes per participant. My session went excellent and rider appreciated my lesson.
The part that I thought would be the easiest for me was very challenging. I consider myself an experienced and a good rider. However, as I have found out, the riding part can be a very humbling experience. The horse I had to ride was definitely safe and sound. He has been used for more than an hour before in a lunging session, but due to his nature (mix draft horse) he had plenty of energy left. When I got on him everything went well, I was able to get all transitions and get the horse on the aids and forward in steady rhythm. Unfortunately, I was bit too gentle with my aids for too long and I should have been a little bit stronger to prevent the horse from shaking his head repetitively. If I would have been more precise, I would have had the horse in front of my aids sooner. Ann Guptill was very helpful and gave me some great tips. 
I am very happy I had a chance to participate in the Pre-Certification. I strongly recommend to anyone who is considering getting certified to participate. The feedback you get is very important and allows you to think of your strengths and areas that need improvement. It can be humbling and even disappointing at the beginning, but overall it makes you realize what a good instructor consists of.
After the Pre-Certification workshop, I decided to ride as many horses as possible and take the riding workshop as soon as possible. Luckily, there was an opening at a USDF riding workshop with Sarah Geikie at Meadowbrook Farm in Marlborough, CT. 
The workshop was extremely helpful, and I had full attention of the USDF instructor, Sarah Geikie, who really helped me to work on the proper assessment of the horse and the approach that has to be taken with every new horse we ride. 
After that workshop I felt empowered and definitely more confident about my skills and ability to pass the USDF Instructor Exam. 
I want to express my gratitude and thanks to everyone who considered me for this grant.