2015 Elysium Farm Fund Recipient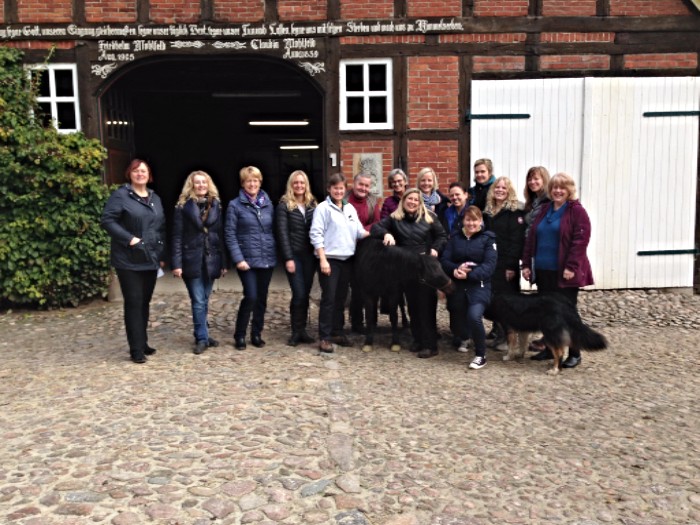 I wanted to thank you for allowing me the opportunity to attend the Hannoveraner Breed Orientation course in Verden, Germany on October 15-24. Dr. Ludwig Christmann and his staff were perfect hosts and teachers. What an amazing educational experience ending with the three-day Stallion Licensing and Auction.
We visited many breeders and stallion stations. We were able to see how the youngsters are raised and trained. The farm families shared their feeding programs and we were hands on in their fields and facilities with them. They welcomed us in to their homes with enthusiasm. I learned that we all have the same goals- to breed the best for our sport. Good minds, confirmation to do the job, and athletes that will last in their discipline.
Every day was an educational packed itinerary. Amongst myself were twelve other breeders from all over the world. Although I attended by myself, I now have new friends that share the same breeding goals and passion from Denmark, Australia, Canada, Norway and the United States.
The highlight of course was at the Auction, when Andreas Helgstrand bid 1.2 million on the Premium Licensed stallion by Rocky Lee/Rouletto. As the audience cheered, he ran in the ring and led his new purchase around the auditorium.
We were lucky enough to visit the farms that had entries in the stallion licensing and hear their personal journeys; from choosing the right stallion to raising and training that youngster to make it that far, it was like the grand finale of the course!
Thank You! This was a life changing experience. I now can enhance my breeding program with all the useful knowledge I have obtained. My goal has always been to breed U.S. bred dressage sport horses that our professionals can ride in the show ring. I am now committed to this more than ever.
Sincerely,
Gina Leslie
Sandpiper Farm