2019 Major Anders Lindgren Instructor Grant Recipient: Lauren Sprieser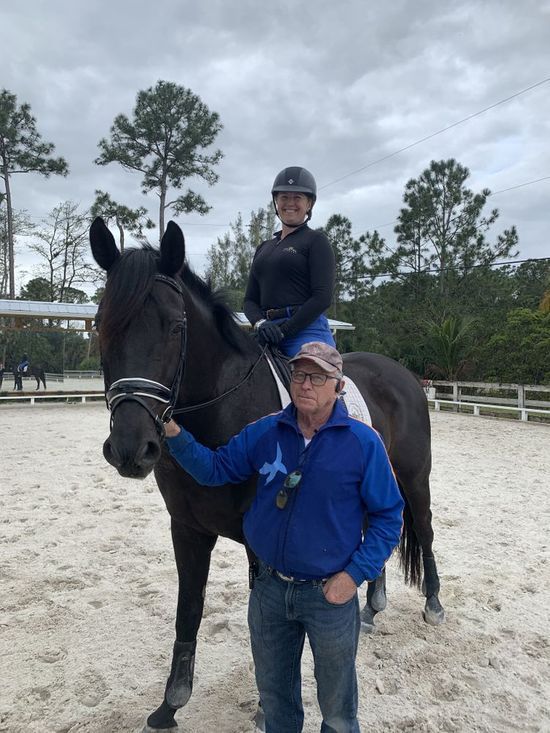 I had planned on using my Lindgren Grant to work my horses regularly with Mike Poulin through the 2020 winter season. And that plan worked beautifully... until the Coronavirus swept the world in March. I was particularly disappointed, because I'd wanted to get in one or two more sessions, particularly after Elvis's CDI season ended, because my goal for him is to dedicate the year to developing the piaffe, something at which Mike excels.
But I got to make lots of progress with Elvis, and with my other horses, before the end of season madness, and then I got to pull an amazing pinch-hitter off the bench: Olympic Bronze Medalist Ali Brock, who summers in Virginia less than two hours from my farm, so I'll be able to continue riding with her while the coronavirus crisis winds down.
Elvis and I spent our season competing in CDI Small Tour, to get qualified for the USEF Intermediate I Championships. His schedule meant dancing around a bit with my lessons with Mike, but we were able to coordinate my lessons around my show schedule, and make small nibbles of progress towards Operation: Piaffe as the season went on. Elvis came to me with a pretty confirmed idea of useless, wide-open passage, combined with an insecurity around the use of the whip, both from the tack and the ground. My previous sessions with Mike had given me some tools to give him confidence about the whip, so we then spent the season working on quickening the hind leg without Elvis then leaning up against the bridle.
One of my favorite exercises that Mike gave me was the trot leg yield into the walk transition. Instead of thinking about bringing Elvis back to walk, he had me push him forward, and bring the hind leg under. As the exercise became easier for him, Mike had me start making it take more steps, drawing the transition out to let him bounce in place a bit. It was a simple tool to quicken the hind leg without letting Elvis get strong in my hand.
With Puck, I have almost the opposite problem - he's very quick and powerful behind, and rather than sitting and loading, he is good at running off those big strong hind legs and crashing onto his big head. Mike encouraged me to make lots of transitions, focusing on using my inside leg to create the downward transition instead of my hand. He also had me double down on my focus on my own posture and position, so that my big mass isn't moving around so much that it throws him off balance.
Mike's favorite of my three horses is Swagger. Swagger is in a tricky place - he's big and gangly, he's a little cold to the aids, and he's developed a spookiness this year that is proving annoying. Mike's biggest piece of advice to me was to be patient, something that isn't easy for me! But he also encouraged me to use the inside rein to maintain control and submission, even erring on the side of giving the outside rein to flex him inside in the spooky moments. It was amazing how quickly his focus came back to me when I relinquished my need for an inside-leg-to-outside-rein connection, just for a moment, so I could refocus him on the task at hand. He also had me ride Swagger a little off the wall, so I had some room to move around if he lost focus.
My last set of lessons was with Ali Brock, before the Coronavirus put us all on complete lockdown. With the show season behind me, piaffe is now my primary focus for Elvis. After spending the majority of my time with Elvis' in hand work focused on making him quick behind, I'm not finding him, at the end of our season, almost too quick, and a little earthbound as a result. Ali had me approach the transitions in and out of half steps from the trot, using a lot of aid to press him in shoulder fore at trot around a circle, then "releasing" him into straightness and half steps, before pressing him back out to trot with more angle again. The exercise made the half steps feel like a relief, and Elvis was able to slow down and swing a little more. I'm not home yet, but I got some great tastes of the future!
And with Puck, Ali had me work on the way he moves sideways. I've got pretty solid control of his "power trot" on straight lines, but I lose him when he starts to cross his hind legs, and he falls on the forehand. Ali had me take a long diagonal line, starting straight, then changing the angle of his body to that of half pass for just a few strides, until I felt Puck start to struggle with the uphill balance and expression; then I'd ride him straight on the diagonal again. In just a few days after my lesson, I could go farther and farther in half pass before he started to falter, and I know that it won't be long before he's strong and coordinated enough to maintain the entire diagonal.
While it wasn't the winter I'd planned, I had a fantastically educational winter with the help of the Lindgren Grant and The Dressage Foundation. I've now got a much deeper toolbox for helping my students advance their own young horses to FEI, along my developing my own horses up the levels myself!