2018 Major Lindgren Instructor Grant Recipient: Amanda Perkowski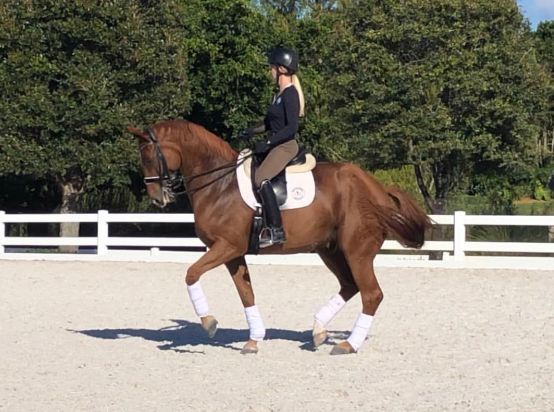 Three Major Take-Aways from Working for Allison Brock 
In November of 2018, I traveled south from my hometown in New Jersey to Wellington, Florida with my horse Quando Boy, owned by Dressage4Kids Inc. I was headed to work for Allison Brock at the beautiful DeerMeadow Farm, owned by Fritz and Claudine Kundren. From the beginning, I knew this would be the experience of a lifetime and a chance at an intensive, quality education that would impact the rest of my career. At that time though, I don't think I could have fully grasped the impact the next six months would have on me. My understanding of riding, horsemanship, and overall life perspective has been redefined by my time at Ali's, and in this article, I wanted to share three major takeaways from which I believe anyone pursuing success in the horse industry would benefit. 
Keep an Open Mind
Before I arrived, I had a conversation with Ali about expectations. She advised me going in to drop any preconceived ideas I had conjured about what this experience would be like so I can be fully open to accepting a new system and routine. Keeping this in mind made all the difference. In the first few weeks of lessons, Ali seemed to take apart and reconstruct everything I thought I knew about riding dressage. I spent many, many lessons on a 20m circle, repeating transitions and redefining my understanding of a correct half halt and the use of my seat. When working with someone new who has a respectable track record, you have to remain willing to keep trying to learn and understand and to trust the system, and results will follow. Being a good student is built upon trust and an open mind. Despite frustration and growing pains in the beginning, the results of her lessons speak for themselves through the changes in my horse and my riding. Ali helped me tap into a side of Quando (affectionally called Bob around the barn) that I didn't know existed. It's ok to have a plan and goals are encouraged, but they have to be malleable enough not to become constraining. When I arrived, my goal was to have a successful season at the Young Rider level. Upon further analysis of Bob's strengths and my long-term plan, we decided it would make more sense to work toward the Intermediare II/ GP. This was an intimidating change but was followed with positive results, we had a successful season gaining lots of competition experience at the I-2 and I am moving forward with a much deeper understanding of the GP exercises. Expect challenges when embarking on a new adventure. Be willing to work harder than you think you can, and stay receptive to the system in order to make the most of your experience and soak up all that you can. 
Take Time
"Take time" is a phrase Ali repeats often in her lessons but I have found it to be a valuable reminder of the overall theme of her training system as well as stable management routine. Personally; I find it easy to fall into the trap of becoming rushed when riding and training, and losing patience when the desire to move forward and work on the big things trumps the focus and attention to detail which must be put into your base. A favorite quote of mine said by Mae West is "Anything worth doing is worth doing slowly." The root of Ali's training system is based in a quality, reliable half-halt. Whether we were working on the basic quality of gaits on a circle or riding through the movements in the Grand Prix, the accessibility of a half halt that is off of my seat and truly back to front was always an underlying theme. I have learned to ride every stride, constantly checking in on my horse's readiness to respond, and utilizing time in-between movements (corners, short sides) to keep him sharp for the next movement.   
This lesson translates into the way Ali and her team manage the barn. Every horse is looked at as an individual and cared for according to their needs and personality. Every task is done with an emphasis on quality, and I never felt rushed to just "get it done" but rather truly take the time to do things with thought and correctness. Everything is very systematic and schedule-based, which I think truly reflects well in the horses' comfort and relaxation level. I hope to carry this through to my own future business and the way I interact with every horse I encounter.  
Learn by Doing
Ali repeats this phrase often to us, and it is something everyone should remember when pursuing any sort of goal in the horse industry. You (typically) do not start out at 75 percent in your first Grand Prix, or bring up your first young horse without mistakes and training bobbles, or back up the four-horse trailer perfectly on your first try. Sometimes moving up and trying something more difficult can push you out of your comfort zone and seem daunting, but you will only become good at something through repetitive practice, and often sometimes failure.
When we decided to strive toward a Winter season at the I-2, I knew it would be a big jump up for me from the small tour and Young Riders. As show dates approached, I kept questioning if I would be more "ready" next month, or the month after that, or after that. Ali encouraged me that we had done the prep work at home and it was time to start the other half of becoming comfortable at a level- go ride the test at a horse show again and again. We started the season "getting through it" with some uncharacteristic or unexpected mistakes here and there that I would be more ready for next time. My scores climbed slowly but steadily through out the season, and after maybe the eighth or ninth test at Global, I felt I started to own the ride and the test. I was no longer "getting through it" but able to take more time to prepare and fine tune each movement.
As I look toward moving on to the regular GP, I fully expect to go through the same process! Patience and seeing the value in each of your attempts and how they move you forward is key. We are all on our own individual education journey, so don't compare someone's chapter 15 to your chapter 3… take time to build a solid base for yourself to grow from and put in the work to gain the experience. Use the success of others as fuel for yourself to keep pushing! 
Overall, I am moving forward from my time with Ali inspired to pursue the next chapter of my journey and education, and feel grateful to have had the chance to be exposed to such a quality system on an intensive level. The generosity and kindness of Ali, Fritz and Claudine Kundrun, and the entire DeerMeadow team has truly impacted my life, and I cannot accurately express how thankful I am that they welcomed me aboard. I am also endlessly grateful to the Dressage Foundation and the Lindgren Scholarship for making this venture more economically possible. The influence The Dressage Foundation continues to have on our sport opens doors and opportunities for the entire community.