2019 Major Anders Lindgren Instructor Grant Recipient: Cindi Wylie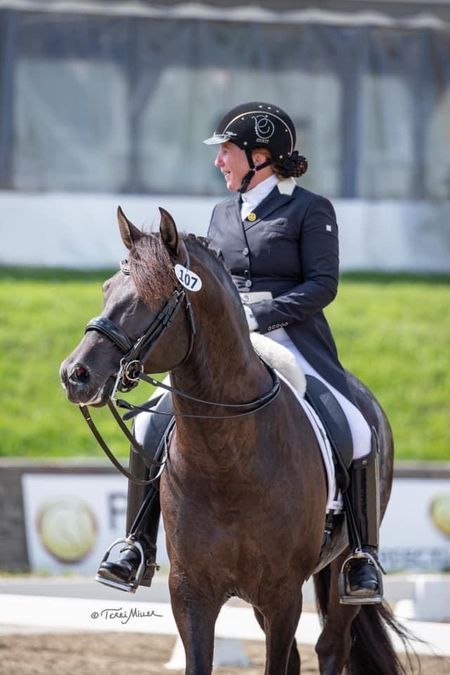 I feel very fortunate to have been selected as a Major Anders Lindgren Grant Recipient by The Dressage Foundation.  The purpose of the grant was to provide continuing education funds for Certified Instructors.  I used the grant to help finance regular lessons for Amado and me this winter with George Williams with the goal of us ultimately showing Grand Prix together.
Amado – My Gift Horse
Amado is the most handsome PRE stallion (not just my opinion--he thinks so too!), who I originally found in Germany when horse shopping for a dear client and friend, Joann McCarthy.  Together, Joann, Amado and I spent the winter of 2018/2019 in Florida at Blue Marlin, where Amado and I finished the season showing a green Third Level test with a few somewhat tense changes.  Although the changes were at that time a challenge, we progressed very quickly with lessons from George. During the winter we started the beginnings of a lovely piaffe and canter pirouettes. Our primary goal with Amado was for his owner to be able to ride, which she did, and she enjoyed every minute. 
When Joann, who had been undergoing cancer treatment, passed away somewhat unexpectedly in the spring of 2019, she left Amado to me so I could continue his training and our dream of her owning an FEI horse.  George had met Joann when she came with me to Blue Marlin.  It was always fun to watch them laugh and joke with each other.  (To this day I remember Joann telling me that she was getting a "George Williams Breakfast.")
George was very supportive of helping me make Joann's dream come true, agreeing to work with Amado and I several times a week and coach us at shows in pursuit of our goal.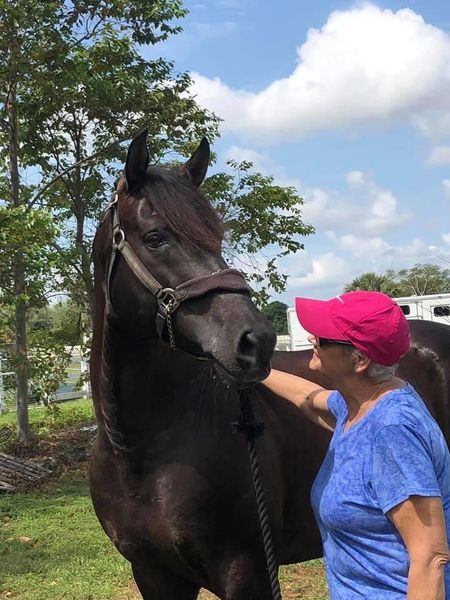 Amado and Joan
Lessons with George - Horsemanship First and Foremost
The lessons I've once again brought home from working with George are endless.  Some of the most important ones go beyond the arena itself.   His horsemanship is impeccable, and he is a wonderful role model as both a trainer and instructor.   It's the sort of thing that you don't learn in a lesson itself, but you learn by being in George's barn, and watching and absorbing.  George's endless patience was remarkable.  And he would ride the most difficult horse with the same calm demeanor as he rode the easiest one.  George would carefully tune into their personalities, and work with them in ways they understood.
When George was riding, you would see him frequently laughing and joking with the horse when they are silly.  He was quick to praise, but clear and calm in corrections.  He embraced the horses' quirks and rewarded success. At George's there are no draw reins, short cuts or gadgets.  Through some of our discussions, he made it quite clear that his opinion is there are no bad horses, something I wholly appreciate.  He listened carefully to his students.  He was always there for us with an answer.  George was thoughtful about the methods he chose for each horse and rider combination. 
Sometimes during one of our lessons, George would go quiet.  I'd look over and see him focusing on the new plan he was making in his head for us.  He believed in all his students no matter what level, age or potential.  The last horse (and rider if it was a lesson) of the day got as much attention and energy as the first.
George's horsemanship doesn't end at the free walk out of the arena either.  Frequently you would see George in a quiet moment grooming or grazing a horse, picking a stall, sweeping the grain room (he does have the tidiest grain room I've ever seen) or whatever other little barn chore might need to be caught up on.  It was definitely always about the horse, not the ego.   If George wasn't doing barn chores, then he was cramming in a conference call with one of the many projects and committees he was working on with USDF, USEF or the FEI.  George's energy and love for the sport was clear and endless.
It's All About the Basics
One weakness we worked hard to improve over the course of the winter was Amado's connection or throughness.  Part of my plan this winter was to learn to ride better canter pirouettes.  We worked many exercises to develop Amado's strength to improve the pirouettes, but during a training ride at a show one day, George helped bring to my attention that my challenge was not the pirouette itself, rather the connection through the back where I was getting stuck.  It just was too inconsistent, and not quite as even as it should be.  Fully my fault, as George also helped point out that I have an innate ability to continually throw my right hand away…UGH! 
So back to basics we went, including my holding my grab strap with my right hand during difficult movements so I wouldn't panic and throw my right rein away.  With my right hand somewhat firmly planted, I was forced to concentrate on pushing Amado more through into my hand in those moments.  We also decided that Amado would go back in the snaffle for a while.  At the same time, George worked with us to improve Amado's suppleness as well.  Part of the price one pays for that large handsome stallion neck that Amado carries around. 
Another place that was created likely by my connection issue was in trying to maintain the cadence and expression of the collected trot in the Grand Prix half pass.  Half pass has always been a tough movement for Amado.  He would get either tight and choppy or flat and rushed.  Some of it I attributed to a breed thing, as PRE's tend to be leg movers with weaker backs than warmbloods.  Even just trotting a circle, we sometimes would wind up with several different trots every few strides because of the inconsistent connection through his back.  If Amado's back would tighten, we'd lose the connection and we'd get quick, short steps.  If I'd get his hind legs more active, the connection would improve, and sometimes I might get lucky and get longer better steps.  Once we could master having one expressive but steady trot, then I had to figure out how to maintain that trot in the half pass.  Again George took us through a wide variety of exercises through the winter, from half pass to medium trot to half pass, or half pass to passage to half pass, etc.  Yet still I just couldn't get the consistency we needed for a good GP half pass.  But as we focused more on properly connecting my dreaded right rein to fix my canter pirouette…the half pass started to improve.  A few steps, then a few more, and then suddenly Amado was showing the beginnings of the half pass we were looking for.   Another big step forward here happened when I rode Amado in the USDF FEI Instructor Certification program taught by Lilo Fore towards the end of the season.  She pointed out that my left leg wasn't working when going half pass left to keep the horse forward.  Big oops!   At the end of the season the half pass really started to come together, and George was as thrilled as I to see Amado maintain the cadence and steadiness we were looking for! 
The big lesson overall was to revisit the basics defined by the training scale, no matter what level you are working.  Even at a high level, there is so much that can be improved this way!
Goals Sometimes Require Flexibility
Once all the movements were there and we were starting to put them together, I was able to start showing Amado at Inter 2 under George's eye with some success early in the season.  George and I both agreed we weren't quite ready for it, and that pieces may be a bit rocky in the show arena, but we needed to start somewhere to see how Amado would deal with the new challenges.  In our first I2, Amado warmed up very calmly, but seemed a little hesitant in his piaffe and passage work.  We went into the ring, and unfortunately no miracles happened that day.  Amado felt completely unsure of himself, especially when I asked for piaffe and passage.   Then a big mistake in our medium canter flying change.  All just costly green horse bobbles.  Ah well.  I could feel him trying to figure out this new level, but completely overwhelmed and confused by it all.  But he stayed sweet and attentive the entire time.  He never said no or thought about being naughty.  He just kind of covered his ears and tuned me out like I was some sort of mad woman giving him directions in a language he never heard before.
After our not so great ride, George reminded me we were better than this.  He advised me to try again the next day.  We made a plan.  He instructed me to get Amado to passage around the arena as I waited for the judge to ring us in, so we did.  Amado was apprehensive at the start of the lap around the ring, but the more I asked, the better he got.  By the time we entered and performed the test it was probably the best we were capable of at that time!  I could not have been more thrilled.
As the season went on, we continued to improve, gaining more ground in our sometimes too short ones, and better transitions between the piaffe and passage.   Sadly for all, the pandemic cut our season short, as shows were cancelled for the health and safety of everyone.  I spoke to George.  Our immediate goal was competing I2, to give Amado experience at this new higher level.   This is what our daily training was about with the longer-term goal of Grand Prix.   As the shows were over and the I2 was in our pocket, it allowed me to put the Grand Prix goal now at the top of our agenda, focusing more on developing those movements.  Should we still have been showing I2, I'm not sure it would have been as easy to focus energy on going back to the basics as intensely as we did.  Dressage training isn't always a straight line to the top.  Sometimes when you go back to basics, some of your movements might temporarily "disappear" as the horse learns to balance himself in a different but better way.  A good example of this was the day we decided that the tempo heading into our one's was too "quick," creating tension over the back which sometimes caused Amado to take a short or together step behind at the start.  We worked on trying to ride them from a slower tempo, but I was lucky if I could get three that way!   With the shows all gone, the pressure was off.   I had the time for Amado to learn to do these newer harder movements differently but better. 
Thank you!!!
Thank you to The Dressage Foundation for helping it make this journey possible.  The funds I received not only helped expand my knowledge as a trainer and instructor at the highest level of the sport, but reminded me the importance of being a well-rounded horse person as well.