2019 Major Anders Lindgren Grant Recipient: Meaghan Byrne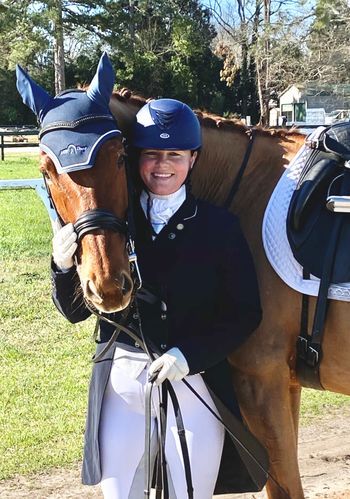 I am writing to express my gratitude as one of the 2019 recipients of the Major Lindgren Grant and share what I have gained from this winter training program. My original plan was to travel to Anne Margaret Meyers' stable in Madison, Georgia, bi-monthly for 4 months to ride and compete her Grand Prix gelding, Winston. As with many things in the equestrian world, circumstances changed and I was able to bring Winston to a stable in Summerfield, North Carolina, where I teach and train daily. From there I was able ride Winston daily and trailer to weekly lessons with Tami Batts, USDF "S" Judge and USDF Gold Medalist. Tami and I discussed my primary goal of gaining experience in the Grand Prix movements and my secondary goal of earning my USDF Gold Medal.
As I reflect on this training experience, I have two major takeaways. First -- as your horse develops, so should your riding. Although this seems like a long-term goal, it has short-term applications. Tami helped me to improve the rhythm and activity in Winston's piaffe. After two months of focusing on this, his piaffe was in fact better but I found myself riding the piaffe in the same way I did when I started riding him. This caused rhythm mistakes, confusion, overreactions, and over-aiding. I was reminded that as my horse made little improvements, I needed to refine my aids and trust that the training had worked. This theme was prevalent in many aspects of my training and I was encouraged to celebrate and find a "new normal" in much of the collected work.
Second -- building a team was crucial to Winston's health and our success. Although this was a winter intensive training program, I was able to build a team of people that supported Winston and I. Winston's owner, Anne Margaret, was honest and supportive, Tami helped me weekly to understand training and test riding challenges at the Grand Prix level, the barn manager organized a turnout and feed schedule that was most successful and safe, two veterinarians worked with my farrier to optimize shoeing and his overall health, a third veterinarian did chiropractic work, and a PEMF therapist worked on Winston prior to competitions. My incredible group of students and clients supported me in this endeavor by watching training sessions, discussing equine management for FEI horses, and by cheering me on at competitions. This type of support and knowing that every aspect of my horse's health had been addressed allowed me to mentally focus each time I sat in the saddle.
The grant provided by TDF along with this great team helped me earn my USDF Gold Medal in February 2020 and win our last Grand Prix class at Dressage at Bruce's Field in Aiken, South Carolina.