2016 Lindgren Recipient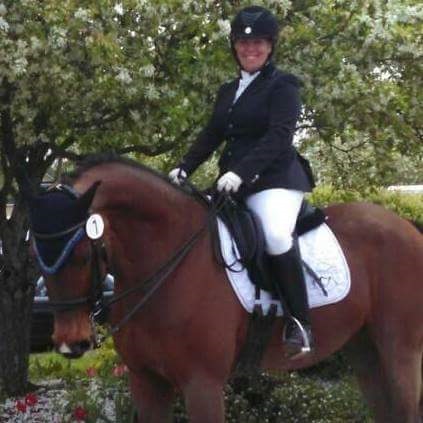 I had the extreme honor and pleasure of receiving and utilizing the Major Anders Lindgren scholarship for a two week intensive study with USDF Gold Medalist, Katrina "Katie" Hiller. I first met Katie about two and a half years ago. I had seen a post from Jessica Jo "JJ" Tate on Facebook congratulating one of her former assistants on beginning her own horse training business. Katie had grown up in the "Team Tate" program and very successfully gone through the Junior/Young Rider program, bringing her own horse "The Toy Solider" from a rambunctious 3-year-old stallion to a bonafide Grand Prix competitor, finishing as Reserve Champion in the U25 Grand Prix in 2014 and an overall world ranking in the top 25.
I was thrilled to find out that Katie has knowledge and experience with horses of all ages and level, well beyond her own years. She has a unique ability to diagnose each horses strengths and weaknesses and present simple, yet effective exercises to bring the best out of each horse, all while honoring the Classical System of training. In addition to several clinics in 2015 & 2016, I was able to train intensively with Katie in Wellington for the 2015/2016 winter season. I had brought my own (now sadly deceased) mare, Phoenix, and had made amazing progress during our time there. During that time I also had the pleasure and great experience to work with Richard Malmgren and further my understanding of the fine art of long-lining. 
This scholarship allowed me to further my education with both of these professionals. I returned to my own Benchmark Dressage with a renewed inspiration for correct, classical training and an invigorated passion for passing that on to my own students.
I took two horses with me to Katie's place of operation, Wild Rose Farm, in Walworth, WI. Both of the mares I took had similar issues to address, including lack of thoroughness and straightness appropriate for the level of work they are currently performing. Katie's eye for detail helped us create better alignment, thereby creating more honest and correct thoroughness. My own mare, Dior VT (2009 DeLarurentis/DeNiro x Werther) made huge improvements in her self-carriage over the course of our trip. She was a very late-started former broodmare drop out who is now coming eight and just starting on Second Level work. She has always struggled with moving "up" in her shoulders which has created difficulty in both the lateral work and canter/walks. Unfortunately, she presented hot feet and a pulse in both fronts early in the second week and missed work the remainder of our time there. I had enrolled her in the long-lining clinic with Richard Malmgren which was scheduled at the end of my 2nd week, which unfortunately she missed as well. However, the work we were able to produce during our trip has given me to the tools to move her through her next stage of training.
Chanting Jezebelle HF, owned by my long-time client Brittany Hunter was the other horse that I brought.   Jezebelle has been working on First Level with her owner and the goal was for her to be ready to qualify for Regionals at that level. Jezebelle is a unique Arab/Draft cross, who also had a later start to her dressage career. Her main issues include loosing purity in the canter and maintaining thrust from behind in all gaits. When we address straightness in her shoulders, we lose the purity of the canter, resulting in a muddy and flat four-beat gait. Over the course of the two weeks we were able to greatly improve the straightness while also preserving a more correct, three-beat canter. Her trot work also developed a new degree of cadence. Jezebelle was able to participate in the long-lining clinic and made an immense improvement in her alignment as a result. One week after returning from this trip, Jezebelle and Brittany successfully showed First Level, Test 3 at USDF at Waterloo (Grass Lake, MI) and are now working on preparing to debut their First Level Freestyle in July. We are also working towards a debut in Second Level later in the season. 
Dior is now back to work and the goal is to get her out at Second Level later this season as well. 
The biggest thing I always take away from Katie (and Richard!) is their attention to the smallest details and strict demand for true straightness. As a professional myself, I greatly appreciate her ability to combine the classical principles with the practicalities of show-ring demands. 
Thank you again to The Dressage Foundation for investing in me and in my program at Benchmark Dressage.