2012 Anne Barlow Ramsay Grant Recipient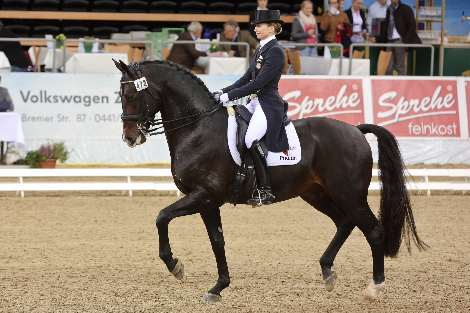 During the fall of 2013, I had the privilege of traveling to Europe with the Horses Unlimited's stallion, Pikko del Cerro HU. This tour was only possible because of the generosity of The Dressage Foundation's Anne L. Barlow Ramsay Grant, as well as additional funding via a USEF Grant. I'm so grateful to have had the opportunity to train and compete an American-bred dressage horse in Europe. Below you will find a summary of our experiences, training goals and competition results. This tour was an invaluable learning experience and has had a great impact on our recent success.
Prior to our departure, I outlined a training and competition calendar that was designed to maximize our limited time and resourses while in Europe. The investment made in Pikko del Cerro's training came at an opportune time. His first full year competing in the "Adult" Grand Prix division was in 2013. The focus of our European training regimen was on his further development at Grand Prix, while giving the horse more experience in big, international atmospheres.
Pikko del Cerro HU departed from our home base at Marsh Pond Farm in Wellington, Florida at the end of September. He traveled, via Miami and Amsterdam, to our European home base at Thormählen farm in Hamfelde, Germany. Even though this was his first time for traveling by air, he handled the situation extremely well and was not too stressed.  He is typically a good traveler and this time was no different. He ate, drank, and had no weight loss from the journey. Upon arrival at the Thormählen farm, Cerro resumed light work as we explored his new surroundings. It was very uncomplicated, he felt good, and the trip didn't take a lot out him. 
Our training began shortly after he acclimated and our lessons were focused on refining Cerro as a Grand Prix horse. He had learned all the movements, now we needed to sharpen our skills. Part of those skills included making seamless transitions. In the Grand Prix, smooth transitions make for the complete horse on a daily basis.  With our first competition scheduled at the beginning of October, the emphasis was on the transition in and out of the passage. My goal was to have Cerro perform at the first show as well as he had in his previous competition in Florida and receive a score of 70% or better.  
Besides transitions, the opportunity to have a ground person on a regular basis was available thanks to the Barlow Ramsay Grant. At my training barn in Florida I do not have this is a luxury. Practices makes perfect, and schooling the piaffe and the passage with a trained eye watching regularly was very effective. By improving those two movements, we could magnify the volume and be more competitive in the ring. We were looking for an improvement of one point, say going from a 7 to 8, by gaining more height off the ground. Pikko del Cerro HU knew the basics, but we need to add to his strength to perform, and then develop the quality. The assistance of a trained eye such as Ernst Hoyos during our stay has been invaluable.
Our training program was systematic. One day we would school piaffe and passage and the next day would emphasize the canter work.  Lateral suppleness and thoroughness were part of the program. Cerro's left canter pirouette was better than his right and we worked on get the right as good, engaged and collected.
Leading up to our first competition in Ankum, Germany, we had schooled the Grand Prix Special but we spent most of our time working on our freestyle test.  
Lessons learned from CDN Ankum – October 2013
Our first competition in Germany was at the Ankum Riding Club on October 3-6, 2013. I had been hopeful that Pikko del Cerro would be a good indoor horse and he did not disappoint. He enjoyed the atmosphere and was very expressive and fun to ride. He was not afraid in any way at this new venue.  During the Grand Prix class he was a little behind my leg. The warm-up for this show is in a smaller indoor hall with about fifteen other horses. This was a new experience for him and I chose my lines carefully while warming up. By the time we rode our second test, our communication has improved and he was no longer behind my leg.  I was very happy with our results! We received a very nice score of 73% against riders such as Bianca Kasselmann.
Lessons learned from CDI Odense – October 2013
Along with Pikko del Cerro HU, I traveled to Europe with another Grand Prix mount. At the CDI Odense, I could select only one horse to compete. I decided to ride Betty Wells Denzello in the CDI Grand Prix. Pikko del Cerro HU traveled to the show venue and used this outing as a productive schooling session. I decided to take the opportunity to expose Cerro to the sites on sounds at this location including warming up with vendors around the arena. Occasionally he can get excited and distracted so I thought this was an excellent place for him to learn to focus himself in that kind of atmosphere without the pressure of competing. Our time in Odense was very stimulating and beneficial.  I got to know Cerro even more and learn what works best with him in these types of situations.
Lessons learned from the CDI4* Oldenburg –November 2013
Our experience at the CDI Oldenburg was certainly not what we had envisioned. Cerro was training fabulously leading up to the competition and I was hopeful that we would have a very successful outing. Due to many factors, things did not end up as planned.
2013 was an unfortunate year to attend this CDI as the venue was under construction. You are faced with many circumstances and realities on the show circuit and we experience a multitude. Our access to the rings was less than ideal and we faced jumpers in the paths, etc.  As the luck of the draw would have it, the path had just been finished the evening prior to our jog. It had been raining and navigating the roped paths to and from the rings was like walking the Green Mile. You had to navigate vendors, horses were slipping, shavings were being added to but it was a difficult arrangement. Cerro has never been a great horse for the jog and this situation did not help. Ernst Hoyos always leads me into the ring and on the day of the CDI we had to get rained on in between the schooling ring and the show ring. During the warm-up Cerro was hot but I have learned how to keep him moving and thinking so he stays in front of my leg. Once we got completely warmed-up I felt confident entering the show ring. I cantered around until the bell rang and we headed down centerline to halt. As I began my test, the judges and I realized that something had happened during the halt and the horse had become unsound. This was not the way we had hoped our European tour would end but Cerro had stepped on himself in the halt and injured his front leg, requiring time-off and specialized therapy.
Lessons learned from 2013 European tour
Regrettably, our training and completion schedule ended abruptly, and unexpectedly, at the CDI Oldenburg. Nevertheless, the investment made in our partnership was fruitful and successful. Together we made great progress in our training of the Grand Prix movements. He achieved solid advancement in the piaffe, passage and canter work. Pikko del Cerro HU showed maturity in his gaits, becoming more expressive and dynamic. He was exposed to many new experiences at the three competition venues. These lessons learned will serve him well in the future and hopefully aid in gaining us a berth on Team USA someday. Cerro also demonstrated his ability to win on foreign soil against some very worthy opponents. 
Although it is not easy when an injury happens to our equine partner, finding a silver lining when adversity strikes is key. Luckily, Cerro was injured in Oldenburg. Being at this location allowed us to have access to a wonderful clinic. This clinic had a state of the art laser therapy that no other clinic in the world had. Cerro received immediate laser therapy as well as electro-stimulation therapy. These therapies allowed us to stimulate the healing process from the very beginning. This had a positive impact on his healing and hopefully, his longevity in the sport of dressage.