2019 Anne L. Barlow Ramsay Annual Grant Recipient: Carly Taylor-Smith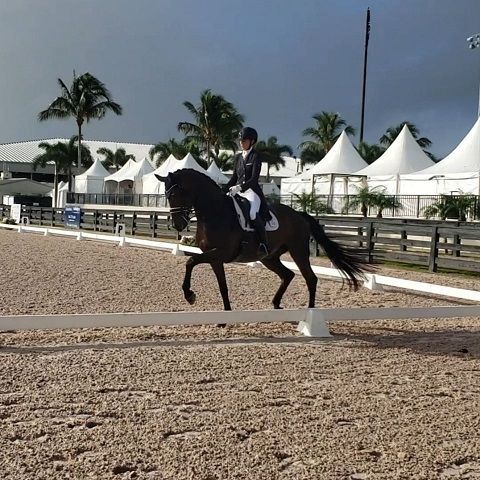 The Dressage Foundation has opened so many windows for so many riders.  I was one of the lucky ones to have be selected to receive the $25,000 Anne L. Barlow Ramsay Grant for US-bred horses. I had applied back in October 2019 in the hopes that it would help fund my big decision to move to Florida for the 2020 season, so that I could be in consistent training with Debbie McDonald and compete in some of the Florida shows. I have always been an ambitious rider and strived for greatness, but I have constantly struggled with funding my way. I don't come from a background of money and have had to work very hard for every penny I have, so when I received word that I got the grant, I jumped on the opportunity, packed my bags and off I went.
Rosalut NHF (Ludo) is a very special horse and incredibly talented.  He shows so much promise for the Grand Prix that I always had in the back of mind the thought that this could be a potential team horse. I've been riding him since he was three years old and have never had any consistent training other than the odd clinic here and there. While we have had great successes along the way, despite the lack of help, I knew we had to up our game if we were to be successful in the big tour.
The Dressage Foundation's Anne Ramsay grant made it possible for me to go to Florida and receive regular lessons with Debbie, which has put my riding into a whole different ball game. The improvement that was made in just a short time has been amazing and made it very clear to me just how important daily eyes on the ground are at that level.
After one month of solid training, we became more confirmed in the Grand Prix movements and were able to take on our first show at Global. We spent a further month training and showing at the Grand Prix and Grand Prix Special, with some great results and wins, before heading back home to California.
Having been able to get some Grand Prix experience under Ludo's belt, at age 9, will definitely boost his confidence moving forward into the next year and better prepare us for maybe having a shot at qualifying for the World Cup and eventually a team position in the future.
I want to say a special thank you to The Dressage Foundation and Dr. Anne Ramsay for awarding us this grant and helping us get a bit closer to achieving our dreams.