2019 Shannon Foundation Fund for Judges' Licensing Recipient: Alexis Martin-Vegue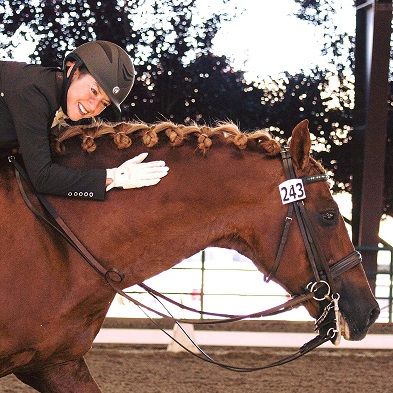 It was a fast paced journey across the country for my 'r' Program apprenticeships. Learning from judges who have been involved in dressage far longer than I, has been a huge gift for me as a competitor, rider, and future judge. I found that despite different personal tidbits of advice, the big message was always to reward the correct training, harmony between horse and rider, and  the purity of gaits. All of my instructor judges were candid, friendly and personable in a way that took down the candidates' anxieties and made a prime situation for learning. They were all willing to take the time to be sure we really understood why a certain score range should be given for any particular movement.
Inclement weather early in the season resulted in my first apprenticeship with Axel Steiner being mostly an intense study group watching videos. He coached us to not only diagnose the main issue of the test, but to hunt down its cause via the collective marks, primarily the rider's effect. The videos were actually a blessing in disguise for my first session because it allowed for more thorough dissection of each movement, using replays to be sure we were all seeing everything. I had a gap of a few months between the rainy session with Axel and my next apprenticeships. During that time, I judged a couple schooling shows and practiced on my own at rated shows. I found that I was pretty comfortable at this point keeping the pace with rides, getting down comments and scores. But I still sometimes struggled with coming up with what I felt was a useful and concise final remark.
My next sessions were basically back to back with Joan Williams, Sandy Osborn, and Jane Weatherwax as our instructors. Working with Joan was great, as we were her first group of apprentices! She was especially thorough in giving us each a one on one evaluation with suggestions about how to improve our weaker areas. I also found that I tended to score rides very much in the same range as Joan. Working with Sandy Osborn and Jane Weatherwax was really similar in their attention to the big picture of the training the test ride demonstrated, and their humor! They made us feel quite at home, like old friends. I also felt they conveyed the message of trusting your instincts, but having the foundation of the training scale to back up your score with the appropriate comments. The session with Sandy especially stood out because of the interesting experience of seeing several horses with rhythm issues in all 3 gaits. I found that it was helpful to see those issues in real time, as opposed to video examples. We were reminded yet again that correct dressage training is about improving the horse. If you have rhythm issues, something in the training is going amiss.  As a judge, it is your job to assess what you think the core issue is and address it in the movement and final comments.
My final apprenticeship was with Kristi Wysocki, just 2 weeks before our final exam. Working with Kristi was the perfect confidence-builder and last practice session before the big test. She delved more deeply into making sure we knew the rules like second nature, and stressed how important that is. Both for our exam, and for our confidence as judges in the future. With Kristi, we also had a difficult but very important discussion about what constitutes abusive riding, and how we must address it appropriately. She gave us the strong reminder that while we are always trying to be fair and kind to the rider while upholding the standards of the scoring methodology, we MUST be  advocates for the horses' welfare. It hit home for me because at the end of the day, I believe we are all in this because of a love for the horse. I finished the time with Kristi feeling ready to take the exam and empowered to help both riders and horses by being a fair and knowledgeable judge.
I am grateful to have gone through the 'r' Program, no matter what my future as a judge up the levels may be. Through it, I have greatly improved my eye and deepened my knowledge about the sport I've dedicated my life to practicing.