2018 Shannon Fund Grant Recipient: Anne Moss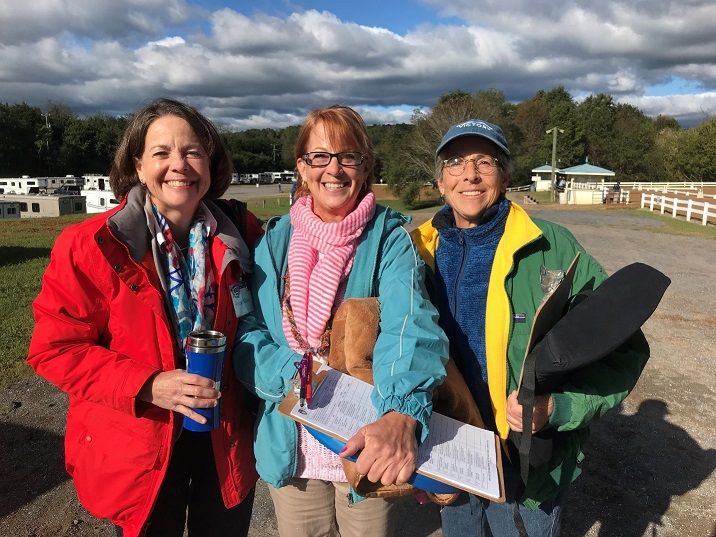 "R" Program Report!
With the generous support of The Dressage Foundation's Shannon Foundation Fund, I was able to pursue the year-long USEF/USDF "R" Dressage Judge Training Program. It involved a long weekend of initial training in October 2018 with instructors Jeanne McDonald and Mike Osinski at the Virginia Horse Center, apprentice judging all over the country, and the final exam at the 2019 USDF Region 1 Championships in Williamston, NC.
The weekend with Jeanne and Mike was split between classroom sessions (into all hours of the night) and using live rides for oral judging and judging classes at the show. Though the format is tried and true, I think we all could have benefited from using the live rides for even more training, as at that point none of us where anywhere near up to snuff judging at these levels. Both instructors were very encouraging and emptied their brains in hopes that some of their decades of experience would stick with us.
Judging Third Level was not such a stretch for most of us, as 'r' judges we had spent years looking at these movements, and just had to do a reset on the expectation for collection and of course judging flying changes is new. I did not expect judging flying changes to be an issue, but quickly realized that horses change leads in all manner of creative variations and most changes are over in the blink of an eye. Was it clean? Was it close behind? Was it together behind? Was it late behind? Was it early in front? Was it late in front? Was it straight? Accurate? On the aids and on the bit? Was it flat? Did it leap? Did it trot through, skip through, not change? Were there extra bonus changes that the horse threw in to show off? With any of these issues except CLEAN, how many strides did it take for the horse to actually change, does it affect the next movement??? Well, that is a lot to take in for a single change score, but WAIT!, next we judge some tempis at Fourth Level, so all of the above x3…..It is way easier to ride a change than judge one is my understatement of the year.
Judging canter pirouettes proved to be much easier than walk pirouettes, who knew? Apparently judging walk pirouettes is the most disagreed upon movement world-wide. Knowing this made it a little easier to come up with a methodology and stick with it…until the final exam when I received an update that bumped my scoring scale around. My 5 was the new 4, so be it.
At most shows there are meagre entries at Fourth Level making it difficult to apprentice judge, where 4-6 horses are needed per class, and true for the final exam too. The good news is that there are usually ample entries at Prix St. Georges, even at one day shows. So we used a lot of PSG classes in lieu of Fourth Level. This is tricky – do we judge the PSG with our Fourth Level expectations, or judge it with PSG expectations? And, what is the difference? Aren't they both a 'Medium' level of difficulty? On the top of every Fourth Level test you will find the PURPOSE of the test…..
Fourth Level Purpose- "To confirm that the horse demonstrates correct basics, and has developed sufficient suppleness, impulsion and throughness to perform the Fourth Level tests which have a medium degree of difficulty. The horse remains reliably on the bit, showing a clear uphill balance and lightness as a result of improved engagement and collection. The movements are performed with greater straightness, energy and cadence than at Third Level."
At the top of every PSG test sheet you will find nothing about the purpose; have a look online and you will find no official word on the purpose of the level, which is why the expectations remain a mystery to many riders, and individuals in the R Program. The DQ Holy Grail, and Snipe Hunt combined makes it The Holy Quail?…..and the source of most of our judging gaffs. All through the apprenticing, as optimists, we candidates often over-scored PSG rides that did not have enough collection for the level, often completely messing up the placings with inflated scores. A valuable lesson that I think we all learned and re-learned and re-learned.  It was educational to be told at our final exam that the level of collection required for PSG is the same as Grand Prix. This was helpful to know, but alas I was not trained to judge Grand Prix and was not particularly good at judging the PSG at the final exam, but better than when I started. After all this, I am not sure that using PSG for the testing is so great – as "R" judges we will not be judging it, ever, so why make it part of the test? If I am crummy at judging PSG and OK at judging Third and Fourth Levels do I pass??? It is confusing.
Our class of candidates hailed from Florida to California, Indiana, Massachusetts and Pennsylvania. This turned out to be an expensive proposition as all but one of the apprentice sessions had to be a group apprentice of 2-6 people. A few of us organized apprentice sessions, and we had exceptional apprentice mentors in Natalie Lamping, Jane Weatherwax, Lilo Fore, Jayne Ayers, Sarah Geikie, Marilyn Payne, Bill Warren, Jeanne McDonald and Sara Schmitt. I have volumes of notes from all these training sessions and could hear all their voices when I regularly studied these pages. Their collective enthusiasm for educating each of us was impressive.  They were tough, but their pearls of wisdom helped us 'adjust' our eye and methodology, becoming a better judge after each session.
Tips for potential candidates:
1.      Forget your USDF Silver Medal, ride for 65% at PSG to pave your way into the R Program.
2.      Find a super scribe and take them everywhere. Relying on a hired scribe is signing up for the unknown and can be quite stressful.
3.      Do more sitting and apprenticing than you think you will need to do. Believe me, you need as much practice as possible.
4.      Save up your airline miles and save enough money.  If you have to fly, for each weekend of training it can cost $1000.-2000. The whole program cost more than $14,000.
5.      Ask for your apprenticing evaluations after each session to get more feedback.
6.      Know the tests inside and out so you never have to take your eyes off the horse and know if there is a transition score after an extension – it varies on every test.
7.      Memorize the directives for each movement.
8.      Take a lot of notes and share them with your fellow candidates.
9.      Make sure the examiners have a bottle of wine to drink after grading the colossal number of tests involved at the final.
10.   Practice a lot of oral judging as you may have to do hours of it at the final.
11.   There is nothing like a USEF written test. Read the rules and training documents many times, as they change, and the written test at the exam will split hairs on wording so you better have the wording memorized. Re-read the rules three times in the last two weeks before the exam, you will need to be super-versed in all the minutia.
12.   Find a judge mentor to do a re-cap with after each apprentice session – the review will be insightful and helpful.
I knew the final exam would be tough but felt well prepared. The examiners were kind people but had a high standard to maintain for the sport, which I respect. I know the pass rate can be low at these testings (I was one of two out of 10 who passed the 'r' exam).  I wish I knew the statistics on the pass rates at each license level to be a more informed candidate. The system does not allow the examiners to give any feedback on how you did in the final exam, which is tough. The testing is a bit grueling; the whole year was extremely educational but equally expensive, and disrupting to life at home and work.
So, it was huge relief to hear from the USEF office in November with the results of the written test and final exam. I passed the written test with a 91.6%, (an 80% was required to pass) and passed the practical and oral test too! I don't know what score is needed to pass the practical exam – it's a mystery as it is not stated anywhere in the testing requirement information. My scores ranged from a few 6.5's, a lot of 7's and a handful of 7.5's and 8's – a big improvement from the first couple apprenticing sessions in March and April where my scores were mostly 6.5 and a few 7's.
Now, I will have to wait for the until the Licensed Official Committee meets in January 2020 to know if I will be granted a 'R' license.
The past year was an amazing education, and I am extremely grateful for all the time, expertise and support all the gracious mentors and examiners gave so freely. It more than fulfilled my yen for improving my eye and depth of knowledge, and I am sure this gift will enable me to be a better rider and judge. Working with some of the best judges our country has inspired me on so many levels. Their ability to evaluate a moment and craft succinct and accurate scores and comments was inspiring. Their ability to home in on the essence of the pros and cons of the ride in the further remarks, again and again, helped me learn to verbalize what was happening on the training scale.
The financial support of TDF's Shannon Foundation Fund grant was a huge gift the helped ease the financial burden and helped pay for one of the apprentice sessions. I am tremendously grateful!
Sincerely,
Anne Moss