2017 Skvarla Grant Recipient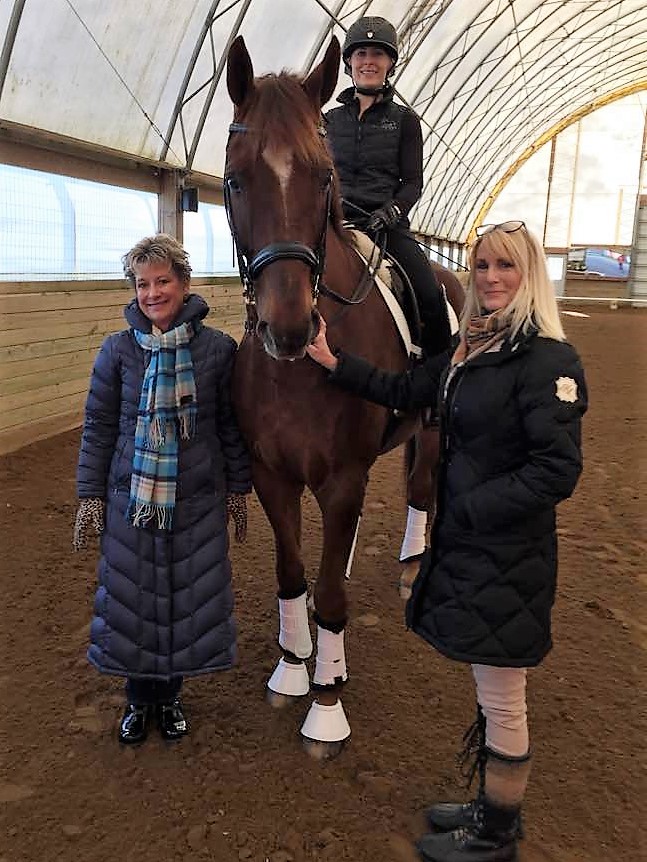 Last spring Southeast Michigan's local GMO, Midwest Dressage Association, brought in USEF 'S' and FEI 5* Judge Janet Foy for a symposium. I audited that event and was inspired by Janet's expressions, clear instruction, and humor. Then, when I completed Part 2 of the USDF L Program last fall I had Janet as my D2 session faculty. So when the opportunity arose for me to ride in a clinic with Janet at Brilliant Reflection Farm in Ortonville, MI on May 6-7 2017, I jumped on the opportunity.
I took an FEI gelding I have in training that has large, expressive paces. My rides with Janet over the weekend focused on making the paces a little smaller in order to allow my horse to develop better longitudinal suppleness. Janet had some great exercises that enabled my horse to develop a rounder connection with engaged abdominal muscles. The movements are easy for this horse, but sometimes his big movement affects his suppleness. So the suppleness work we did in our lessons is critical for this horse to move successfully from PSG/I1 to Grand Prix in the future. I really appreciated Janet's advice and instruction. It was a great lesson that sometimes you literally have to slow things down in order to allow the suppleness to improve.  
Part of the benefit of riding with Janet was before and after my rides I was able to watch other riders have lessons. Janet reminded one rider that curvy lines help with submission and straight lines help with impulsion. Then, when a horse had his own idea of how one exercise should go and ignored his rider, Janet encouraged the rider by saying, "You have to make the evasion more work than the work required." Janet's straightforward teaching style resonated with riders of all levels throughout the weekend.
I am so grateful to be the recipient of the 2017 Karen Skvarla Fund Grant for Young Professionals. It is challenging as a young professional to carve out the time and find money to attend these valuable continuing education opportunities, but participating in events like my clinic with Janet Foy are imperative to the evolution of my riding, training, and teaching. This grant made my clinic with Janet Foy possible, and I thank the committee for their dedication to support continuing education opportunities for young dressage professionals.
Thank you again for this honor.