2021 Karen Skvarla Fund Grant Recipient: Emily Goldstein (MD)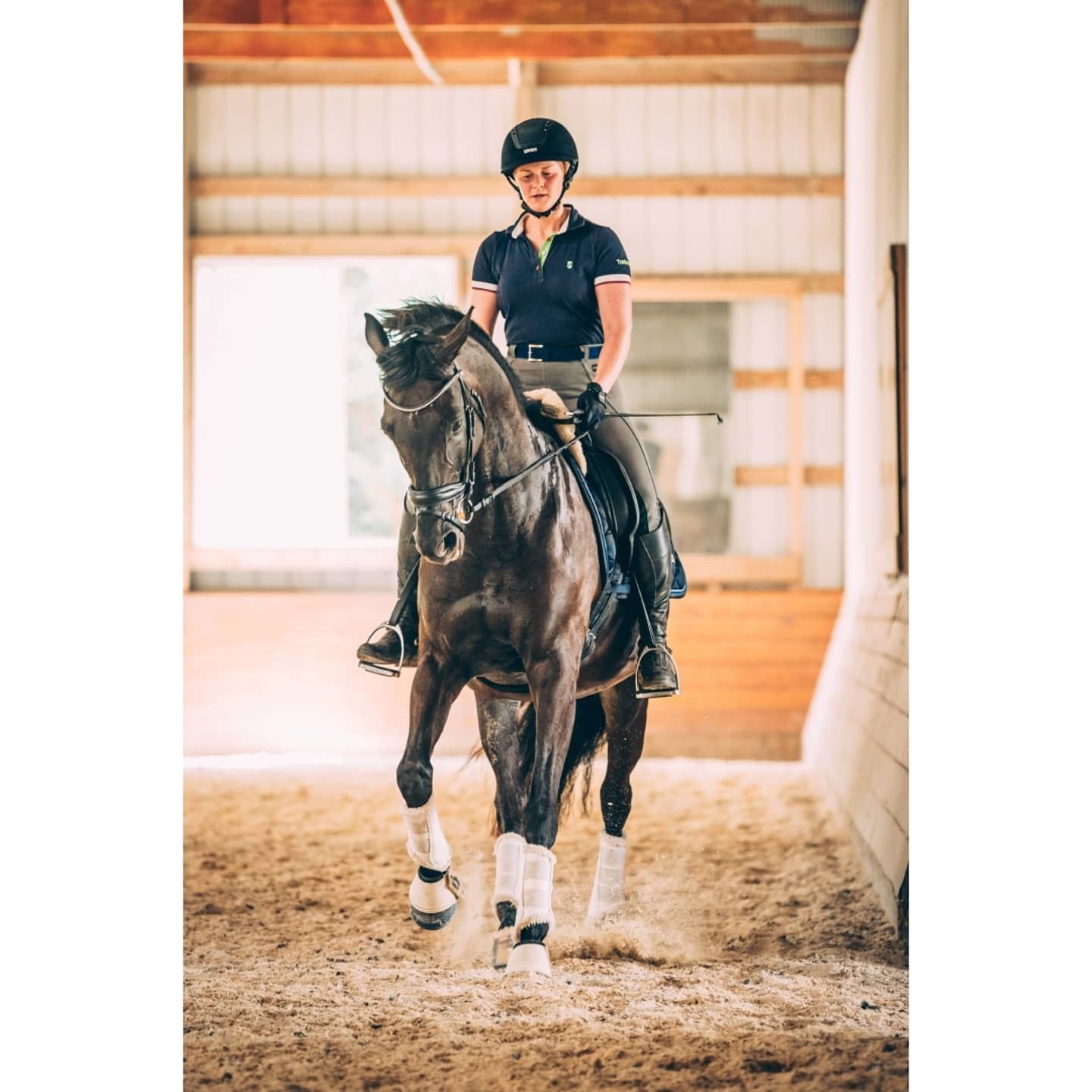 I am so grateful to have received the Karen Skvarla Fund Grant for Young Professionals this year! Receiving this grant made a huge difference for me and my horse. I used the grant for three training sessions with Bent Jensen and nine lessons with Michele Wellman. In doing this, I was able to spread out my training. My goal for myself and my horse was to get consistent training over a several-month period. My horse was injured in the spring, so our timeline was slightly altered playing catch up, but it worked out beautifully in the end!
I utilized this grant to help bring my horse back to work after battling kissing spine, and two soft tissue injuries. I have previously trained this horse through Prix St Georges and competed with him at Fourth Level but it has been a very tricky couple of years to get him going well again after his diagnoses and downtime. I knew Bent and Michele would be the perfect team to help me. I have worked with both over the last couple of years. Bent has experience with kissing spine and Michele has a great eye and sense of feel.
First, we focused on connection. It is imperative for a horse with kissing spine to learn to use its topline correctly to support its back. We did very basic work but got both myself and my horse comfortable and happy deep and round, accepting rein contact. I did a lot of stretching in trot and canter and a lot of transitions and focused on sometimes working in a smaller schooling trot to make the horse have to bend and articulate each joint without just skimming across the ground by running.
Next, we slowly began to reintroduce lateral work and moving his body around. One exercise I enjoyed (from Michele) to dip our toes back into lateral work is as follows: short side haunches in, long side shoulder-in (or shoulder-fore if that is too difficult), a few steps of half pass, then leg yield back to the wall, then back to haunches in on the short side. I also sometimes used renvers to help control the shoulders before shoulder-in, if I felt it was needed.
When we first began that exercise, I didn't ask for too much angle, but as time went on asked for more. To work on angle in half pass we used this exercise (from Bent): Half pass out of the corner to the quarter line, leg yield back towards the wall a few steps to correct the bend/angle, then back to half pass. I also began to start sitting the trot again, another thing that has been difficult with a kissing spine horse. Bent had me begin sitting during long sides in shoulder-in and increase this in increments. Sitting in increments is very helpful to get my horse used to being sat on again and doing it in shoulder-in allows me to keep the hind end coming, while the bend of the shoulder-in helps keep him supple and his back up.
Michele has a great eye and has helped me greatly with my body and positioning. This has been so helpful in making my aids more tactful. Riding a horse with kissing spine has made me want to be too soft in my back and light in my seat and I am constantly working on myself. Michele is able to translate what I am feeling under saddle and help me make corrections, and of course, usually, when I fix me, it fixes whatever issue I'm feeling under me with my horse. Now that we are schooling more lateral movements it has become even more important that I make sure my body is in the right place.
Michele has been working with us a long time and has been so supportive in the process of bringing my horse back, anyone who knows the rehab game knows how difficult it is and she has been wonderful helping me through the process with a very empathetic mind, encouraging me and pushing just the right amount. Bent has also been very encouraging. It is always a confidence boost when your coaches are confident in you!
As things progress, we have begun to ask for more. We have started schooling changes and tempis again, asking for more angle in our lateral work, and steeper half passes. We have also started to ride some test pieces. I have seen so much progress in my horse over the last few months and am now looking to enter him in a show this fall, his first show since 2019! I have my eye on one of the Fourth Level tests. I am so excited!
My goal is to finish this year in Fourth Level and hopefully finish my silver medal with him next year, something I've been trying to do for a while now. Bringing him back to work has been so hard, and I am so happy we can have this guidance this year with the grant I received from The Dressage Foundation.
This grant has given us the support we needed to get back in the game and make consistent progress. We are both in such a better place than when our training started, and I am once again excited for the future with my partner! This has been a great opportunity for me as a professional to continue my education and now has me on track to continue competing at higher levels which will benefit my business and my student's education. I can apply all I have learned from this training to my clients and their horses. This process has taught me all about how to be a sympathetic rider, and to think outside the box. Thank you to The Dressage Foundation!!