Heather Hamilton: 2016 Skvarla Recipient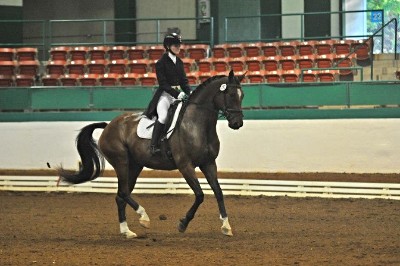 December 2016: A Year of Learning
This year has consisted of several moments and opportunities that have allowed enormous growth in my riding knowledge and ability. It all started in January 2016 when I attended the Young Rider Graduate Program.
The Young Rider Graduate Program introduced the "behind the scene" view of the equestrian business. The program emphasized developing your business skills along with your individual riding goals. It allowed me to recognize that we are all on our own journeys and we need to encourage each other. The speakers were gracious and knowledgeable, sharing their successes and pitfalls. It was an incredible weekend networking with some great new people! The program was also the doorway for me to attend the 2016 USDF Trainer's conference.
Johann Hinnemann was the instructor at the 2016 Adequan/USDF Trainer's Conference. Words cannot express the feeling I received when I watched him teach and the students ride. Johann Hinnemann taught with eloquence and poise. I was inspired by the quality I observed in riding, balance, movement, and teaching. I wanted to go home and find a new layer of my best and embrace the quality my eyes witnessed. I was truly able to observe a new layer of beauty in the sport of dressage.
At the Trainer's Conference, I learned about The Dressage Foundation's Karen Skvarla Fund from another attendee. This grant aids young professionals in further development of their riding skill and knowledge. Overwhelmed with excitement about this scholarship, I applied immediately for the grant upon returning home. A few weeks later, I learned that my application was chosen, and I was awarded the scholarship! I am forever indebted and grateful to the Skvarla Family who, by honoring the memory of Karen Skvarla, has blessed me with so many opportunities this year as a young equestrian professional. Earning this scholarship has allowed me to begin an in-depth year of personal growth and education by giving me the ability to take lessons with various instructors
The first lesson I received was with trainer and rider Lynn Leath, who is owner of North Star Training Center in Chapel Hill, NC. She has her USDF Bronze, Silver, and Gold Medals. She teaches with the classical philosophy of dressage and believes there are no short cuts. Dressage must be built upon the correct fundamentals, and this carried into my lesson where she made sure my body was correct. She reminded me how important it is to keep my shoulders up and in alignment with my horse's shoulders. She improved the usage and refinement of my aids, ensuring that my horse had a prompt and correct response.
Second, I rode under the instruction of Diane Ritz, who has her USDF Bronze, Silver, and Gold Medals. Diane Ritz taught with a very free spirit and a "go after it" vibe. She complimented me as a rider but encouraged more boldness, frequently saying, "Don't be frozen!" In my mind, I knew I was probably going to leave my steady comfort zone and have to get a little uncomfortable. In my lesson with Diane, I was reminded of keeping my horse rideable laterally and longitudinally. I need to mean what I say in my transitions and not be afraid to go for it.
Lynn Doki Camina, a Grand Prix rider and trainer instructed my third scholarship-awarded lesson. She is a USDF Silver Medalist and a USDF "L" Graduate who has a foundation influenced by the style of German dressage. She has a keen eye and is great with the biomechanics of riding. She helped me with my rider alignment and removed my stirrups. She told me my hips were too closed, inhibiting my ability to sit my horse's trot. She also helped keep my lower leg in a more correct position by giving me the advice of "inside ankle to outside rein." This expression helped me keep my heel down more and press into my horse's side verses bringing my heel up to get a response.
Fourth, I had the opportunity to ride with Olympian Laura Graves. Her story is just wonderful. Her horse Verdades is amazing and, among his brilliance, had his moments. She was able to truly learn the meaning of "rideable energy." Her accomplishments at such a young age are inspiring and it makes me wonder where I will be when I am 29! During our lesson, she took me back to the basic and worked me through transitions. She helped me stabilize my right rein which helped my horse push evenly in the hind end. She emphasized quality of the horse's gaits before adding the dressage movements to them.
My fifth lesson took me out of the dressage arena and out of my comfort zone. My lesson was with Nanci Lindroth, who was a member of the 1987 PanAm Games Eventing Gold Medal Team. She is a USEF 'r' Judge for Dressage and Combined Training and a Level 3 ICP Certified Instructor. Shocking as it may seem, I took a jumping lesson! Jumping is like dressage with jumps as part of the pattern. We worked on the rideability of our gait. Can we lengthen or compress our canter from two strides or three strides when we ask between two points? Do we have control over our straightness? Is our horse pulling or pushing? All of these questions are evaluated in jumping and dressage. They also presented themselves in my lesson. It was a great way to implement cross training into my horse's regimen to help develop her hind end push.
I learned so much from all of these wonderful people over the year. I continue to work with my trainer, my mom, Kris Hamilton daily. She continues to marry all the knowledge I gained on this journey. Together we follow the classical training pyramid, but she continues to help me maintain the circle of balance from the start to completion of my ride. Kris Hamilton helps me improve my warm-ups to bring out the best quality within each of my horses. She is my number one cheerleader and she ensures I'm not cutting corners, helping me maintain my position and being effective within it.
Due to the Young Rider Graduate Program, Johann Hinnemann, and Diane Skvarla, I was given these amazing experiences. I feel that my visual perception and awareness of loss of balance have grown. I'm more able to associate the correct vocabulary to what I am seeing and feeling. Not only am I able to recognize the sources of difficulty, but these lessons have given me tools to help fix the problems. Being able to really put words to the loss of balance and knowing what tool to use to help improve the balance has given me greater confidence in my teaching and made my students more effective.  Thank you to all who had a part in a very knowledge-seeking and changing 2016. 
May 16th 2016: First Lesson with Lynn Leath
A Look Into One of My Lessons
Today I had a lesson with Lynn Leath. I went there with the request of working on the rein back and simple changes. Before I mounted, she set me up with a head set, something I have never ridden with before, and explained to me her philosophy on the rein back:
Imagine walking forward and into a wall where you halt.
Sit up tall and keep the forward walk idea, but because there is a wall, the horse's energy is directed backwards.
Elevate sternum, and make space between seat and saddle by sitting a little on your thigh (as if you were riding a cold backed horse) so when you request the horse to step backward their back has a place to "fill up" underneath your seat.
This mostly made sense while Mrs. Leath was explaining it, but I needed to actually try it out. As I started my ride, I warmed up Brielle both ways in all three gaits and showed Mrs. Leath my simple change. She pointed out two areas of importance and that is where our lesson started.
My shoulders were rounded and forward allowing Brielle's fore-hand to stay down.
Brielle wasn't straight
We started by making myself as tall as I could be. Then we "compartmentalized" my body parts to correspond with horse body parts. This means specific body parts of mine have a specific job of maneuvering Brielle's body parts.
Mrs. Leath kept reminding me to keep my shoulders up, and to keep my shoulder-fore positioning (straightness). My shoulders needed to stay on the line of travel and parallel Brielle's shoulders. If I sat up tall, we could expect Brielle to get more uphill.
Shoulder-fore is an exercise/thought to achieve straightness!
We worked all three gaits focusing on shoulder-fore. Brielle broke a few times in the canter and I panicked and tried rushing back into canter without resetting Brielle up. Mrs. Leath said, "Don't compound your errors," meaning, don't add to the break in rhythm. Once rhythm is broken, balance is compromised, scrambling back into the canter would just mean a poorly balanced canter. So stop, breathe, rebalance, and ask for balanced canter again.
Once balance and shoulder-fore was understood and consistent we entered the rein back.
It is a forward backward movement
Halt, sit tall, check suppleness, create space, sit up on thigh, add leg to a hand that creates a wall so horse steps backward and lifts back filling up space under your seat.
Remind myself not to lean forward!
We did NOT end with perfection, but we ended with Brielle having a better understanding to the aids given.
My important take aways from my Lesson with Mrs. Lynn Leath:
My shoulder's open, tall, and positioned where I want my horse's shoulders.
Compartmentalize body parts and aids
Straightness is shoulder-fore
Shoulder-fore idea into my halt before rein back
Creating space between my seat and saddle before requesting rein back.
Many good words and thoughts with classical undertones to practice into my training! Thank you Lynn Leath, The Dressage Foundation, and the Karen Skvarla Fund for Young Professionals for making this educational opportunity happen.