Krystal Wilt: 2014 Skvarla Recipient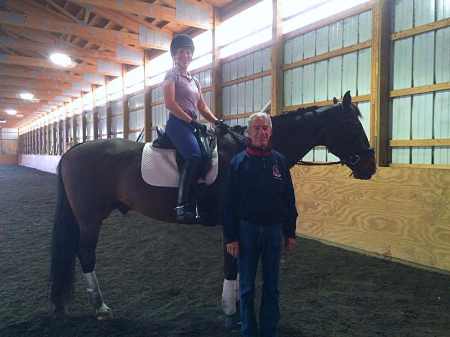 I had an incredible weekend of learning with Gary Rockwell.  I really enjoyed Gary's methodical approach to training, and learned a lot watching how all of the horses improved with his guidance.  My two horses both showed great improvements throughout the clinic.  We focused on improving suppleness over the back on my FEI horse, and especially in the tempis, where we have struggled in the past.  On the younger horse, we worked a lot on improving the engagement necessary for the collected work at third level.  I acquired some wonderful tools to pass on to my students and training horses, and was thrilled that many of my students were also able to audit the clinic.  All of them came away with a great deal of new knowledge. 
Gary was very methodical about how the horses should be warmed up, and utilized bending exercises in the warm-up to supple the horses' backs.  He was very strict about correct bending in the corners, on circles, and in both 3 and 4 loop serpentines, and then progressed to shoulder-in, traverse, and half-pass.  On the younger horse (working at third level), we worked a lot on combining the lateral work with medium gaits to improve his engagement and self-carriage.  Gary worked a lot with me on obtaining the correct bend in the corners, so that it would flow into the shoulder-in, and then utilizing the collection from that movement to capture the horse's energy and then release that energy into an engaged medium down the next long side.  Gary is very particular about how you start movements, and wouldn't hesitate to have me circle back around and repeat the beginning of an exercise until it was set up perfectly.  Only then could we proceed.  Gary also talked a lot about good training corrections, and how to handle situations if they come up in the competition arena.  His philosophy is to always be ready with your correction in the show ring, just as you would be at home, so that you can continue with your test without sacrificing your horse's training or excess points in the test.  He helped me to realize that I was often over-reacting in my corrections on this horse, and that a faster, smaller correction was more effective and less disruptive, both in the show ring and when schooling at home.
On my FEI horse, we did the same type of warm-up exercises, always focusing on correct bending.  Gary is also a stickler for perfect geometry, and I found that expectation of perfection a very useful reminder about the importance of the basics.  Once my horse was warmed up and supple from the bending exercises, including shoulder-in, traverse, and half-pass, we  then focused on quickening my horse's response to the canter aids.  As Gary advised, most problems in the tempis are not fixed in the tempis, and this was entirely accurate for my horse.  I was unaware that my horse would hesitate for a step or two every time I gave him a canter cue from the walk, but Gary picked up on that immediately, and we worked to quicken the response to those aids.  Gary had me do countless walk/canter/walk/canter transitions, mixing it up between both leads randomly, until he was confident that my horse was reacting immediately every time I asked for canter.  We then took that quick response into the tempis, and they were much improved.  We also worked on getting my horse to sit and wait in the canter pirouettes, so that he was pushing more into my inside leg, rather than simply turning away from my outside aids.
In addition to the excellent exercises that I learned from Gary Rockwell during this clinic, what will stick with me even more is his methodical approach to training.  Gary had every horse warm up in the same way, and his expectations for perfect bending and geometry never wavered.  Gary had a calm, methodical approach for making corrections, that allowed the riders to subtly address the problem and then continue on with their ride as if nothing had happened.  The focus throughout this clinic was always on correct basics and supple, happy horses, and I am extremely grateful that I was able to have this opportunity to learn from such a gifted instructor and judge!
 
I am so grateful to The Dressage Foundation and the Skvarla family for giving me this incredible opportunity, and I am so excited to be able to utilize this knowledge in the future.
Thanks again for all of your help!