2020 Cynthia Aspden Youth and Young Adult Development Fund Recipient: Andie Sue Roth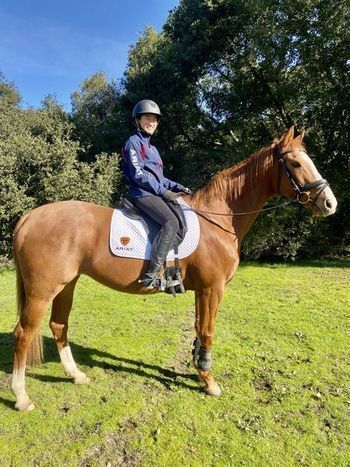 I am so grateful to The Dressage Foundation for awarding me the Cynthia Aspden Youth and Young Adult Development Fund Grant. I used the grant to work with Brenda Beare of BEARE Equestrian Services and Training nearby in Castro Valley, CA.
The training has been beneficial because it has prepared me for my upcoming competition at Wellington. I will be leaving soon to meet the horse and trainer that I will be working within Florida and am so glad I have the confidence from working with Brenda and her horse, Exclusively Sunny to prepare for this event. I will be riding in the National classes for the USEF Emerging Para Athletes at the Global Dressage Festival. It is exciting because not only do I get to compete, I get to watch the full CPEDI competition and be part of the para-athlete community.
I like to describe Sunny as a "tattle tale." She is very sensitive and will tell me when I am not relaxed or giving aids correctly.  But, when we are in harmony, Sunny is spectacular.  She is very talented and will give me exactly what I ask.  Spending time with Sunny is also helping me train my own horse, Cape Royal, in preparation for higher levels. Brenda is a master at explaining new techniques so that I can understand the language of dressage.
I am looking forward to The Global Dressage Festival in Wellington this month and also to several upcoming recognized dressage shows that will be held locally. With Brenda's help, I know that we are on a great path moving forward. Thank you to TDF!