2020 Cynthia Aspden Youth and Young Adult Development Fund Recipient: Maren Fouche-Hanson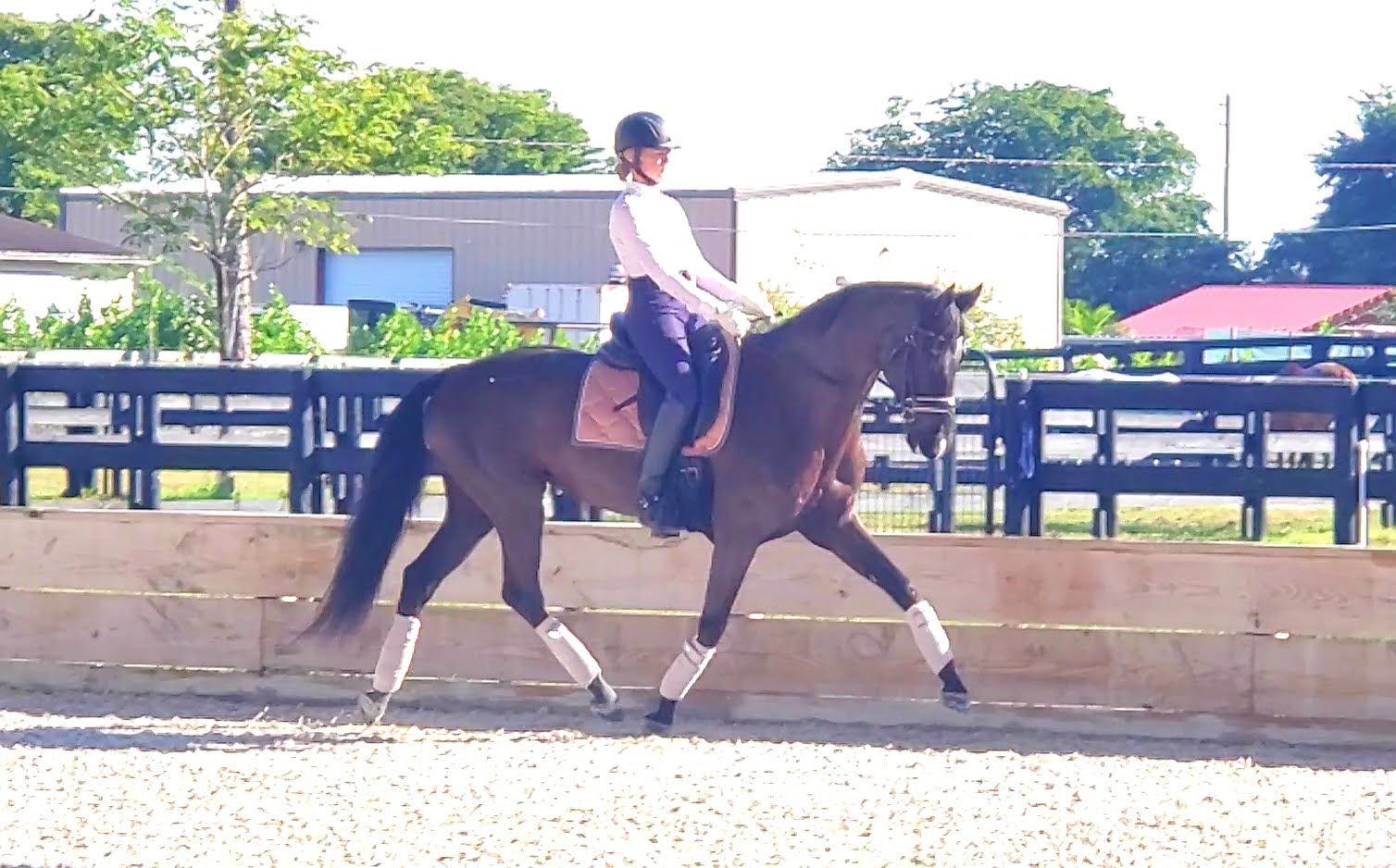 My name is Maren Elise Fouché-Hanson and as a recipient of The Dressage Foundation Cynthia Aspden Fund, I was able to go to Florida to train with Gary Rockwell. I was so happy with the progress we made with my mare, Z, and all the fun we had while training at Jane Cleveland's incredible Poinciana Farm. I am 14 and live in Colbert, GA, and my horse is owned by Dressage4Kids. I also still compete with my senior pony, In My Feelings, in the FEI Pony division.
 I was able to spend two weeks in Florida, the first week at the Robert Dover Horsemastership Clinic where I trained with Robert Dover and Sabine Schut-Kery at Global Dressage, and a second week at Poinciana Farm with the grant from TDF. Annelise Klepper, another TDF grant recipient, also went from Global to Poinciana with her horse, Happy Texas Moonlight, and was training with Kristin Meers. It was great to be able to hang out there, watch top riders train, and make new friends and contacts. Sabine Schut-Kery also was at Poinciana with her amazing Sanceo, as well as Scott and Sara Hassler. I also got to meet JJ Tate. I am now a member of the junior working student group online with her Team Tate Academy. 
Poinciana is an incredible facility with the best barn atmosphere! It was great to have another Junior rider there that I look up to as well as top international Grand Prix riders. They had an amazing welcome party and many cool events throughout the season. It was a privilege to be invited there by Mr. Rockwell. 
I was offered the mare we call Z, or Estremadura MVH, through the D4K lease program. She had been in training with Jessie Steiner in New Jersey and was donated by her owner Jeannie Marin in August. Lendon Gray thought of me, and I was thrilled to be paired with this lovely petite Dutch Warmblood mare. Z and I had been together about five months when we arrived in Florida, but we had several setbacks (an abscess and shoeing issues) at the start of our Dressage4Kids partnership.
I met Mr. Rockwell previously when he came to Atlanta for a clinic and coached me on my pony. He was very confident in this match (Z) for me and often referred to "when you ride her Grand Prix one day..." How exciting to think that could be our future!
My lessons with Mr. Rockwell were focused on the correct basics and development of my mare in self-carriage. We worked a lot on lowering her neck to reach out and seek contact. Z is very uphill and keeping her swinging over her back and reaching forward was key. We used half pass exercises and worked on clarity in the transitions. She is so smart and learned very quickly. The lessons built onto the previous week's lessons with Robert Dover and Sabine Schut-Kery perfectly. I do have to work on being very precise. Mr. Rockwell told me my steering was questionable and he would not be riding in a car with me if I could drive!
The grant allowed me to experience the Florida training sessions with Mr. Rockwell and meet so many incredible riders and trainers. I was able to get great videos of lessons from the first clinic week as my mom was able to capture my lessons at Poinciana. I was sent home with my homework exercises too. Thank you so much to everyone who helped make this possible. Everyone I met was so kind, helpful, and encouraging!