2019 Cynthia Aspden Youth and Young Adult Development Fund Recipient: Maribeth Hebert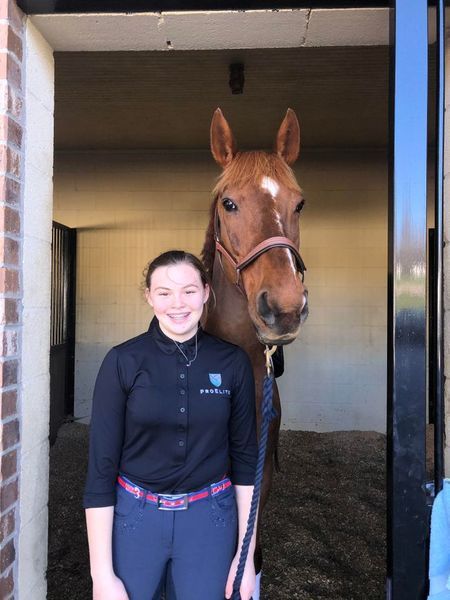 Hi, my name is Maribeth Hebert. Since I was sadly unable to attend Lendon Gray's Winter Intensive Training Program in Florida, I took my mare, Honour, to train every day with my trainer at the farm where she works. On Monday, March 9, we took Honour to Atlanta Dressage to train each day leading up to the first show of the season (which was sadly canceled due to Covid 19).
It was really nice being able to train every day. I am able to ride at home but my trainer, Ashley Marascalco Cormican, only comes to my farm twice a week to teach me. While I was at Atlanta Dressage with Ashley, we worked a lot on cleaning up and perfecting our 3rd Level tests in hopes for me to receive my last needed score for my USDF bronze medal.
While I was there, we also started playing with a working canter pirouette, half steps, and tempis to start putting 4th Level together. On Thursday, March 12, my trainer rode Honour while I got to go to her other farm to get a lesson on her Grand Prix horse. She rode this horse to get the final scores she needed for her USDF gold medal in 2017. It was cool getting to ride a Grand Prix horse. This was not my first time riding a horse trained up to Grand Prix, but he was by far the nicest one I had ridden. He was so smooth and talented at the canter pirouettes and piaffe. It was so nice to really feel how the canter pirouettes, tempis, and piaffe are supposed to feel, so I can now go back and apply that feeling to riding Honour. I will hopefully get to ride Ashley's Grand Prix horse again when the "shelter in place" order is lifted!
Honour did have to come home a couple days early due to Covid 19, but we still got a lot accomplished in the week and half we had. On Friday after I rode Kino, the Grand Prix gelding, I applied that feeling and the aids I used on him to Honour, and that made a huge difference in my riding on her. By the end of the week we even did some 4 tempis and had started playing with the canter work in the FEI Juniors test, which I hope to show and qualify for NAYC.
I want to thank The Dressage Foundation for choosing me as one of the grant recipients to help pursue my riding dreams and to help further my education in the sport of dressage. I also want to thank my trainer, Atlanta Dressage, and mother for making this opportunity possible and for driving me an hour there and back each day.