2020 Cynthia Aspden Youth and Young Adult Development Fund Recipient: Sophia Chavonelle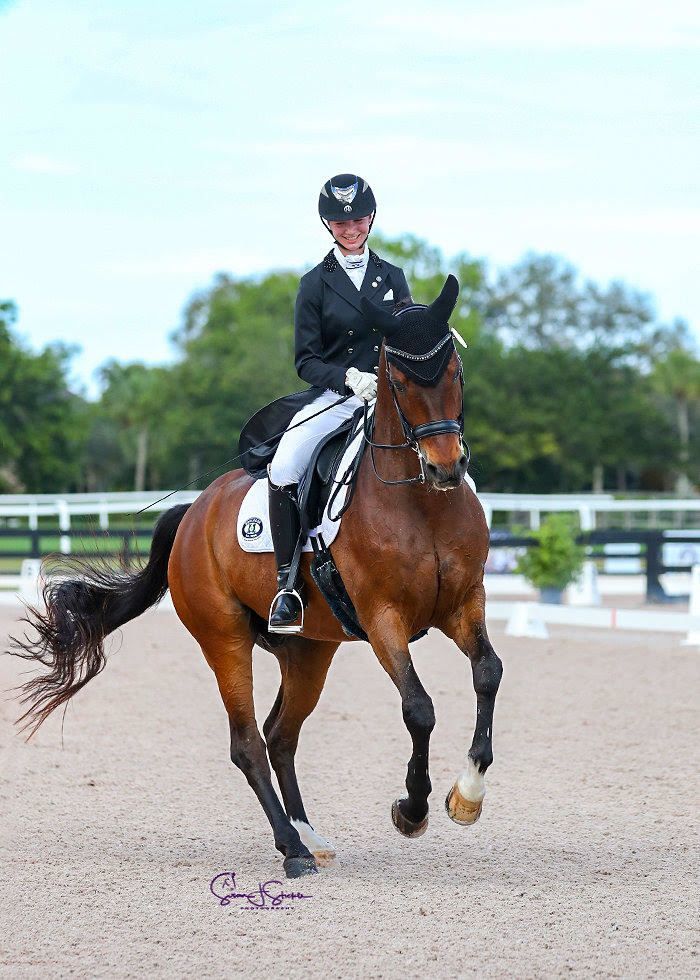 Last year, I was ecstatic to be awarded The Dressage Foundation's Cynthia Aspden Youth and Young Adult Development Fund grant to cover some of the cost of attending the Dressage4Kids Winter Intensive Training program. Participating in the WIT program has been a dream of mine for years, and in 2021 the stars finally aligned. While Dressage4Kids does all they can to keep the program's cost as low as possible, spending a winter season in Wellington, Florida, is still a big expense. I am so grateful to The Dressage Foundation for helping me make this dream become a reality!
Twelve other young riders and I moved into the beautiful Roseview Farm in the days just after Christmas, pouring over Lendon's many emails and eagerly getting our horses settled into their winter homes. Thanks to Lendon's suggestion, I would be spending the winter living onsite at the barn, sharing an RV with who would become one of my new best friends, Emma Connor.
For those unfamiliar, the Winter Intensive Training program, created by Lendon Gray and Dressage4Kids, brings about a dozen young riders to Wellington every winter for three months to grow in their riding, horsemanship, and life skills. As stated on the D4K website, "WIT is not for the casual dressage rider, but for aspiring young riders who are committed to achieving excellence." The participants are responsible for taking care of their own horses while keeping the stables to Lendon's high standards. Everyone takes two- or three-person group lessons Tuesday through Sunday, with Friday being a light hacking day, and Mondays off. Chores begin promptly at 7:00 AM when the horses are fed, watered, turned out, or groomed for riding. The aisle is kept neat, and nothing is left out of its place (or else Lendon will confiscate it!). Lessons begin at 9:00 AM and usually continue until about noon. Afternoons are kept for lectures and occasional field trips, though COVID was more difficult to schedule. In the afternoon, the horses are brought in, groomed, fed, watered, and all chores (tidying the hay shed, hosing down the wash stalls, cleaning the bathroom, etc.) are taken care of. Each day ended with a fitness class, which varied from running laps around the paddocks to playing soccer, meditating, and practicing yoga.
This winter was full of ups and downs. Very early on in the program, my horse, Spotlight, broke out in terrible hives. After weeks of trying different things, from turning off the automatic fly spray system to switching his bedding from shavings to straw to paper, I finally got them under control. Spotlight pulled two shoes halfway through the program, once in the middle of our Prix St George at the Global Dressage Festival! Luckily, I had a fantastic team not only from Dressage4Kids but from my long-time friends at Atlantic Equine Services and my trusty Wellington farrier, John Soto. Thanks to the collaborative effort of these amazing people, we managed to keep Spotlight more or less together through the season, a remarkable feat in and of itself!
Going into the program, Spotlight and I were very green to the FEI levels, having only competed in a couple of PSG tests before. Thanks to Lendon's endless depth of knowledge and encouragement for me to try new things, Spotlight and I competed in our first Young Rider CDI and ended the program earning a 73+ percent from FEI judge Cesar Torrente. She helped Spotlight and me achieve many of my lofty goals for the season.
In a less measurable, but arguably more valuable, way, my knowledge and horsemanship grew exponentially. This was, in part, due to our weekly quizzes on the USDF Trainer's Manual and the week's global 'real world' news. This was also thanks to the dozens of lectures from Lendon as well as many professionals from around the country. While it certainly was a challenge to host this program during a pandemic, it did bring the opportunity to meet with many people via Zoom with whom we may never have had the chance to talk otherwise. Many times, we also watched rides at Global via the live stream in place of lectures. Getting to watch riders like Steffen Peters, Adrienne Lyle, and Sabine Schut-Kery every single week is, I think, the most inspiring thing! Here are a few snippets of the many lectures we attended:
·   We had one lecture with Christine Traurig, Olympic Bronze Medalist, and USEF Dressage Young Horse and Development program coach, to recognize a good, young dressage horse. We talked about the ideal conformation as well as ideal personality traits and discussed some of the similarities and differences in some famous horses. Christine also emphasized the importance of knowing and understanding pedigree.
·  We took a field trip to Diamante Farm to meet, talk with, and watch the head trainers Devon Kane and Kevin Kohlman ride, one confirmed Grand Prix horse and one just beginning to school the Grand Prix. Their farm was absolutely gorgeous, and we had so much fun asking Devon and Kevin a hundred questions about their warmup and riding techniques.
·  We were visited by Betsy Steiner for a lesson on Pilates and fitness. She had us practice some techniques that I had never heard of that built our strength physically and mentally. We had so much fun!
· One lecture was with the very successful Young Rider, D4K participant, and recent recipient of the Lionel Guerrand-Hermés Trophy, Hannah Irons. Hannah talked a bit about her story, how she is making the transition from Young Rider to young professional, and some of her teaching and training techniques. I loved hearing the perspective of someone who is just a bit ahead of the same (or at least similar) path I am on.
· Another lecture was with a huge supporter of U.S. dressage, Betsy Juliano. The headline of Betsy's talk was "Being a Good Dressage Citizen." She talked about her journey in dressage, and how she has come to sponsor the people she has supported, including Laura Graves and Adrienne Lyle. Betsy wanted us to keep in mind that we never know who is around us, who is watching our reactions and habits, whether positive or negative.
·  Every other week via Zoom, we were lucky to meet with hypnotist and sports psychologist Larissa Brazier, to discuss many topics related to riding, competing, and life!
·  We were very lucky to also take a field trip to Helgstrand Dressage! Helgstrand is one of the biggest sales and training centers in the world, where they "trade and breed the finest horses." Amanda Perkowski took us on a tour of the facility, which is still under construction, and allowed us to watch her ride and teach one lesson. I know Amanda from the qualification process of getting to the NAYC back in 2017, then when we competed together in 2018, and from her past involvement in D4K. It was so inspiring to see another former Young Rider doing so well professionally in this sport! She and Dr. Ulf Möller were so generous with their time and knowledge, and I cannot wait to visit again one day, once the construction is complete.
·  We sat down with Lauren Sprieser to hear her story and to talk about the importance of getting an education, how to be a good student, what to keep in mind when starting your own business, and many other topics!
·  One of my favorite lectures was with Dr. Omar Maher, Dr. Christine Machin, and Dr. Virginia Melly of Atlantic Equine Services. They came to our barn early in the program to show us how to give our horses a thorough examination, from nose to tail to hoof. We broke into stations for a hands-on lesson on examining the head and neck, forelegs, and hind legs.
Another required part of the program is for each participant to give a lecture, on anything at all. I chose something that I find so important, yet many young riders know nothing about applying for programs, grants, and scholarships! So many young people are intimidated by applications, thinking that they are not good enough to put themselves out there. I talked about my experience applying to various USDF and TDF programs and tried to emphasize the point that the worst thing that can happen is they say "no!" Even if one isn't accepted into a program or awarded a scholarship, they still walk away with the experience of applying for something, so they can maybe create a better application in the future. It simply cannot hurt!
Though I had every intention of heading home at the end of the program, Lendon threw a bit of a wrench in my plan with one phone call: "What are you doing at the end of the program?" "Going home?" "Do you want a job?" "Only if it's a perfect position." "Well, I think I've found it. Sabine Schut-Kery is looking for a working student." Many phone calls, a couple of pro/con charts, and one panic attack later, and I was packing my bags for California, not Maine. While I had entered the WIT program intending to head home to my beloved Vienna Farm at the end of the season, if I have absorbed any advice over the years, it's to take every opportunity. And like Lendon said (she's always right), it's been the perfect opportunity. Stay tuned for my next article on what it's been like to work for such an amazing rider and Olympic hopeful.