2021 Para-Dressage Fund Grant Recipient: Genevieve Rohner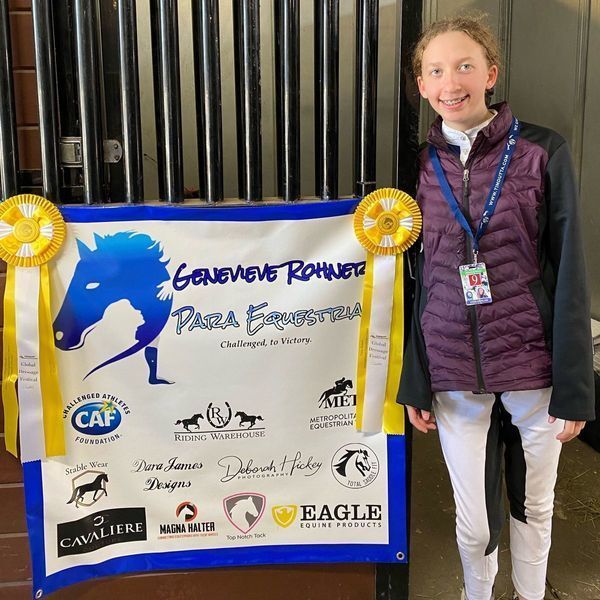 I am so excited to share this update with you all. First, I was very happy to be able to come to the TDF lunch in Wellington and meet some of the donors and leaders of TDF. Like so much of what I will share, it was a first for me.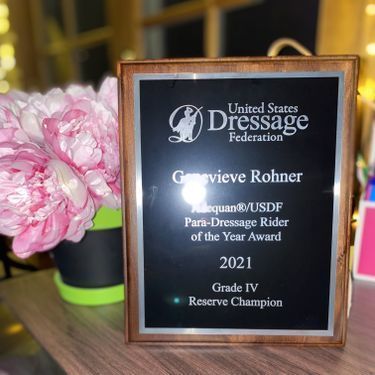 I have a lot of goals and getting to compete in a CPEDI3* in Wellington was a big start. Last year I got my horse, Donut, and my goal was to break 70% in recognized shows doing my Grade IV para tests. My coach in Utah, Annie Sweet, helped me score 70-72.5% in three of my five shows and I was very happy! Donut and I also ended the year with a national ranking and as the USDF Year-End Para Grade IV Reserve Champion with an average score of 68.5%.
After New Year's, we sent Donut to Kate Shoemaker in Florida. My mom and I got there a few weeks after he did. The plan had been to train with Kate, who is the same grade as me. Donut didn't adjust as well as we had hoped, which was disappointing. But there's a great organization in New York that supports me, and they helped me find a horse to lease so I could compete. The minimum I wanted to do in Wellington was getting my FEI classification, which I did, and show at the CPEDI3*, which I also did. Even though I didn't get to ride Donut at Global, what ended up happening was really special.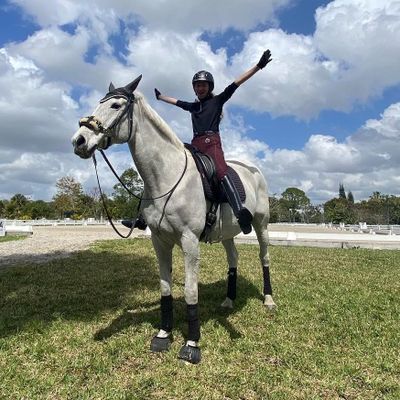 The people that helped me find a horse are from the Metropolitan Equestrian Team (MET). MET helps girls get into riding and education. Another rider named Mika McKinney went to college at Mount Holyoke College. Her coach there, Carol Law, and Jane DaCosta from MET connected my mom with Barton Patrick, Mika's coach in Maine. Mika had been an able-bodied rider until she was diagnosed with cancer and lost her lower leg. Then she became a para-equestrian. Her goal had been to get her FEI classification and compete at a CPEDI3* in Wellington. Sadly, she passed away in 2019. Barton had Mika's horse, Phoenix (owned by Sam Bartlett), in Wellington with her, and that's the horse I got to ride.
Barton and her assistant, Shashanna Moll, made my experience really great with all of their help, and I got to take the first step in my international journey AND fulfill Mika's wish on her horse. I didn't score as well as would have liked, but I had only ridden Phoenix for three weeks. I was disappointed not to qualify for the Freestyle, but I was excited that they let me ride anyway and get scoring and feedback from the judges. I learned so much and sometimes when things don't work the way you plan, it's even better and you learn more than you would have otherwise. It was very exciting to ride Freestyle at Global and I scored 66% in Artistry! There were twelve total competitors, and nine of them were Paralympians, some with medals. Everyone was very welcoming to me and supportive.
Since 2017, I have been the youngest U.S. classified para-dressage equestrian competitor. Once I got my FEI classification, I became the youngest globally. The next youngest person is about three years older than me. There might be people who think I am too young to compete at this level, and it's true, I have a lot to learn. But I have been riding for 10 years, and I work hard, just like all the other competitors. It doesn't bother me if people underestimate me. My motivation doesn't come from what anyone else thinks. It comes from how much I love to ride and how much I want to achieve my goals.
While my short-term goals were a little hijacked, I am still on track and can achieve them in 2022. My long-term goals are still to represent the U.S. on Team USA and make the Paralympic team, and I am still looking forward to qualifying for the 2022 Para Championships. I did also complete my Pony Club D levels and am working on C-1. My club has been really supportive and cheered me on!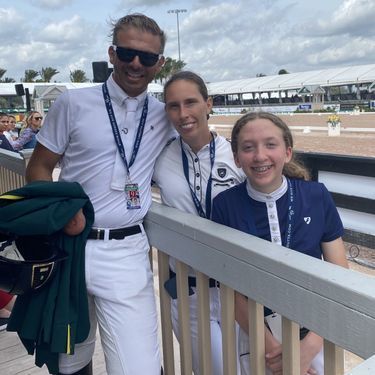 My competitors in the Grade IV events were Rodolpho Riskalla from Brazil, who won a gold medal last summer in Tokyo, and Kate, who won a bronze medal with the U.S. team. They were both very encouraging to me and it was amazing to watch them ride! Lots of people have helped me, and it always takes a lot of people, not just one, to achieve your goals. Kate is someone I look up to a lot, and I am so grateful to call her a friend. She really helps me understand what I am doing and the path forward in para-dressage. The Chef d'Équipe, Michel Assouline, has been really helpful to me since I was nine. He was there and so was the FEI classifier, Joann Benjamin, who was the same person that classified me when I was nine! While I was in Wellington, I also got to meet the man who announces a lot of horse shows, Nicho Meredith. He was really nice to me and encouraging. I also got to go to the movie screening of Para Gold, which featured some of the competitors. I even met Robert Dover there!
I am lucky to have some great sponsors, and I am very grateful to The Dressage Foundation and the donors for helping me. My experiences in Wellington were fantastic and I can't wait to go back next winter.