2022 Young Rider Dream Program - Wellington
The Dressage Foundation's 2022 Young Rider International Dream Program trip to Wellington, Florida, was held in March 2022. Thanks to generous donors, the Dream Program was a fully-funded opportunity for riders ages 18-22 years old, riding 3rd Level and above, who have never trained or competed in Wellington. The five Young Rider participants were: Alanna Bent (SC), Mikaela Kuiper (WA), Emily Smith (CA), Haley Smith (CA), and Ruby Tevis (KY).

During their week in Wellington, TDF's Dream Program group had the opportunity to meet with some of the top riders, coaches, and judges in the world, as well as attend competitions at Adequan Global Dressage Festival.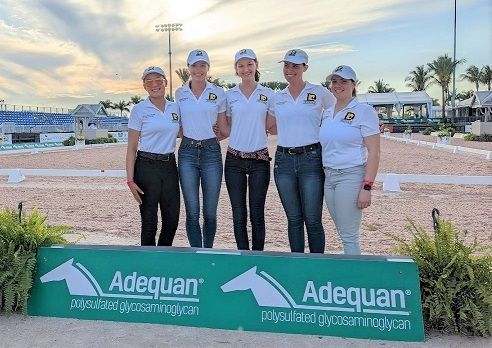 Follow along the Young Riders' Journey in Wellington!
Learn from Sabine Schut-Kery, Scott Hassler, JJ Tate, Jane Cleveland

DAY TWO:
Learn from David Marcus, Nicholas Fyffe, Kathy Connelly, Margaret Duprey, Jennifer Baumert

DAY THREE:
Learn from Charlotte Bredahl, Charlotte Jorst, Jodi Lees, Anna Buffini

DAY FOUR - PART 1:
Learn from Adrienne Lyle and Betsy Juliano

DAY FOUR - PART 2:
Learn from Jennifer Williams, Bill Warren, Bill McMullin, George Williams, Beth Haist
---
The Dressage Foundation thanks the donors and sponsors for investing in the youth of our sport through their support of this program. TDF also thanks Beth Baumert and Eliza Romm, who volunteer to organize the Dream Program trip each year, as well as the 2022 chaperones - Kate Tackett, Julie McKean, Jen Baumert, and Reese Koffler-Stanfield.

Are you interested in helping make the Young Rider Dream Program trip to Wellington possible for 2023? Donate today!