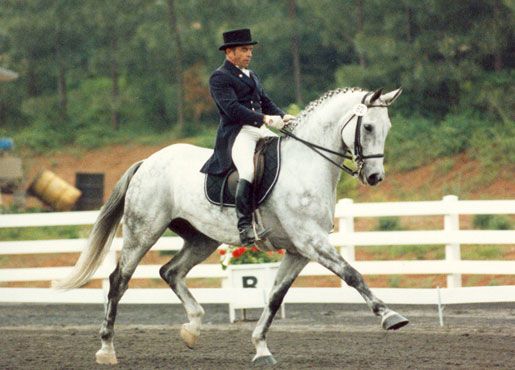 July 15, 2014 – Olympian Michael Poulin, Vice Chairman of The Dressage Foundation's Board of Directors, has generously donated a 2-day clinic to the state that raises the most new donations for The Dressage Foundation (TDF) by the end of 2014.
"I have been involved with The Dressage Foundation for many years," said Michael Poulin, "and I wanted to support and encourage all the donors who have made our work possible. I hope that many people are inspired to give, and I look forward to working with the riders from the winning state!"
At the end of the year, final totals will be tabulated to determine the state that has raised the most new donations. The figure will include fundraising events held in each state, new donors, and donations that are earmarked toward each state's goal. The winning state will be announced in early 2015, with the clinic to follow based on schedules and Mr. Poulin's availability. The clinic can include up to ten 45-minute rides per day (maximum). Mr. Poulin has waived the instructor fees for a 2-day clinic; travel, accommodations, and meals will be the responsibility of the clinic organizer/group.
Additionally, each USDF Group Member Organization, dressage club, or TDF State Representative who participates in fundraising for TDF during 2014 will receive a new, released in 2014, educational dressage DVD.
The Dressage Foundation encourages individuals and dressage clubs in each state to contact and work with their respective TDF State Representative. A list of State Representatives can be found on TDF's website, www.dressagefoundation.org.
"The Dressage Foundation exists to help committed riders with one of the toughest parts of dressage--Finances. The mission of TDF is to fundamentally 'up the bar' of dressage in the United States," said Beth Baumert, TDF President. "To that end, TDF donates about $200,000 annually to people involved in every aspect of the sport: from young riders to adult amateurs, judges, instructor-trainers, breeders and high performance riders. The entire dressage community can thank TDF donors for making these grants possible. Without donors--large and small--TDF wouldn't exist. Every gift is important to TDF, and the goal for 2014 is to enlarge the TDF family of friends so we can do even more."