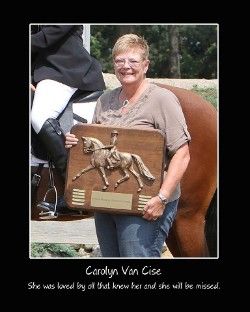 The Dressage Foundation is honored to announce that friends and family of Carolyn Van Cise have established a new grant fund in her memory to benefit young riders from Michigan.
Carolyn was active in Michigan's dressage community for many years as a trainer, instructor, judge, and mentor. Dressage was her passion and she served as a role model for those she knew. In addition to serving in many roles for the Midwest Dressage Association, including President, Carolyn was also very active in her community and church. Carolyn passed away on March 31, 2014.
A Carolyn Van Cise Memorial Sportsmanship Grant will be awarded annually to a Junior/Young Rider who is a current Michigan resident and best exemplifies the qualities that Carolyn found most important in life, including exhibiting the characteristics that demonstrate positive sportsmanship principles. Recipients of this grant will receive $500 to be used towards expenses associated with attending a specific educational eventing or dressage event of their choice.
"We are very honored to be the 'home' of this new fund to benefit young riders from Michigan," said Jenny Johnson, TDF's Executive Director. "It is our pleasure to help young riders continue their dressage education while exhibiting the qualities that Carolyn encouraged in so many."
One annual $500 grant will be available at this time. Applications are due on or before October 15th of each year. A Selection Committee will review applications and announce a decision no later than December 15th.
Visit the Carolyn Van Cise Memorial Sportsmanship Fund page for more information.