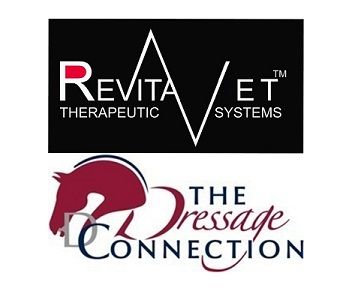 The Dressage Foundation is pleased to welcome new Corporate Sustaining Partners, The Dressage Connection and RevitaVet. Each company is providing important monthly support of TDF's grants and programs, in order to support and strengthen dressage in the U.S. President and CEO of TDF, Beth Baumert says, "We're proud and grateful to have RevitaVet and The Dressage Connection on the TDF team. We're all in the business of helping, and that feels good."
The Dressage Connection's Charles Tota has long served the American dressage scene with his expertise in saddle fitting, and he provides the latest in European tack and apparel for the American rider. Visit www.thedressageconnection.com for product information, "Where the Right Equipment Makes the Difference."
In addition to providing monthly support to TDF, RevitaVet has also announced a special deal for friends of TDF: If the buyer mentions TDF during a purchase, he or she will receive a 20% discount on the basic system, poll cap, or hoof pad. Additionally, RevitaVet will provide a 10% contribution to TDF. Owner Tom Neuman says, "RevitaVet offers an affordable but sophisticated therapy system producing invaluable results for the horse in a wide range of areas." Call Mr. Neuman at 602-513-1223 or visit www.RevitaVet.com for information on RevitaVet products and to place an order.
"I want to thank our Corporate Sustaining Partners for their contributions to further the growth and educational opportunities for our sport of dressage," says TDF's Treasurer, Judith Noone. "They are always giving a helping hand to horses and riders alike. Please contact them and support their efforts as well."
The Dressage Foundation's large grants program supports dressage education for youth, adult amateurs, instructors, judges, breeders, and high performance teams, reaching all ages and all levels. TDF, through its donors, sustaining partners, and state representatives, is working for dressage all over the country.