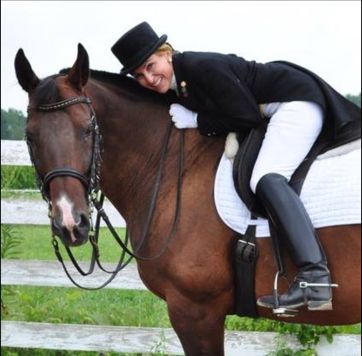 The Dressage Foundation is pleased to announce that Jane Kelly of Powhatan, VA, is the 2015 recipient of the $500 Trip Harting Grant. Jane plans to use the funds to continue her education in the United States Dressage Federation Instructor Certification Program.
Jane is a Graduate A of Pony Club and has been a USPC Examiner and Clinician for 18 years. She has earned her USDF bronze, silver and gold medals, is an "L" Graduate and an Associate Instructor for USDF. "Thank you to The Dressage Foundation and the Trip Harting Fund. I am grateful that I was chosen as this year's recipient. This opportunity will allow me to improve my teaching skills to help my students increase their understanding and appreciation of horses and dressage."
Trip Harting's friends, students, and admirers established this Fund at The Dressage Foundation in his memory. Trip, a beloved judge, coach and clinician, passed away in August 2008. The purpose of the Fund is to provide financial assistance for a Pony Club rider to attend the USDF 'L' Education Program or Instructor Certification Program. Applicants must be current or graduate Pony Club members with a B or A rating.
Trip Harting Fund grant applications are due to the Foundation by March 25th of each year.