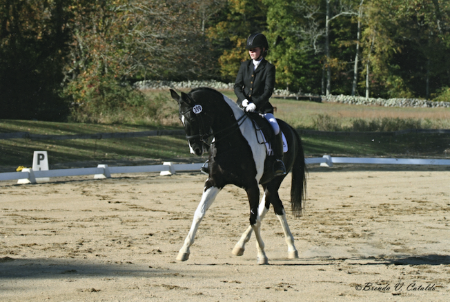 Photo by Brenda Cataldo
May 18, 2015 - The Dressage Foundation's Renee Isler Dressage Support Fund has awarded a $225 grant to Junior Rider Emma Szegvari (MA) to take her Irish Sport Horse, Ringmoylan, to the Emerging Dressage Athlete Program clinic with Lendon Gray.
"I am so grateful to have received a scholarship from The Dressage Foundation's Renee Isler Fund," said Emma. "With this funding I will be able to participate in Lendon Gray's Emerging Dressage Athlete Program Clinic to be held at Pineland Farms. These weekend clinics provide well-rounded learning experiences that take the young athletes from physical workouts with professional trainers, to insightful lessons with Lendon Gray, to lectures from horse professionals including veterinarians and media personnel. Through my participation, I will continue to gain insight into effective riding as I not only receive two lessons on my horse, Ringo, but also observe the lessons that others are taking."
Emma hopes that she and Ringo will be able to progress through the levels together, with the goal of earning her Gold medal. "As a Junior Rider hoping to earn a spot on this year's Region 8 NAJYRC team and qualify for National Championships, these clinics provide me with greater exposure to the requirements needed for FEI-level competition," said Emma. "Thank you to the Renee Isler Fund. Your support gets me one step closer to my goal."
Grants are available for young riders, adult amateurs, and professionals through the Renee Isler Dressage Support Fund. For more information about this Fund, contact Jenny Johnson at (402)434-8585 or jenny@dressagefoundation.org.