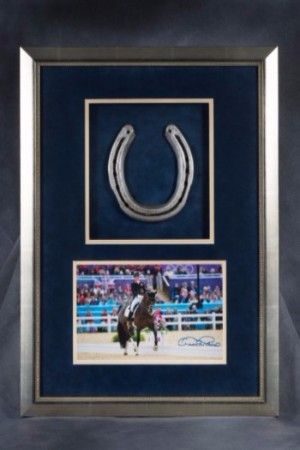 Photo Credit to Christy Cunningham-Adams
Join us this winter for the opportunity to win a piece of dressage history AND support The Dressage Foundation! The top bidder will receive Valegro's winning shoe from the 2015 Las Vegas World Cup Finals, a photo of Valegro autographed by Charlotte Dujardin, and a Certificate of Authenticity from Carl Hester, all in an elegantly framed set.
The auction will be held online at 32auctions.com/ValegroShoeTDF, and will run from December 1st through December 11th. Bidding is open for North American residents only.
"We are thankful for the generosity of Carl Hester and Charlotte Dujardin, who so kindly donated these special items for this auction," said Jenny Johnson, TDF Executive Director. "It is incredible to know that they support the education of dressage professionals around the world."
Proceeds from the Valegro Shoe Auction will support the Karen Skvarla Fund for Young Dressage Professionals. The Skvarla Fund was created in 2014 by Diane Skvarla, in memory of her sister, Karen. Karen was a budding equestrian when she passed away in 1968 at the age of 9 years old. Her family created this Fund to honor Karen, her love of horses, and joy in riding. The purpose of the Karen Skvarla Fund is to provide grants enabling young dressage professionals to pursue training or educational opportunities. Grant applicants should be in the beginning stages of their dressage careers as instructors and/or trainers.