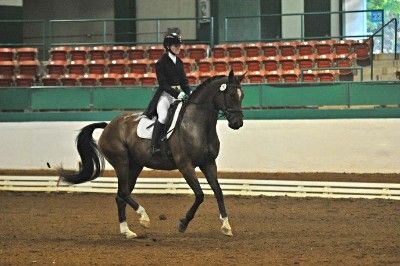 Photo Credit: WNC Photography
The Dressage Foundation is pleased to announce that the Karen Skvarla Fund Grant has been awarded to young professional Heather Hamilton of Raeford, NC. Heather intends to use the $500 grant to ride and train with Lynn Leath and Roz Kinstler.
Heather owns and manages her own barn, The Bunk House, LLC, and is an assistant manager in training and instruction at Heather Ridge Farm. Since 2011, Heather has been involved in professional dressage training and works with many youth and amateur riders. "I am honored to have been selected for this scholarship and look forward to scheduling lessons that will help me develop my horse, as well as my understanding of correct training. I will take these educational opportunities and pay it forward to my students in sharing my new found knowledge and skill," said Heather.
The purpose of the Karen Skvarla Fund is to provide grants enabling young dressage professionals to pursue training or educational opportunities. Grant applicants should be in the beginning stages of their dressage careers as instructors and/or trainers. The Karen Skvarla Fund Grant selection committee will especially look for applicants who are eager to grow and improve, and who are fair and respectful to both students and horses.
The Karen Skvarla Grant will be awarded annually. Applications are due on or before February 15th of each year. A Selection Committee will review applications and announce a decision no later than April 15th. The application can be found at www.dressagefoundation.org under the Dressage Instructors section of "Apply for a Grant."