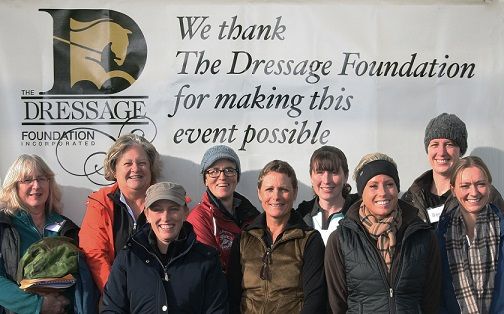 Image Caption: Oregon Dressage Society Clinic Participant shared, "This Instructor Program was reassuring to the amateur that there is a distinct and definable path to each goal. I learned much more than anticipated. This is an ideal way to "weld concepts to actions" for the adult amateur dressage rider."
Thanks to the support of many generous donors throughout the years, significant and meaningful financial support has been provided to non-profit dressage organizations from The Dressage Foundation's Grant Funds.
In the first quarter of 2016, TDF awarded $26,250 to seventeen different groups. An estimated 250+ riders and 300+ auditors took part in these TDF-supported educational events. The symposia, camps and clinics reached hundreds of riders of different levels and ages in areas throughout the country.
Utah Dressage Society was awarded a grant from the Continuing Education for Instructors Fund, established by Maryal and Charles Barnett in 2008, to hold the USDF Instructor Certification Program. One participant shared, "This educational program is amazing! All of my students have noticed an improvement in the quality of their lessons since I started the Instructor Certification Program. It has been very beneficial to practice articulating ideas in front of the program faculty and examiners."
"Everything about our event was positive," shared Barbra Reis from Midwest Dressage Association, recipient of a Violet Hopkins Fund grant for a symposium with Janet Foy. "The demo riders loved their riding time with Janet and the auditors had great comments after the event. We gained some new GMO members and it was a great educational and 'friend-raising' experience!"
Christine Erikson, organizer for a musical freestyle clinic in Oregon, shared, "On behalf of the Lower Puget Sound Dressage Club, and all the participants of our recent Musical Freestyle Clinic held earlier this year, we would like to extend a big thank you for helping us fund this event. Thanks to your generous Dancing Horse Fund grants, we are able to continue offering valuable clinics in our area."
Grants are available for USDF Group Member Organizations and other nonprofit equestrian clubs from several different Grant Funds:
Violet Hopkins Fund – For USDF GMOs to host a variety of educational events, such as camps, symposia, and seminars for riders at all levels.
Dancing Horse Fund – For nonprofit groups to hold musical freestyle clinics and seminars or to purchase sound systems to use for freestyle events.
Continuing Education for Dressage Instructors Fund – For nonprofit groups hosting USDF's Instructor Certification Program.
Sally Swift Fund – For nonprofit groups to organize a Centered Riding® clinic.
Edgar Hotz Judges Fund – Provides support to USDF GMOs for the "Continuing Education for Judges and L Program Graduates" program.
Michael Poulin Dressage Fund – For nonprofit groups or individuals to host an event that will improve the quality of dressage in their area through riding, training, instructing, or judging.
For many years, grants made possible by TDF donors have also supported USDF's Junior/Young Rider Clinic Series and the USEF/USDF Young Rider Graduate Program.
For more information about applying for a grant, or to make a charitable contribution to a Grant Fund, please visit www.dressagefoundation.org or contact TDF at (402) 434-8585 or info@dressagefoundation.org.