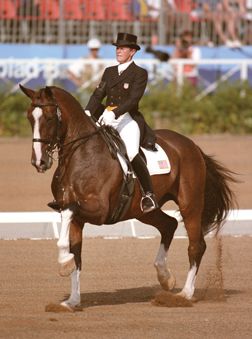 Carol Lavell has achieved high marks in all phases of dressage – an Olympian, rider, competitor, trainer, teacher, judge- and with her legendary horse, Gifted, brought pride and honor to our country through her performance on the 1992 United States Olympic Team.
Just recently, Carol was awarded the S. Braley Gray Award, presented annually by Lendon Gray at the Dressage4Kids Youth Dressage Festival to someone who gives tireless support and energy to the riding world.
Carol knows firsthand of the work, sacrifice and struggle necessary to make it to the top in the dressage world. As a result, she has made it her mission to give back to the dressage community. Through the generous contributions of Carol and her late father, Gordon Cadwgan, over $368,000 has been awarded to 109 recipients of educational grants from The Dressage Foundation.
The donations from Carol and her father support the following annual grants and programs:
Carol Lavell Advanced Dressage Prize
Gifted Fund Grants for Adult Amateurs
Major Anders Lindgren Instructor Education Grants
Michael Poulin Dressage Fund
Young Rider International Dream Program
Edgar Hotz Judges Fund
Patsy Albers Award
"Carol Lavell cares so much about our sport, and cares for it," said John Boomer, Past President & CEO of TDF. "These funds will continue to provide dressage riders with financial support for many years."