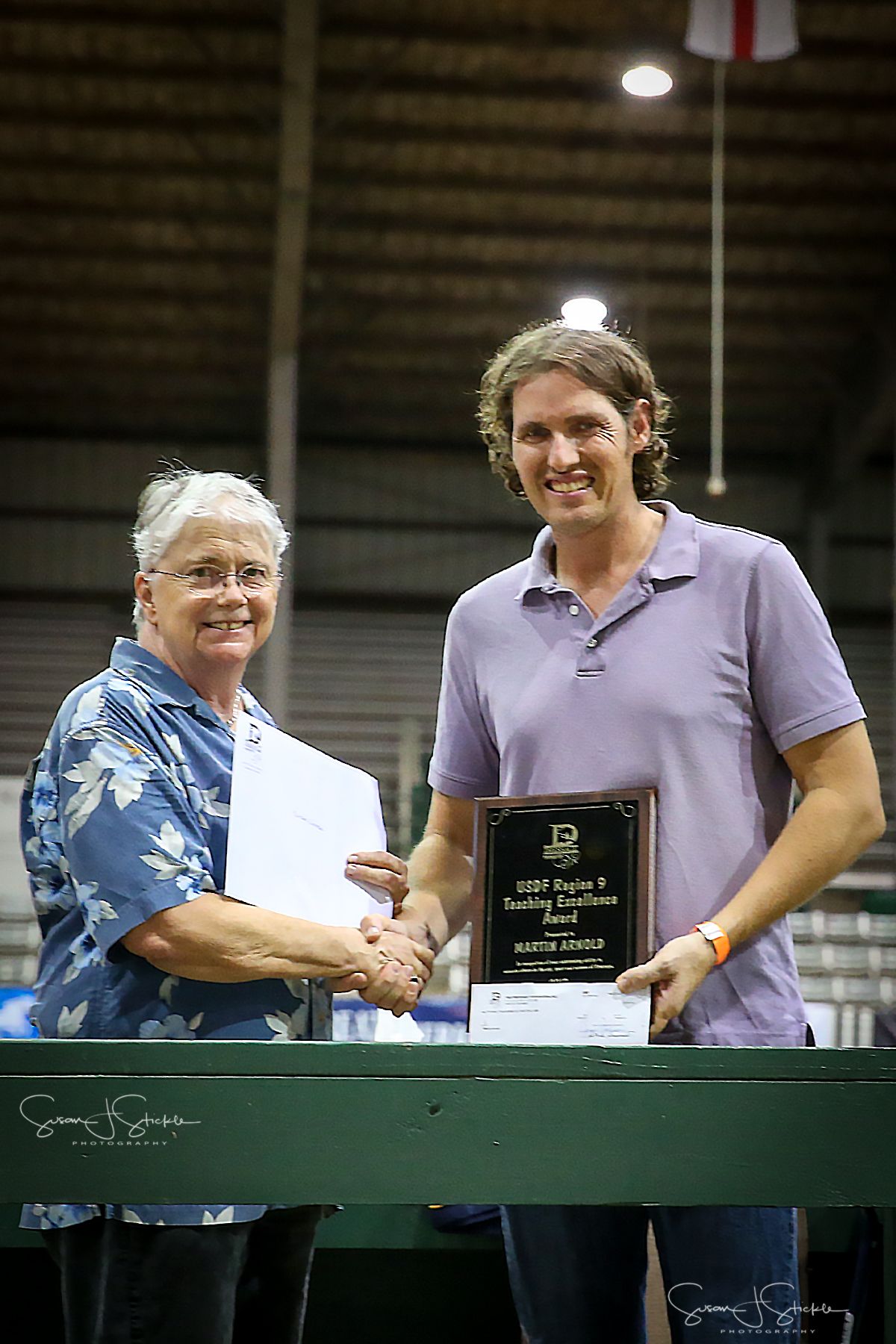 Photo by Susan J. Stickle
Martin Arnold of Coupland, TX, received the ninth annual "USDF Region 9 Teaching Excellence Award" at the Great American/USDF Region 9 Championships held in Katy, TX, October 5-8, 2017. He received a $5,000 award for demonstrating adherence to sound dressage principles and the ability to communicate these principles so that students develop themselves and their horses in a logical, progressive and humane way up through the levels.
Martin Arnold is a USDF bronze and silver medalist, and opened Concordia Dressage with his wife, Jenna Stern, in 2010. Since the start of Concordia Dressage, Martin has become very involved with Austin Dressage Unlimited and frequently hosts and attends educational symposiums. He works with students of all ages and levels, and is very proud of their accomplishments at the Regional and National levels.
"I am extremely honored to have been selected as the recipient of the 2017 Region 9 Teaching Excellence Award! I put my heart and soul into my teaching and I'm thrilled to be recognized for this passion," Martin said. "In addition to the amazing training opportunity, this award will help me exponentially in my desire to expand my teaching and clinic business. I can't thank The Dressage Foundation and Region 9 enough for making this award possible!
The Region 9 Teaching Excellence Award was established at The Dressage Foundation in 2009 by Meg Flemming. The purpose of the award is to showcase and honor excellence in dressage teachers. Dressage instructors are nominated by students or peers, and then submit an application that is reviewed by a prominent Selection Committee. In addition to being a USDF Region 9 member in good standing and a Region 9 resident, the recipient must also demonstrate adherence to sound dressage principles and have a reputation for honesty, integrity, and community service.