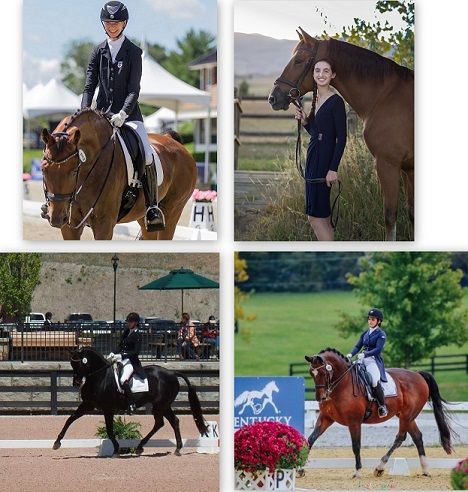 Four riders have been selected for The Dressage Foundation's Young Rider International Dream Program that sends top U.S. young riders to Europe for an intensive dressage experience. The program is administered by The Dressage Foundation (TDF) and funded by generous donors.

Bridgid Browne (GA), Sophia Chavonelle (ME), Raissa Chunko (CO), and Emma Sevriens (GA) were selected to participate in this year's program.  The selection committee based their decision on candidates' essays, competition scores, recommendations, videos of their riding, and signs of commitment to the sport of dressage.

​The program, conceived by Olympic medalist and TDF board member, Michael Poulin, will be led this year by chaperones Reese Koffler Stanfield (KY) and Bill McMullin (MA).  Beth Baumert is serving as administrator as she has since the program's inception, and Eliza Romm is assisting her. Poulin believes TDF's International Dream program helps young American riders reach their potential by fueling the "power of the dream" for participants.

​The group will attend the World Equestrian Festival CHIO Aachen in July to watch some of the top riders in the world train and compete. They will have the chance to discuss training with judges, coaches and riders, and watch the warm up as well as the competition rides.

While traveling, the young riders will record their observations in daily journals and chronicle the events with photos and video to share with their home dressage organizations.

​Information about this year's participants can be found here and on TDF's Young Rider International Dream Program Facebook page.

TDF welcomes donations to further support the youth of our sport through the Young Rider International Dream Program.  Gifts can be made by credit card online or by calling TDF's office at (402) 434-8585.  Donations by check can be mailed to TDF's office at 1314 'O' Street, Suite 305, Lincoln, Nebraska, 68508.
(Photos -- Sophia Chavonelle by Taylor Pence, Raissa Chunko by Donelda Cox, Emma Sevriens, Bridgid Browne by Kristin Posner)