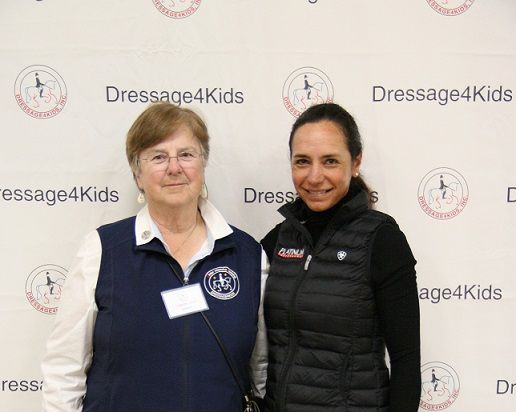 The Dressage Foundation's Michael Poulin Dressage Fund recently awarded Dressage4Kids Inc. a $1,000 grant for its upcoming "Training4Teaching" program to be held in Wellington, Florida.

The Dressage4Kids Training4Teaching Program is a pilot program being developed by Olympians Lendon Gray and Ali Brock.  Gray and Brock will be assisted by invited professionals, dressage instructors, psychologists, etc. to cover such topics as teaching skills, special considerations for teaching non-competitive amateurs and very young riders, ethics and professionalism, teaching vs. coaching, dealing with fear or overconfidence, and more.

"Dressage4Kids is extremely thankful to The Dressage Foundation for its support of the Dressage4Kids Training4Teaching Program," said founder of Dressage4Kids, Lendon Gray.  "We often expect our teachers to know how to teach by virtue of the fact that they themselves are riders.  However, just because our teachers know what to teach, doesn't mean they have ever had the opportunity to learn how to teach.  The goal of the Dressage4Kids Training4Teaching Program is to provide that opportunity and to help give our teachers the tools to become better teachers and mentors.  Dressage4Kids is committed to providing educational opportunities for all, and we are very grateful to receive the financial support to help make educational opportunities accessible and affordable."

The Michael Poulin Dressage Fund was established at The Dressage Foundation in 2003 by Michael's friends, family, and admirers. The purpose of the Fund is to provide financial support for programs and projects that enhance the quality of dressage in the U.S., through any and all of its component disciplines - riding, competing, training, instructing, and judging.

For more information about the Michael Poulin Dressage Fund or The Dressage Foundation, please contact Jenny Johnson at (402) 434-8585, by email at jenny@dressagefoundation.org, or visit www.dressagefoundation.org.