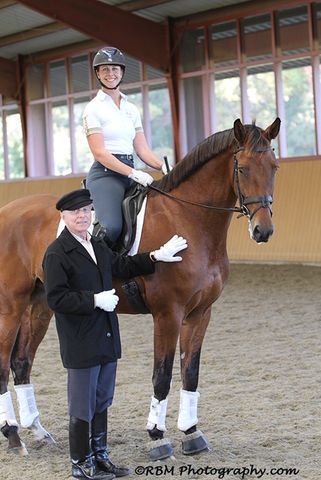 The Dressage Foundation (TDF) is pleased to announce that a new Grant Fund has been established by J.J. Tate and family to provide financial assistance to dressage professionals to further their business, leadership or riding skills.
The Tate family believes that participation in mentorship and leadership programs leads to a successful business and life.  However, training, teaching and competition schedules, as well as finances, make it difficult for dressage professionals to find time and resources to focus on personal growth, leadership and business skills. 
J.J. shared, "I have been very fortunate to have a strong supportive network of trainers, family and clients who have helped me develop as a trainer and as a person. I believe that being successful in our sport requires a lot more than just good riding. My dad, Joe, has always been a huge inspiration to me for self-growth and development, and we would love to share that opportunity with others.  We hope this grant will help people further not only their depth of relationships with their mentors, but also to further their education; whether that be through personal development and growth or better business skills." 
The goal of this Fund is to provide one annual grant of up to $5,000 for a dressage professional, age 25 and over, to receive business, leadership or personal coaching education and/or to work with his/her dressage mentor to improve equestrian skills.
J.J. continued, "I had the wonderful opportunity to meet Charles de Kunffy when I was 11 years old, and through that relationship, I have built an incredible bond with him over the last 30 years. He has not only helped me develop my equestrian skills, but also my character. I am honored to call him my mentor and I hope people can find these important relationships in their own lives to further their life experience." 
"TDF is deeply grateful to the Tate family for their very thoughtful gift," said Beth Baumert, TDF's President and CEO. "The Team Tate Fund opens new horizons for our grant applicants as it encourages mentorship and leadership training. We're very excited to see how the Team Tate Fund will influence and benefit our dressage community in the U.S."
Additional grant information can be found here.
Contact Jenny Johnson, TDF's Executive Director, at (402) 434-8585 or jenny@dressagefoundation.org with questions or for more information.