The Dressage Foundation is pleased to announce that the 2020 Evie Tumlin Memorial Fund Grants for Region 9 Adult Amateurs have been awarded to Carrie Chaffin and Elizabeth Shelton.  The purpose of the Evie Tumlin Memorial Fund is to provide grants to Adult Amateur riders who currently reside in USDF Region 9, to aid in their development in dressage and/or eventing.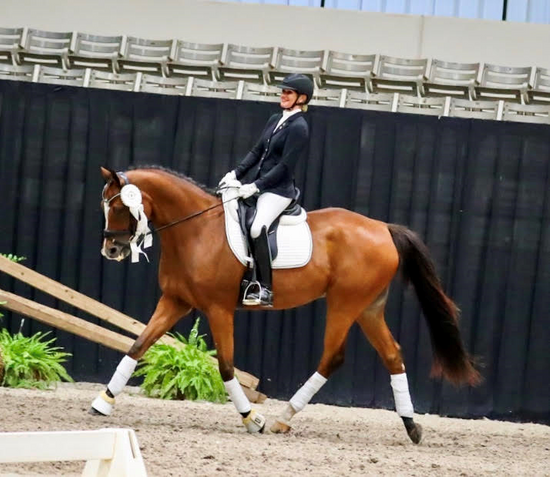 Carrie is a resident of Houston, Texas, and has been a member and avid volunteer of the Houston Dressage Society for 18 years.  She earned her silver medal in 2017 and plans to debut her current horse, Ultra Jazzy at Third Level this year.  Carrie will use her $500 grant to attend an adult amateur camp with Lyndon Rife this summer.  She shared, "Receiving this grant is such great news during these tough times!  The funds will allow me to participate in an intensive training camp to confirm the requirements and continue to move up the levels toward FEI with Jazzy, my very capable dressage convert from the world of eventing.  I am so grateful to The Dressage Foundation for this amazing opportunity."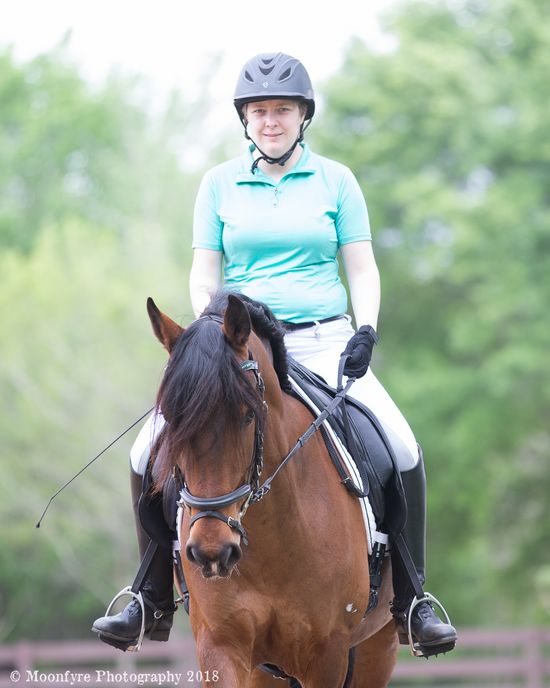 Photo credit: Moonfrye Photography
Elizabeth, also a resident of Houston and a member of Houston Dressage Society, volunteers at numerous shows each year at the Great Southwest Equestrian Center, as well as at HDS schooling and open shows. She currently rides her horse, "Pikin FE," at Training and First Levels.  Her goal is to continue expanding her skill level as a rider, so she and her horse continue to improve. Elizabeth received a $430 grant to attend a clinic with Lyndon Rife. She shared, "I would like to express my appreciation for receiving the Evie Tumlin Fund grant from The Dressage Foundation. As with many adult amateurs, I struggle to balance my riding goals with other priorities. The grant will allow me to ride with a clinician who I respect and find incredibly insightful and helpful."

Evie Tumlin was an integral part of her Region 9 dressage and eventing community. Throughout her years of serving and helping others, she touched many lives and helped to raise several generations of young men and women who loved horses. This Fund was established in memory of Evie by her friends and colleagues in Region 9.  Grants are for educational experiences that will further the applicant's knowledge of dressage and are in addition to the applicant's typical training plan. The grant application deadline is March 1st of each year.
Donations to support Region 9 Adult Amateurs through the Evie Tumlin Memorial Fund are welcome.  Information and online giving are available at www.dressagefoundation.org. Click here to learn more about the Evie Tumlin Memorial Fund.
For more information, contact Jenny Johnson at jenny@dressagefoundation.org or (402) 434-8585.